Easy Street Financial Services Home Loans
Easy Street Financial Services is an online-only provider of home loans, credit cards, personal loans, savings accounts, insurance and more.
Compare Easy Street Home Loans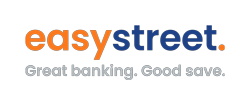 Here's a snapshot of Easy Street Financial Services' variable home loans currently on offer for a loan amount of $600,000 in New South Wales. Please note that this table is formulated based on paying both principal and interest and results are sorted by our star rating (highest to lowest). To compare other home loans, please click here.
The inclusions below represent a selection of the features available with a standard variable rate home loan for an owner-occupier. Canstar is not making any suggestion or recommendation to you about this product. Additional conditions may apply to different features. Please see our comparison tables for more detailed information about products on offer from this provider. Please ensure that you read the product disclosure statement (PDS) to determine all the current loan terms and conditions for the product you are considering.
What types of home loans does Easy Street Financial Services offer?
At the time of writing Easy Street Financial Services offers the following types of home loans:
Find out about how different types of home loans work here.
Variable home loan features
No monthly or ongoing fees
Low application fee of $500
The ability to split your home loan
How to apply for an Easy Street Financial Services home loan
As an online-only provider, applying for an Easy Street Financial Services home loan is a simple process; just compare home loans on the Canstar website and apply online on the Easy Street Financial Services website for the loan of your choice. You can also apply over the phone at any time by calling Easy Street on 1300 13 14 65 between 8am and 8pm Monday to Friday or between 8am and 3pm on Saturdays.
In order to apply for an Easy Street Financial Services home loan, you need to meet the below criteria:
You must be over 18 years of age
You must have a regular income and cannot be on probation
You must be an Australian citizen or permanent resident
You can't have defaulted on any loans, credit cards or financial agreements in the past five years
You cannot be bankrupt
Follow our applying for a home loan checklist, and use the Canstar website to compare Easy Street Financial Services home loans with other home loans before choosing a product that suits your needs:
Easy Street Financial Services FAQs
Yes, Easy Street Financial Services allows extra repayments on their variable interest home loans at no extra cost to you (terms and conditions apply). These extra repayments can save you money on interest.
Find out how making extra repayments could save money in interest over the life of your loan in this article or use our Extra Repayments Calculator for yourself:
Yes, Easy Street Financial Services' variable rate home loans offer a redraw facility with no minimum redraw amount and 24/7 usage. Fees and charges may apply to use of a redraw facility; contact your lender for details or learn more about redraw facilities here.
Easy Street Financial Services is a division of Community First Credit Union, which has been in operation since 1959. Easy Street is essentially the online-only division of Community First, and its online presence allows it to be fast and flexible when it comes to dealing with customers.
Community First and Easy Street are big supporters of the McGrath Foundation, and donate half of the annual fees from credit cards to this organisation to help fight breast cancer.
Certain Easy Street Financial Services home loans received a 5-Star Rating from Canstar in our March 2017 star ratings; see our home loans comparison pages for details.
Showing products in Canstar's database with links to lenders' websites. The display is sorted by the advertised interest rate (lowest to highest), then provider name (alphabetically).
Source: Canstar. Based on residential variable home loans available for a loan amount of $350,000 at 80% LVR, and available for Principal and Interest repayments.
*Comparison rate based on loan amount of $150,000. Read the Comparison Rate Warning.