BankSA Home Loans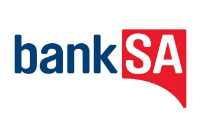 BankSA is a provider of home loans, personal loans, credit cards, bank accounts, investment products, and super funds.
Compare BankSA Home Loans
Here's a snapshot of BankSA's home loans, rates & options currently on offer for a purchase value of $600,000 in NSW. Please note that this table is formulated based on paying both principal and interest whilst being sorted by comparison rate (lowest to highest). To compare other home loans, please click here.
BankSA Variable Home Loan Features
Advantage Package available – includes discounted rates and fees on home loan, credit card, and transaction account
Offset account available
Redraw facility available
Split loan facility available; a split loan application fee may apply
Mortgage is portable
Repayments may be made weekly, fortnightly, or monthly
Additional repayments allowed
Lump sum repayments allowed
Interest only option available
Repayment holiday may be granted for time out of the workforce (if borrowers has previously made additional repayments in advance that can be redrawn)
Family guarantee option is available
What types of home loans does BankSA offer?
At the time of writing, BankSA offers the following types of home loans:
Variable rate home loan
Fixed rate home loan
Line of credit home loan
Package home loan
Investment home loan
Find out about how different types of home loans work here.
See our comparison tables for details of BankSA home loans:
Basic Promo Variable P&I
Canstar Research
Award:
Outstanding Value Home Loans