Are you working from home during the coronavirus outbreak? These ideas may help bolster your productivity and make your home office the envy of your fellow Zoom call attendees.
By now, you're probably well aware that working from home can come with its challenges (noisy neighbours, internet issues and the allure of the fridge are just a few that spring to mind). While you might not be able to control all distractions, there are some steps you can take to help create a more effective workspace.
So, whether you're working in a dedicated home office or from your dining room table, here are eight tips that could be worth considering.
1. Focus on lighting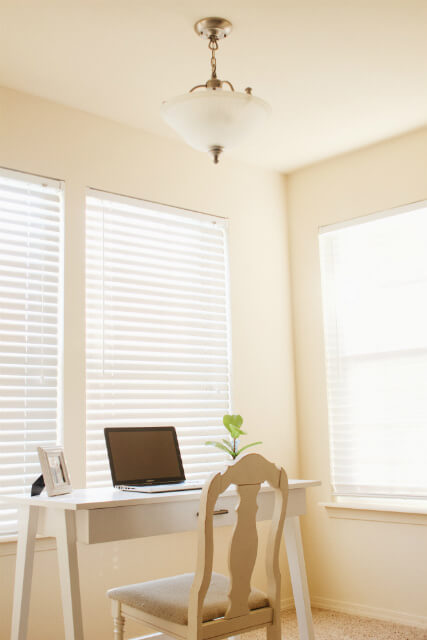 Michelle Broussard, interior designer at Colour Confidence Interiors, says one thing to consider is whether you will have access to natural light or will need good artificial light.
"If you can set up your daily routine to be next to a window and a natural light source, it's good for you generally," Michelle tells Canstar.
If you don't have access to natural lighting, consider getting a good standing light or desk lamp. Michelle suggests placing lamps in a way that will minimise shadows and light up your desktop.
To cut down on energy costs, you might want to go with an LED or Compact Fluorescent Lamp (CFL) light bulb. These are more energy efficient options compared to incandescent light bulbs, which can be cheap to purchase but expensive to run.
You might also like to compare energy providers to see if you can find a better deal.
2. Keep organised with storage solutions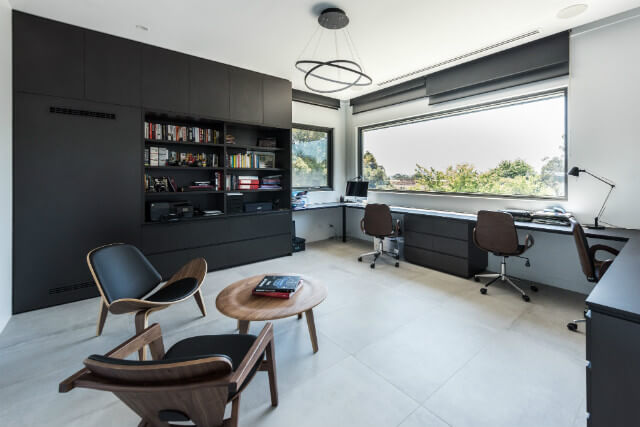 Incorporating shelves, cabinets and drawers into your office can be essential for keeping your workspace clutter-free.
If you have the time, the funds and the space, Michelle recommends installing built-in storage.
"One of the best ways to be organised and to keep clutter off your desk and workspace is to have built-in storage," she says. "This could be a whole wall or a part wall."
3. Invest in a good chair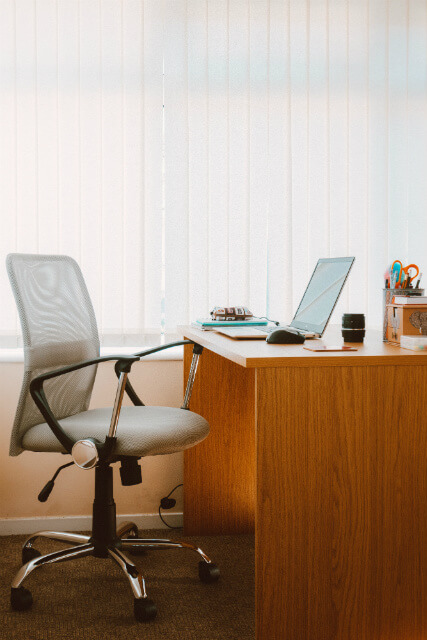 It's likely you will sit in it for a decent chunk of the day, so your office chair may not be the best part of the space to scrimp on. Make sure you find one that is comfortable and provides you with good lumbar support.
"If you're uncomfortable, you won't be happy and working as efficiently as you could be," Michelle says. "You could also do yourself damage."
4. Pick a functional desk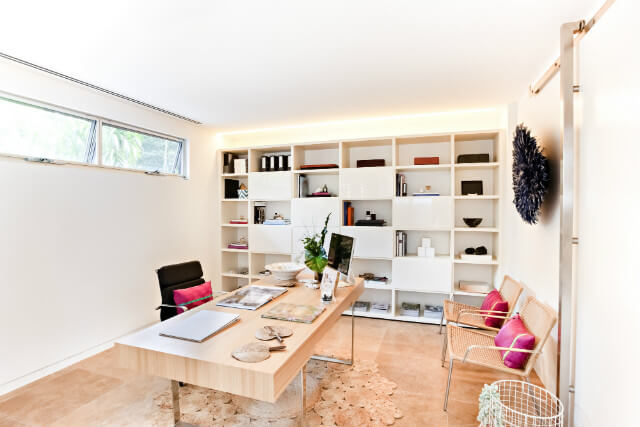 Desks are often the centrepiece of a home office. When picking out a desk, consider what its function will be. For example, will you use the desk for your own personal use, or will you share it with others, such as a partner or kids?
If you share your workspace, Michelle says you'll likely need to be more conscious of what goes where, as well as what is your zone and what will be shared.
5. If you don't have a dedicated office, get creative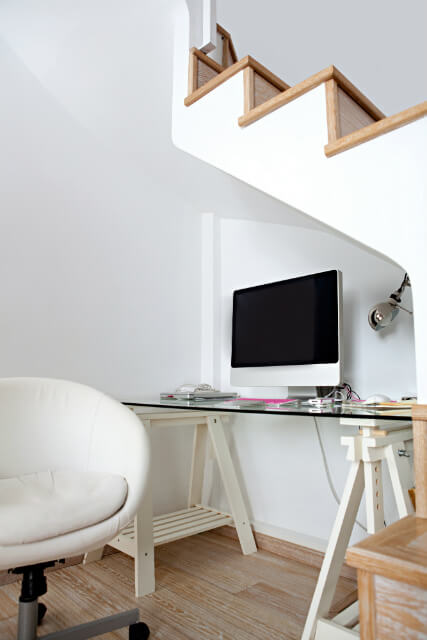 If you don't have a dedicated room for your home office, an office nook could be a good solution. For example, you might like to tuck a desk and some storage space underneath a staircase or in the corner of another room.
6. Use your walls for storage and organisation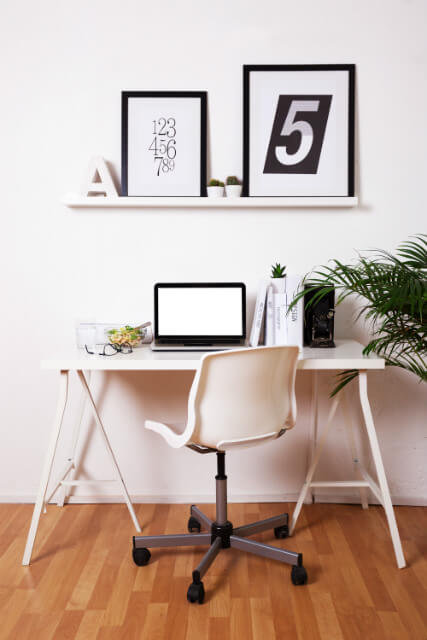 If you're short on space, floating shelves can be a practical way of storing books, stationery and other office knick-knacks.
You can also maximise vertical space by hanging a corkboard, whiteboard or memo board onto your wall. If you're feeling adventurous, you could also paint a wall with chalkboard paint.
7. Consider the positioning of your desk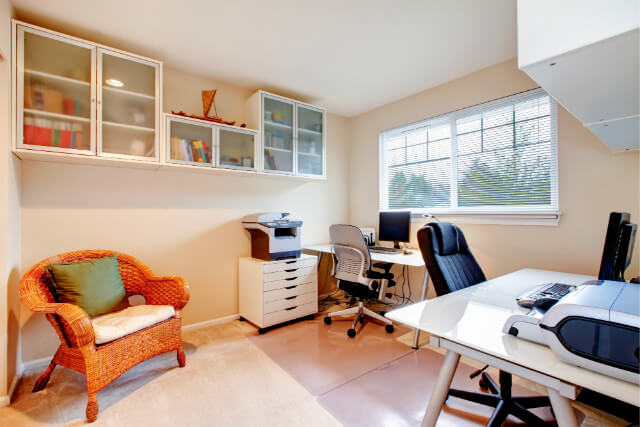 Rather than positioning your desk against a wall, consider facing it towards the centre of the room or next to a window, if you have one.
"It's really good for ergonomics and your eye movement and health to be able to see further than what's immediately in front of you," Michelle says.
8. Go green and add plants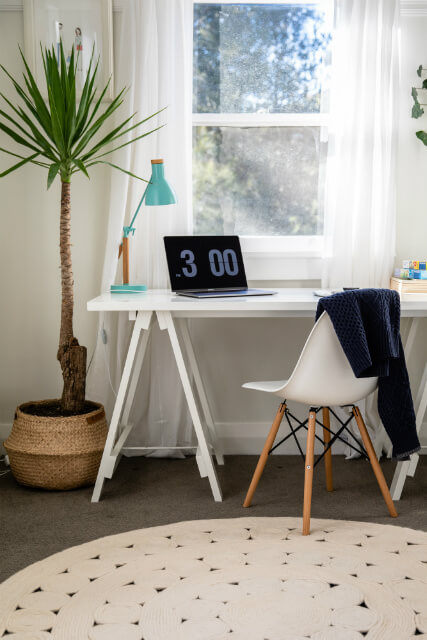 If you don't have a window, one way to breathe life into your workspace is to add plants. This can help brighten up the room and oxygenate the air.
As well as this, psychologists have found that bringing plants into the workspace can also improve productivity. A 2014 UK study found that employees were 15% more productive when workplaces were filled with a few houseplants.
Want more reno content? From bathrooms to butler's pantries, follow Canstar on Facebook for our latest articles.
Main image source: Photographee.eu (Shutterstock)