Pool fences play a major part in keeping children safe in Australia, but are there different styles? We explore what types of fences there are and how much they will set you back.
What is a pool fence?
A pool fence surrounds a swimming pool, creating a safety barrier to restrict access to young children and pets. In 1991, the Australian Government introduced pool fencing laws to tackle the risk of preventable drownings, with each state continually making adjustments and amendments to help ensure compliance with those laws and keep Australian kids safer.
Pool laws and regulations
Pool fences have to meet certain design and construction standards, which includes such things as fence height and construction materials. Laws also apply to the area surrounding the fence, such as where trees – or anything considered "climbable" – are located.
Fences in New South Wales, Victoria, South Australia, Tasmania, Western Australia and the Australian Capital Territory must comply with the Australian Standard AS1926-2012, while Queensland and Northern Territory fences have slightly different requirements.
More of what is included in the Australian Standard can be found on the Australia Swimming Pool and Spa Association website. Before installing a pool fence, it could be a wise idea to obtain advice from a suitably qualified professional and check what local standards apply. It is also a requirement in many parts of Australia to have a current pool safety certificate when selling a home with a pool.
How much does it cost to put a fence around the pool?
How much it costs to put a pool fence around a pool depends on what type of fence you would like to build, where you need to build it, how hard it is to install and who is installing it. It could be a good idea to collect a few quotes from different installers and suppliers, and weigh up the pros and cons, before commencing any work.
Here, we take a look at some of the types of pool fences available, and their costs:
Glass
Considered one of the most stylish options, some homeowners worry that the glass may be a safety hazard if broken. Trade services website hipages debunks this myth stating that, due to being made of tempered glass, it is actually very hard to shatter. Hipages also states children cannot use it to climb due to its slippery surface.
There are two options when it comes to this type of fence:
Semi-frameless– Melbourne pool fence company, OKE Pool Fencing & Balustrades, states this barrier does not use top or bottom rails. Each glass panel is attached to aluminium posts that are usually installed into the ground offering a safe but stylish addition to your backyard.
Estimated cost: $200 to $275/metre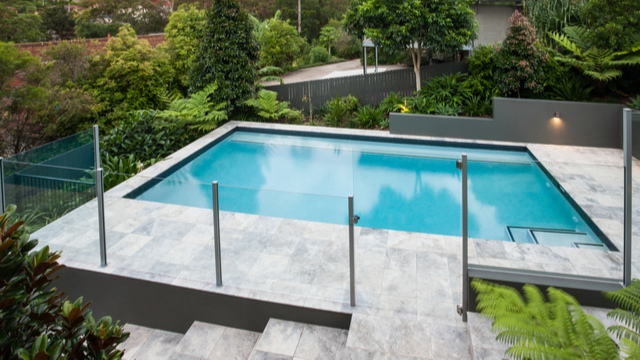 Frameless– Unlike semi-frameless, no rails are used allowing you to maintain a clear visual of your pool. OKE Pool Fencing & Balustrades says the glass is held up by either stainless steel or anodised aluminium spigots (clamps) creating a space between the ground and glass allowing water and debris to flow underneath.
Estimated cost: $275 to $600/metre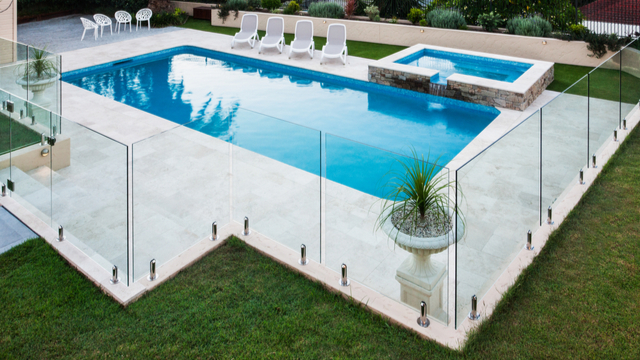 Brisbane-based glass company and installer, Aqua Vista Glass, states that the gaps between the glass panels, the ground and the wall can be no greater than 100mm.
As this is a regulation stated by a Queensland company, your state's regulations may differ.
Wrought Iron
By being fully welded, the strength of this fence guarantees a high level of protection. Not only does this fence offer a high amount of safety, it also can be a stylish addition to the backyard. By the way it is made, designs can be welded into the fences body. Whether you're after a more traditional look or want some elegant swirls imitating something out of Notre Dame, your design desires should be able to be met (providing they meet with pool fence safety standards relevant to your area).
Wrought iron fencing company, Dean-Wilson Iron, state benefits include:
Durability
Low maintenance
Security
Aesthetically appealing
Customisability
Estimated cost: $450 to $600/metre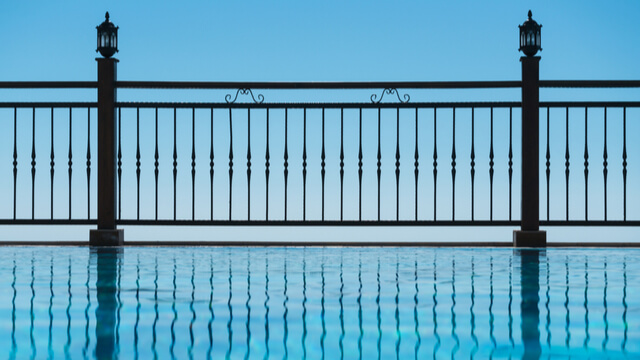 Steel
Unlike iron wrought, steel contains both iron and carbon. Everlast Fencing state this fencing option is durable, safe and if designed properly, an attractive addition to the home. With the same design capabilities as wrought iron, but at a much more cost effective price, steel is a very popular choice with consumers.
Estimated cost: $65 to $100/metre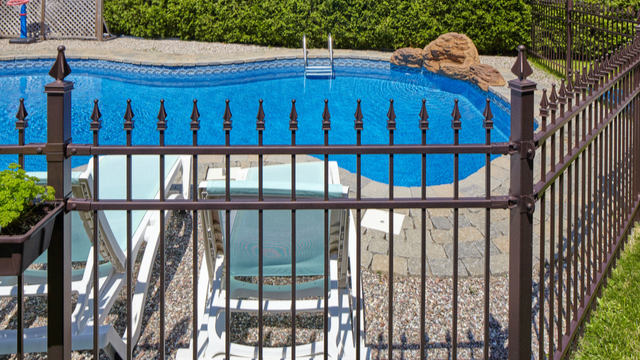 Aluminium
This lightweight material has the looks of steel and wrought iron but is considered more cost effective than both and will not rust, according to hipages. Aluminium fencing is strong and resistant to corrosion. Once the fence is powder coated, hosing it down every once in a while is all you'll have to do making it a very low maintenance option.
Estimated cost: $76.50/metre
---
Main image source: Jodie Johnson (Shutterstock)