If your house is in need of an exterior makeover, rendering could be the solution, but what is it and how much does it cost? We break down what you need to know about this renovation technique.
What exactly is rendering a house?
Used commonly on brick-built houses, rendering is the process of coating external walls with a mixture, usually either cement or acrylic, to improve both the functionality and appearance, according to trade services website Service.com.au.
A render hides any exposed brick structure to create a more complete house look, while at the same time, waterproofing and insulating your home. Hipages, another trade services website, also states that when a render is completed, any gaps between the bricks are filled to create the desired finish, whether it be smooth or textured.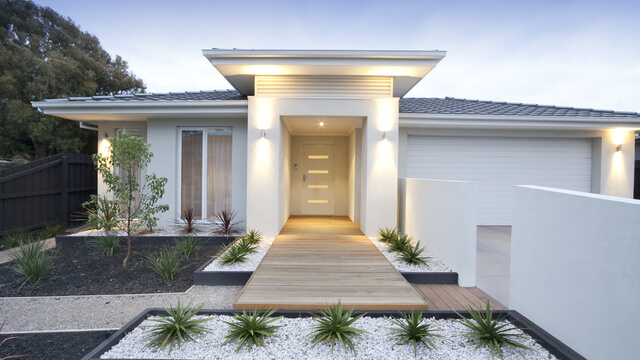 There are three common types of rendering mixtures:
Cement – Considered one of the most common kinds of render, the combination of cement, sand and sometimes lime can be prone to cracking, according to Service.com.au. Though that may be the case, Perth Bricklaying Company states its cost effectiveness and simplicity are the reasons for its popularity.
Acrylic – SCR Rendering describes acrylic render as "a thick, paint-like coating with aggregate (sand) added to it". It comes in pre-mixed buckets and is usually used as a fine topcoat over a cement render, according to Perth Bricklaying Company.
Polymer-Modified – Usually used if other types of render haven't adhered properly, this cement and polymer mix can be used on cement blocks, clay bricks, concrete, polystyrene, plaster and painted walls, according to Rapid Rendering Brisbane. Due to being waterproof, it is highly recommended for any wet areas of the house.
How much does rendering a house cost?
The cost is usually based on the size of the structure, the type of render used, your location and the level of service you choose, according to Service.com.au. The type of finish you require and the surface materials can also come into play, according to the renovation company Jamie and the Renderers.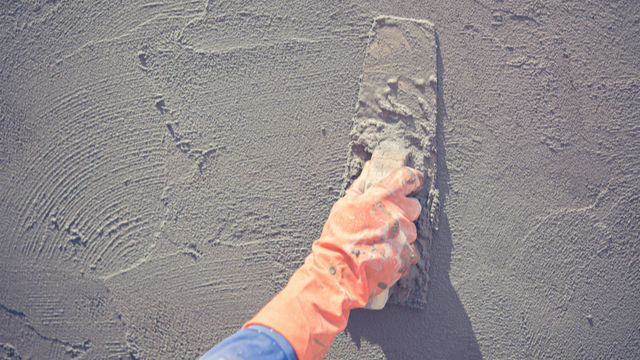 Hipages says a house render can cost between $30-$50/sq m depending on the business you go with. ServiceSeeking estimates cement rendering to cost less at $35-$42/sq m whilst acrylic is estimated at $45-$55/sq m. For a full job, it is estimated to cost about $12,000 for a small family home and $20,000 for a larger, double-storey home.
Do renderers require a specific license or qualification?
Due to rendering requiring the skills of a painter, plasterer and/or concreter, many renderers have licenses associated with their main occupation, according to licensedtrades. Each state will differ when it comes to licensing and restrictions, for example:
NSW – A specialist rendering company usually has a license for rendering as well as a "Minor Trade Work – Other" licence. For homeowners, any building or home improvement work that is valued over $1,000 must be done by a licensed tradesperson.
Victoria – If after a licensed renderer, look for the appropriate classification and code on their registration card as The Victorian Building Commission (VBC) divides these kinds of services into a variety of classes and codes.
Queensland – If your job exceeds over $3,000, a trade license is required. A renderer must be issued a license from The Queensland Building and Construction Commission (QBCC). The QBCC "Painting & Decorating" is usually all that is needed.
SA – Like in QLD, a renderer requires a "Painting & Decorating" licence, issued by the Consumer and Business Services (CBS), to work. To ensure they are qualified for the job, licensedtrades recommends checking their, "scope of work" classifications.
WA – A licensed tradesperson is needed if a home improvement job is valued at over $1,000. A renderer requires a trades license issued by the The Building Commission of the Department of Commerce as rendering is included under the category of "Painting & Decorating".
Tasmania – To operate, a tradesperson must be issued an "accreditation" (equivalent to a licence). The two most general are:
Practitioner – accredited to carry out work
Contractor – can enter into contracts and manage workers
At the very least, your renderer should hold a:
A General Construction Induction Training Card (a White Card)
Construction Industry Employer Registration issued by WorkSafe Tasmania if your contractor has employees
ACT – A building related tradesperson must be issued one of four Classes of Construction Practitioner Licence by the Planning and Land Authority (ACTPLA) to work.
Northern Territory – Renderers do not require a trades license, however, before hiring a professional, licensedtrades recommends making sure they have a:
a business licence if they operate under a business name
an ABN if they are an individual
Insurance
Is rendering the same as plastering?
Though they may seem similar, these two home renovation techniques are very different. Oneflare states the differences are:
Rendering is mainly used to coat the exterior of a house while plastering is mainly used for the interior
Rendering uses a higher concentration of concrete
Plastering is used in preparation for wallpapering or painting inside the house
Can I DIY a house render?
Though a DIY render can be done, Better Homes and Gardens warns that doing it yourself can be difficult, time-consuming and, if not done properly, expensive in the long run – especially if you don't have the proper training or equipment that a professional contractor would. Rendering is a process that needs to be done in large sections at once and if under the blazing sun, overheating can occur real fast. Proper precautions and preparations need to be done to avoid any mishaps.
DIY can save you money, but as with all DIY jobs, risks are involved. Flinders University found that in 2013-14, more than 3,300 people were admitted to hospital as a result of a DIY injury. The rate of DIY fall injuries were seven cases per 100,000 people and DIY tool and machine-related injuries were at a rate of six cases per 100,000 people.
If you are keen on making this your next DIY project or are already googling local renderers to hire, hipages recommends not skimping on the details. The website states the extra costs, whether it be in surface preparations or painting, will be worth it as the better results will outweigh any savings made by cutting corners.
---
Main image source: smikeymikey1 (Shutterstock)