If you've had enough of experiencing extreme temperatures inside your house, then insulation might be for you. We've investigated the ins and outs of this home improvement option, including its cost and value potential to homeowners.
What is roof insulation?
Insulation is a layer of material that is installed in your roof or walls to act as a barrier to heat flowing in or out of your home. It's designed to help keep your home warm in winter and cool in summer, according to Australian Government website YourHome. If not insulated, about 25% to 35% of heat gain or loss is through the ceiling, tradie listing site hipages says.
Potential benefits of roof insulation, according to YourHome, include:
Stopping moisture problems, such as condensation
Cutting cooling and heating bills by up to 50%
Creating a more comfortable environment in your home
YourHome does state that the use of downlights has caused ceiling fires to increase significantly. It recommends taking care when installing insulation in a ceiling space and ensuring minimum clearances around downlights are maintained and that insulation isn't covering any electrical devices such as transformers.
How much does roof insulation cost?
The cost of roof insulation can depend on factors such as the type of insulation and your location. ServiceSeeking estimates that, on average, a full roof insulation project (including the installation) costs $22,000 but does state that costs can vary depending on the size of the job and materials used. Some larger jobs can cost in excess of $30,000, it says.
To help you get an idea of how much insulating your roof might cost based on its size, ServiceSeeking estimates that it can range from $40-$100 per square metre for labour and supplies.
When it comes to buying materials, insulation can generally be bought either per square metre or per roll. For example, reflective sarking (a foiled layer of flexible insulation) can cost $99 for a 60m x 1350mm roll, while glass wool batts (pre-cut insulation made of glass fibres bound into a texture similar to wool) can cost $60 per nine square metres, according to hipages.
The type of insulation you choose can play a huge part in determining the cost, as each material will differ in price. For example, hipages estimates that sheep wool batts can cost $90 per nine square metres, while a 22.5m x 1350mm roll of reflective foil insulation that has an additional Building Code of Australia (BCA) regulated air cell barrier (added assistance in reducing heat) can cost $350.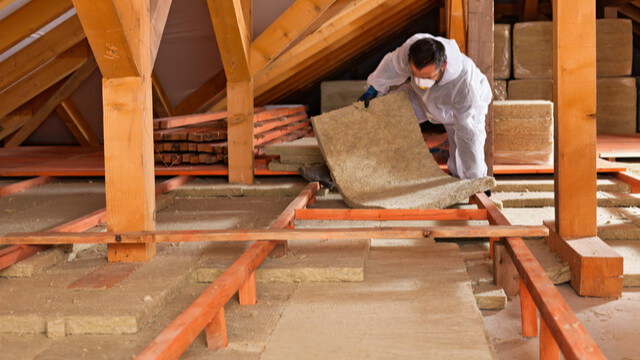 Construction and home improvement marketplace Oneflare estimates that the average price for bulk fibreglass is $1,200 to $1,300 per 100 square metres, while any type of polyester product can be nearly double that, increasing to an average of $2,000 per 100 square metres.
According to Oneflare, factors that affect the price can include:
The thickness, or R-Value (more on that to follow)
The conditions for installers, such as the space being too hot or cold, cramped and dirty
Obstacles in the roof blocking accessibility
Uneven spacing across ceiling joints. Generally, the more uneven, the more time it will take to install.
Types of roof insulation
Towards Net Zero, a blog run by Kingspan Insulation Australia, explains there are several kinds of insulation, including:
Reflective Foil Laminate (RFL) sarking: Foil is laminated onto a paper or plastic backing with a fire-retardant adhesive. It is manufactured in sheet form.
Bubble insulation: A layer of polyethylene a (type of plastic) bubbles (similar look to bubble wrap) is sandwiched between two layers of aluminium foil.
Hipages also lists glass wool (fibreglass), natural sheep's wool, polyester and stone wool (made from volcanic rock) as options.
What is R-value?
When researching insulation, a common term that pops up is 'R-value', but what does that mean?
R-value is the rating used in the construction industry to determine a material's ability to transfer heat, according to manufacturer Knauf Insulation. Roof and guttering company Advanced Roof Systems explains that R-values can be based on the heat going either up or down through the roof.
"Winter R-values refer to the product's resistance to heat flow directed upwards, while summer R-values pertain to the thermal resistance to heat flow downwards," its website says.
YourHome states that "the higher the R-value, the better the thermal performance". The R-value of the insulation may also depends on the method of installation.
Insulation manufacturer Foilboard Insulation System states R-values range from 1.5 to 7. Figuring out the best R-value for you depends on what suits your home and the climate in your area. For example, if the climate is quite hot, a lower R-value may be suitable, but if your house is so cold that Santa Claus could be your neighbour, then higher may be best.
Can you DIY roof insulation?
Seeing the price tag of insulation may give you a bit of a shock, but attempting to DIY the job without taking proper safety precautions could lead to a shock of an entirely different kind.
Entering the attic space can be extremely dangerous especially when dealing with electricity, according to renovation and construction website BUILD. It states that electrocution is one of the biggest risks with these kinds of DIY jobs and can be caused by live wires coming into contact with foil-backed insulation.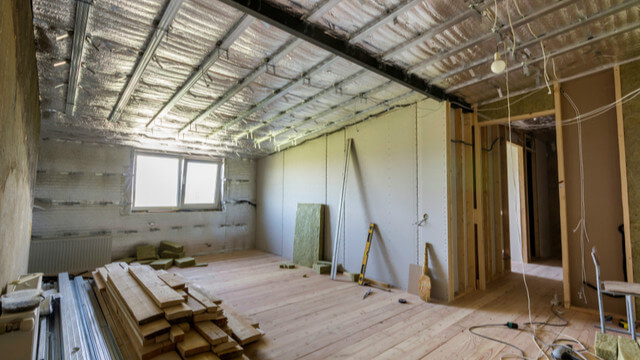 Besides the safety hazards, there are regulatory requirements and standards when it comes to installing insulation. Installation of bulk insulation, reflective foil insulation and all electrical wiring that is encased in insulation must meet Australian standards and all listed requirements. To find out more information, refer to Standards Australia.
With all of this in mind, even though some jobs around the home can be DIY'd if you have the right experience, tools and are confident in following the safety and building requirements, roof insulation is probably one of the more complex improvements you could undertake. You may want to carefully consider whether DIY is the best approach for your roof insulation or whether it should be professionally installed by a licensed installer to ensure effectiveness, safety and compliance with the building standards in your state or territory.
In terms of professional labour costs, hipages says installer rates usually start at about $32 per hour. Professional installers can often work fast and efficiently so it may be relatively affordable to get professional installation, it says. Additionally, while installers do not have to be licenced to fit insulation, they do need to follow other requirements and laws.
However, if you are determined to install it yourself, Better Homes & Gardens recommends making sure you buy the correct width of material to "suit the gap between your ceiling joists" and also states to, "leave a gap around any light fittings to avoid heat build-up and reduce the risk of fire".
Is roof insulation worth it?
If you are using an air conditioner or heater and your home isn't insulated, you might be wasting more money than you realise. Insulation can help keep your house cooler or warmer, depending on your situation, and potentially save you up to 50% on your electricity bills (according to YourHome). Though that can sound tempting, it may be best to first consider all of the factors before deciding on whether roof insulation will be your next possible home improvement, such as:
Main image source: ronstik (Shutterstock)