The small living movement is growing in Australia, opening the door for tiny houses to potentially cut your living costs down to size.
While the prospect of building a new home for yourself from scratch may not initially seem like much of a cost-cutter, have you considered the humble tiny house? Some Australian builders are offering pre-built, ready-to-go tiny homes for significantly less than you'd spend on a traditional house – usually below $100,000 and in some cases, less than $20,000. But will the relatively tiny price tag make up for the sacrifices you may have to make compared to living in a regular-sized house?
Here's some information about the ins and outs of tiny house living in Australia to help you decide.
What is a tiny house?
The International Residential Code defines a tiny house as a dwelling with a floor area of 37sq m or less, not including any lofts or second storeys. Additionally, the Australian Tiny House Association says that "tiny houses are moveable dwellings up to 50m2 that are suitable for residential use. Tiny houses can be largely grouped into two categories: on wheels or on skids" (a tiny house on 'skids' is one that sits on a platform or foundation that doesn't move, so similar in practice to a granny flat, although not necessarily located close to primary dwelling.)
By comparison, in 2019 CommSec found that the average size of an Australian house was 228.8sq m and the average size of an Australian apartment was 128.8sq m.
Lara Nobel, a tiny house architect, adds that size considerations aside, a tiny house should have "the character and functionality of a permanent house".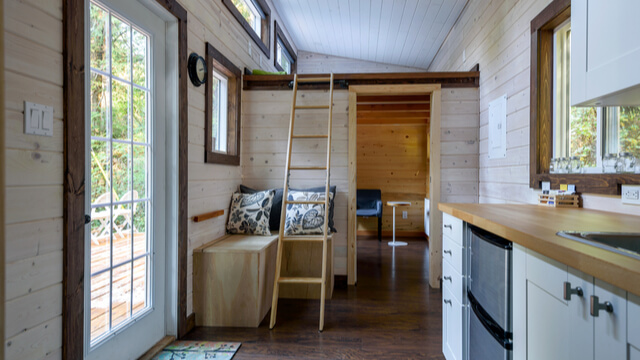 Will my tiny house come pre-built?
Your tiny house may or may not come pre-built depending on who you buy it from. Some companies include the cost of assembly and delivery in their pricing, while others, in order to keep costs down, may only deliver the materials required to build your tiny house, but leave assembly to you. In that case, you could choose to build the house yourself, or pay a builder to do it for you. Whatever approach you take, you'll need to make sure your tiny house complies with the relevant building and safety standards in your area.
How much does a tiny house cost?
The cost of a tiny house will vary depending on several factors, including the company you buy it from, just how tiny the tiny house in question is, whether it's new or second-hand and any extras you choose to have added.
For example, Häuslein Tiny House Co co-founder Sarah Rohdich told Canstar that her company's tiny houses cost at least $79,000 and up to $150,000, "depending on whether you want to have things like a solar system, a composting toilet, or any of the other add-ons we offer".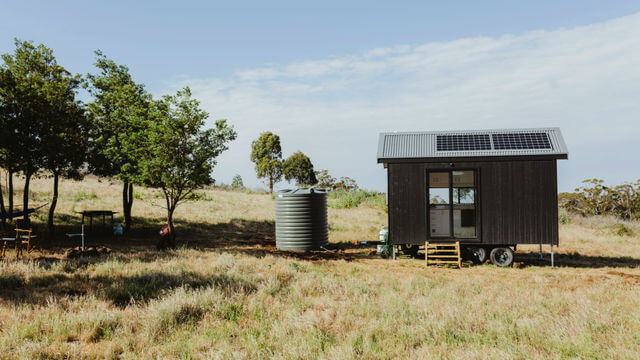 Many other tiny house builders offer a similarly wide range of optional features and inclusions which can be added to their base models. For example, Aussie Tiny Houses offers tiny houses starting at $43,900 for a lockable shell, but even their cheapest design could end up costing closer to $100,000 or more, if you paid for every single upgrade and extra feature available. Some of the pricier features available to add to an Aussie Tiny Houses home include:
If you're looking to buy an already-built tiny house, online tiny house marketplace Tiny Real Estate has basic shell homes listed for as little as $10,000, and more elaborate, fitted-out homes listed as much as $160,000.
A tiny house could be a relatively affordable and spartan solution compared with a traditional home but it doesn't necessarily mean you can't live comfortably or even luxuriously – it'll all come down to your personal circumstances and budget.
Are tiny houses legal in Australia?
Tiny houses are legal in Australia in some situations, but Ms Rohdich says there are laws concerning where and when a tiny house can be used as a permanent home. It's worth noting that most tiny houses available for direct purchase in Australia are built on trailers, meaning that they're legally classified as caravans, rather than houses. This would mean the rules that apply to caravans, such as those relating road worthiness and maximum weight restrictions, would apply.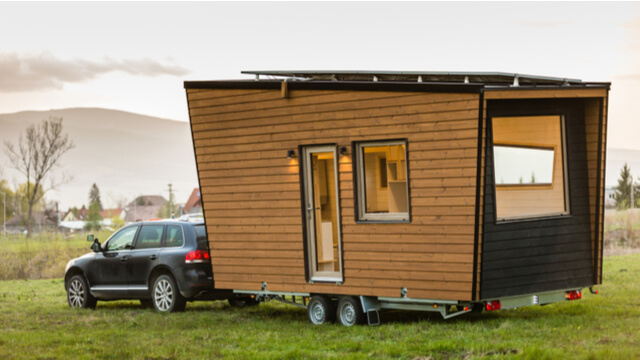 "You're allowed to park a tiny house which is classed as a caravan on a property with an existing dwelling and have a member of the household live in it full time without any DA (development application) approval required," Ms Rohdich told Canstar.
"You can also have a tiny house on a vacant block for 60 days a year and no more than 48 hours at a time without council approval required.
"If you do want to use that as a full-time primary dwelling on a vacant block, you do have to go through the approval process, but it's doable – the council will just want to look at fire safety, flood risk, your drainage etc. to make sure that it's going to be safe, habitable, and environmentally friendly," Ms Rohdich said.
One way or the other it may be worthwhile checking the specific regulations in your council area before you go too far the tiny house route or decide which type of tiny house to go for.
How do you buy a tiny house in Australia?
If you're hoping to become the proud owner of a house of the tiny variety, the buying process differs slightly from the process of buying a regular home. You can either buy an existing tiny house or pay to have one built. If you pay to have one built, it can be either based on an existing design or designed from scratch by an architect or tiny house company.
If you buy an already-existing tiny house, it will most likely come with a face value which may or may not be negotiable. If you're looking to have a tiny house built from scratch, you may pay less to have it built based on an existing design, as this would generally save you having to pay for the architectural advice and expertise that would be required for a bespoke design.
Some tiny house companies, such as Häuslein, offer several different tiny house models which are standardised designs you can choose from. This may be an option worth considering if you're unsure of what you want your tiny house to look like; you may decide that it strikes a satisfactory balance between a completely bespoke design, and a basic design that you have little say in.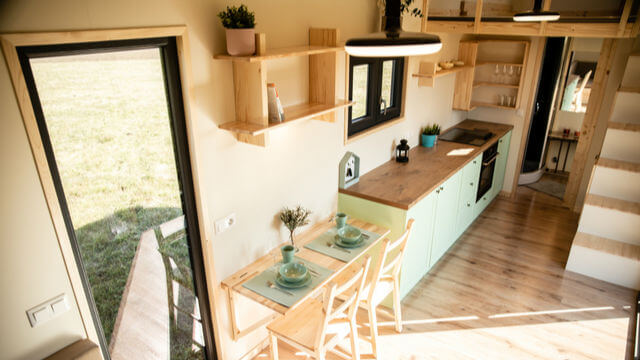 Can I buy a tiny house using a home loan?
You may find it difficult to get conventional finance for the purpose of buying a tiny house. As many tiny houses are built on trailers in order to make them transportable, a home loan will generally not be a suitable way to finance a tiny house. You could potentially take out a home loan to pay for land on which to put your tiny house, but you'd still need to find a way to pay for the tiny house itself.
That said, there are ways you could potentially finance your tiny house, including:
A specialist caravan or recreational vehicle (RV) loan, which usually functions in the same way as a car loan or secured personal loan

Specialist finance – many tiny house companies have partnered with finance providers in order to help customers afford their tiny houses.
The suitability of each of these options for your circumstances may vary depending on the type of tiny house you're looking to buy, how much it will cost, and the lender you choose. Whatever avenue(s) you explore, it could be worth checking the PDS of any loan product you're considering to understand the fees, interest rates, and other loan terms and conditions.
And given this is a non-conventional 'house' purchase that will likely still involve a large sum of money, it could be worth seeking advice from a qualified expert, such as a financial planner, to understand how the purchase and potentially the credit used to fund it, would impact on your wider finances. For example, how might your tiny house hold its value if you choose or need to sell it in the future? A tiny house may not maintain or grow in value in the same way that a 'bricks and mortar' home might, for example.
The table below displays some of our referral partners' unsecured personal loan products for a three-year loan amount of $20,000 in NSW. The products are sorted by Star Rating (highest to lowest) followed by comparison rate (lowest to highest). Use Canstar's personal loan comparison selector to view a wider range of products on Canstar's database. Canstar may earn a fee for referrals. Read the Comparison Rate Warning.
How do I insure my tiny house?
As many Australian tiny houses are built on trailers and are subsequently classified as caravans rather than houses, you may have to take out caravan insurance in order to insure your tiny house and its contents.
Your tiny home may be covered by compulsory third party (CTP) insurance while attached to and being moved by a registered vehicle, however CTP insurance will not provide cover for damage to your tiny house. It will only provide liability cover if your car or tiny house cause injury or death to others while on the road.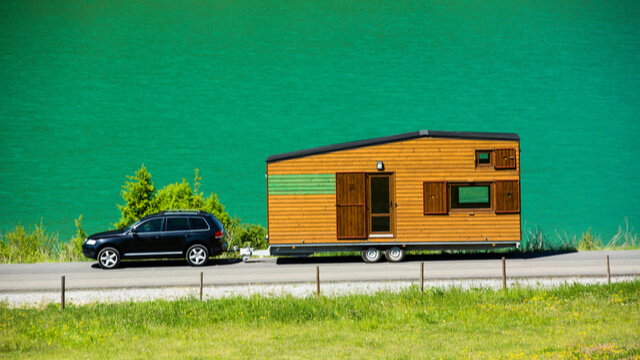 What are the pros and cons of tiny house living?
To summarise, here are some of the main potential advantages and drawbacks to choosing to buy and live in a tiny home. These pros and cons are quite general, and some may not be applicable depending on your circumstances.
Pros of living in a tiny house
Sustainability – If you choose to install

solar panels

and a

water tank

as part of your tiny house, you may end up living in a self-sufficient home. The construction of a tiny house may also generate a smaller carbon footprint than the construction of a traditional home due to its smaller size.

Mobility – If you enjoy going on road trips or camping holidays, a tiny house on a trailer can be taken with you. However, you may need a 4WD or similarly large vehicle in order to tow something as heavy as a tiny house.

Bills – Tying into the point about sustainability, if your tiny house generates most or all its own electricity and water, your utility bills will be considerably smaller than they would be if you lived in a traditional home. You may also avoid paying council rates depending on your local council laws.

Less cleaning up – A smaller home means less space, which in turn means that doing even the most thorough house clean will generally take considerably less time than cleaning a conventional house.

Visual appeal – Your mileage may vary on this one, but many tiny houses are designed to be quite easy on the eyes, at least in a conventional sense. Wood-finish surfaces, plenty of windows and natural light, and neutral but pleasant colour palettes mean that most tiny houses tick a lot of boxes when it comes to modern design preferences. Opting for the tiny house life doesn't have to mean compromising on your design preferences.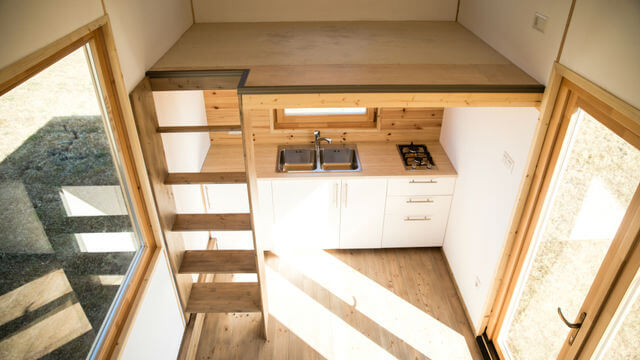 Cons of living in a tiny house
Size – First and foremost, an obvious downside to living in a tiny house for some people at lease is in the name – they're quite small. Not only does this mean less living space, but it means less space for your belongings, which could lead to a painful Marie Kondo-style cull of objects down the line. That said, this could be an appealing prospect for some people. However, if you want to start a family, or expand it, down the line, the size of your home could pose a dilemma.

Finding somewhere to put it can be tricky – Unless you have a friend or family member with a back yard they're happy to let you use, you'll need to either buy or rent land to park your tiny house. This can make what was supposedly a cheap option significantly more expensive.

Potential legal issues – While being classed as caravans allows tiny houses in Australia to avoid some of the regulatory red tape that's associated with buying a standard home, you may still encounter issues depending on where you live. Local councils may have their own specific rules and regulations regarding tiny houses, so consider doing your research, or seeking legal advice on your options, before committing.

Potential to be caught out by poor weather – If you run out of electricity or water in a self-sustaining tiny house without an alternative source, you might be in trouble.

Fewer 'mod cons'- As mentioned, living in a smaller house means less space for storage – but this extends to appliances that might make your life easier. Things like

clothes driers

, spacious

fridges

, and even a standard

washing machine

may prove impractical depending on the size of your tiny house.

Clutter – While living in a smaller space can make tidying up a breeze, it also makes dirtying or cluttering your home easier too. A mess that might've seemed proportionately minor in a conventional home could be a bit more significant in a tiny house.