Australians have always loved a backyard barbecue, but a new outdoor kitchen trend is taking this experience to new heights. Here are nine ideas for your outdoor kitchen.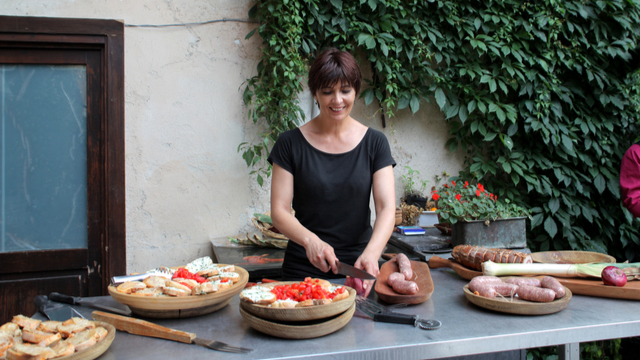 Outdoor kitchens combine a traditional Aussie barbie with the added convenience of items usually seen in an indoor kitchen. This could range from the addition of a preparation bench to more extravagant inclusions such as a seating area, fridge and even a kitchen sink.
Carolyne Khederlarian, from Western Sydney retailer and installation company Paradise Kitchens, said outdoor kitchens had "only recently become popular" with her clients.
"We have certainly noticed an increase in requests for custom-made outdoor kitchens and alfresco areas," Ms Khederlarian told Canstar.
Many customers said they wanted more space for entertaining guests, while others said they had a more practical reason for wanting an outdoor kitchen, such as needing an alternative cooking space they could use when deep frying foods or making other dishes with a strong aroma. She said the main features customers wanted in their outdoor kitchen included storage options and appliances, such as barbecues, bar fridges and wok burners.
When planning an outdoor kitchen, she recommended that homeowners work out how much space they would like to give it, plus what inclusions they would like and what budget they had to achieve their plans.
"From there, they can begin their design process and select materials according to their requirements and needs."
Costs to create an outdoor kitchen vary widely, depending on design, where it will be located, the existing services such as gas mains and water pipes, and how much professional assistance is required. As a guide, installing an indoor kitchen can cost anywhere between $15,000 to $43,000, not including white goods, according to Archicentre Australia 2019 Cost Guide.
Here are nine types of outdoor kitchens that could inspire your backyard culinary construction:
1. Modular convenience
Modular outdoor kitchens are typically manufactured offsite as one unit or a series of connectable pieces. They are purchased at a retailer, and can be put into place either by an installer or the homeowner (although permanent gas and water lines, as well as any electrical work such as installing power points, must be completed by a qualified professional. They are usually designed to take a standard-size barbecue (without the stand). This unit, pictured, is a modular outdoor kitchen sold by Paradise Kitchens, however, a range of retailers, such as Outdoor Domain, Bunnings Warehouse, BeefEater Australia, some kitchen or barbecue suppliers, also have modular kitchens for sale. Typically, all accessories and appliances are an extra cost, such as fridges and the barbecue.

2. Mod-cons with a touch of luxe
Here, a traditional barbecue setup has been complemented by a stainless steel kitchen unit, complete with a dishwasher and a sink.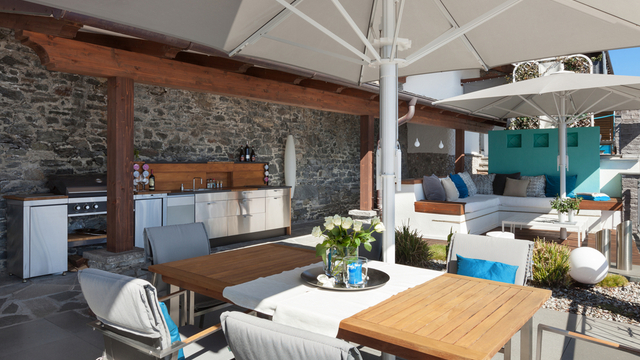 3. Taking it to the extreme: Just as good as an inside kitchen
This kitchen replicates that usually reserved for a luxury indoors kitchen. Polished concrete and marble benchtops are arranged galley-style, so that the cooktop – which appears to be a standard gas burner unit for indoor use – is completely protected from the weather by the deep overhanging roof.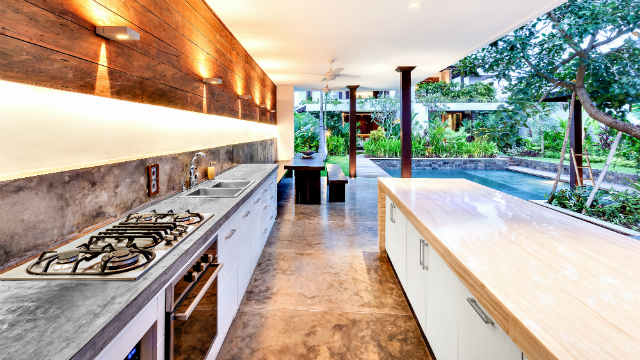 4. Under the Tuscan sun
This sun-drenched kitchen is placed adjacent to an alfresco dining area. Marble benchtops sport a hooded barbecue and a separate gas burner for extra cooking power. A central island bench also doubles as an eating spot. This outdoor kitchen also includes a wide overhead extraction unit, which would take care of any smoke from the barbecue as well as providing rain protection and overhead lighting.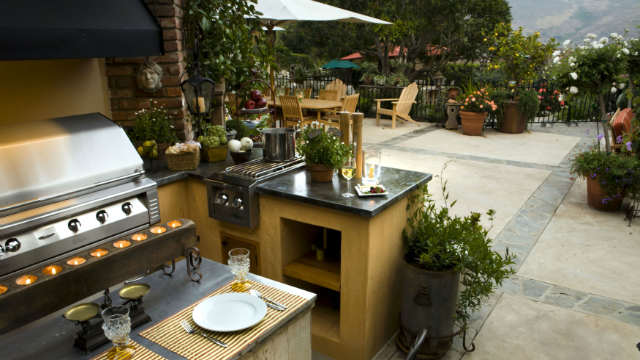 5. Always alfresco
This outdoor kitchen is exposed to the elements all the time, so it has been made of hardy materials such as polished stone and brick. The hooded barbecue, made of weather-resistant stainless steel, includes a side roaster as well as a three-burner plate with a hood. Temperature gauges in the hoods allow the chef more control over the cooking process. A sink has been plumbed into the stone bench, which would typically require a qualified plumber to complete.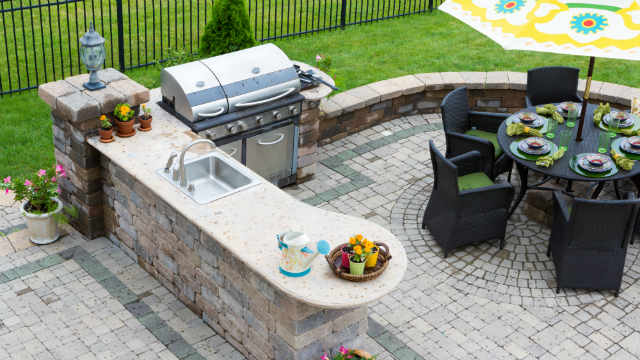 6. So simple space saving solution
One way to create a small outdoor kitchen is to position a modular unit at the end of a skinny deck, such as in this picture. While it's not a full outdoor kitchen, space on either side of the barbecue allows the chef more flexibility when preparing dishes. The stainless steel doors at the front of the cabinetry would typically hide the barbecue's portable gas bottle.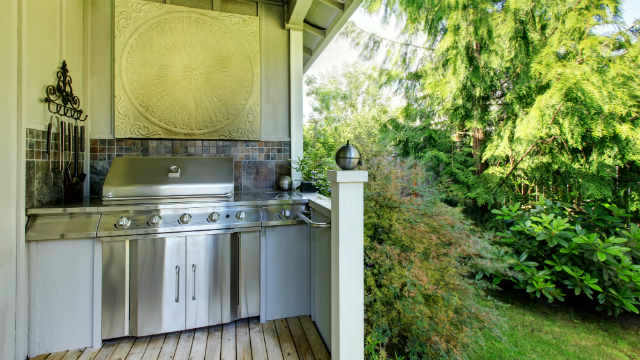 7. Rustic outdoor kitchen
An in-built barbecue and a separate gas stovetop are fitted into sturdy cabinetry, with barn-like doors.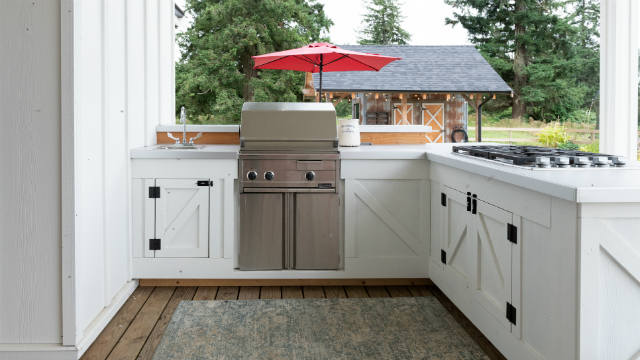 8. Compact but with plenty of prep space
While this all-weather outdoor kitchen is big on preparation space, its small footprint means that it won't take up too much room in a backyard.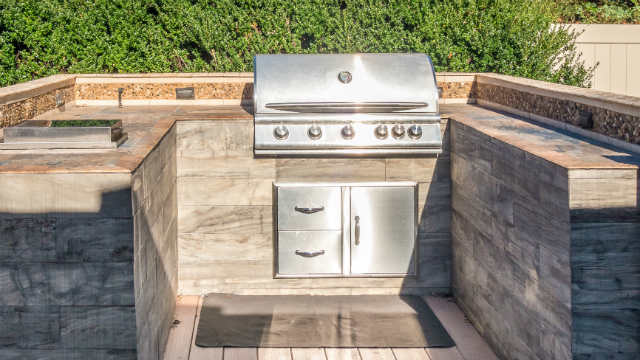 9. Woodfired, country style
Outdoor kitchens don't necessarily have to be slick and modern. Pair a wood-burning oven with a benchtop for preparation ease. However, it could be a good idea to check with your state or territory fire agency if there are any fire bans in your local area before lighting a wood-fired stove, as these and other types of fires can be restricted during certain weather conditions due to bushfire risk.

Header Image Source: Alexandre Zveiger (Shutterstock)