Whether you're working towards a simple cosmetic refresh or a massive makeover, renovating a bathroom can make a significant difference to a home. It's worth keeping in mind that while it may be the smallest room in your house, upgrading it can come at a cost.
Bathroom renovations are big business, according to the Housing Industry Association (HIA). Out of the 9.4 million homes in Australia, the HIA estimates that more than 233,000 of them will benefit from a bathroom renovation in the 2018/19 calendar year. While 29% of that work will be in homes a decade old or younger, it seems most bathrooms to be renovated were reaching their used-by date somewhere between the 11-20 year mark: 36 per cent were undertaken in homes in the 11 to 15 year age group, while 35 per cent were aged 16-20 years old.
But before you commit to scrubbing your existing ensuite, washroom or main bathroom, it is generally a good idea to test the waters by considering costs.
Let's break down some of the main factors worth thinking through.
How much does a bathroom renovation cost?
The average cost of a bathroom renovation in Australia is around $19,500, and the price has increased year-on-year, according to a recent HIA survey of builders. The HIA's Kitchens and Bathrooms Report 2018/19 found that most people tend to spend between $16,000 and $20,000 on the job – that includes everything from tradies' fees to tiles and fittings.
It turns out the total cost of renovating a bathroom can be quite different in the various states and territories, as shown below in order of lowest to highest average cost in 2018:
Tasmania: $15,167
Western Australia: $17,769
South Australia: $18,557
Victoria: $19,036
Queensland: $20,190
New South Wales: $20,933
Northern Territory: $22,500
Australian Capital Territory: $23,000
If you think these average numbers would stretch your budget a bit too thin, job quotes website ServiceSeeking.com.au said budget renovations can range from $8,000 to $10,000 on average. It's worth noting estimates on the costs of this popular type of renovation do vary.
A good place to start when working out a budget is to ask yourself a few simple questions:
How much money can I afford to spend?
What do I want to achieve?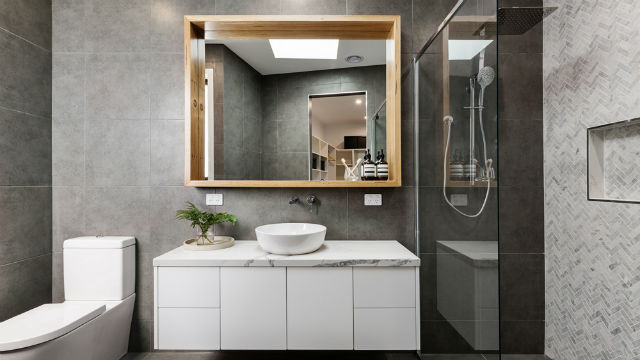 How can you finance your bathroom renovation?
Depending on your situation, your options could include: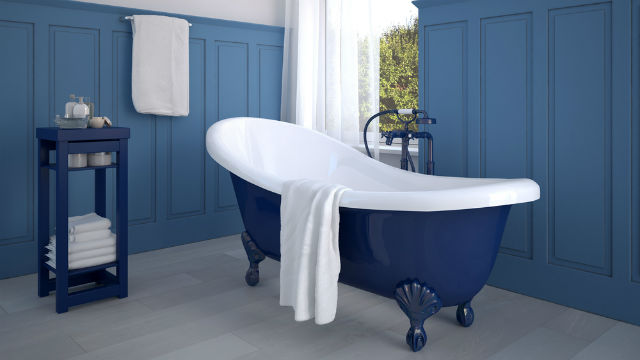 Why renovate a bathroom?
Motivations for embarking on any renovation project vary from wanting to improve the comfort or look of a bathroom, to fixing up urgent problems such as leaking pipes or cracked tiles or other structural issues.
Many homeowners embark on a bathroom renovation hoping that it would lift the sales price of their house. If this is your wish, it could be a good idea to seek advice from a property valuer, a local real estate agent or similarly qualified professional, and to research how much properties of a similar type and age as yours may sell for in the current market. That's an important step in guarding against overcapitalisation – or spending too much on a renovation so that you are left with a property that has cost you more than its market value.
Whatever the reason, it's a good idea to start planning with a clear idea of what you would like to achieve. First, draw a rough map of where all the existing fixtures, plumbing and services are located in the bathroom. Then, think about how the bathroom works now – this will help you to decide what changes are necessary and the layout of your new bathroom. Some questions to consider could include:
What is the current state of the bathroom?
What items must be updated or fixed?
What aspects can I live with if I am not able to change them?
Who uses the bathroom, and what do they need (such as a separate bath and walk-in shower – useful for older people and for young families – verses a combined bath-over-shower unit which could save space)?
Does the layout work – Is the current floorplan a good use of space or are there efficiencies to be made?
Then, it's time to start planning your new bathroom – keeping your budget in mind.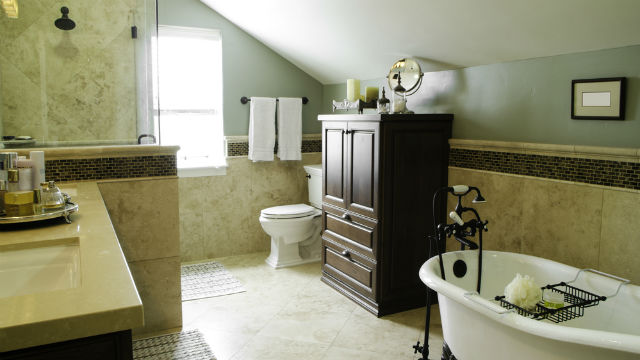 What determines the cost of a bathroom renovation?
There are many factors that could impact the total cost of your bathroom renovation, including:
Timing
The time it takes to complete the renovation can greatly impact the final cost of the project. Almost a quarter of renovations take longer than 26 days to be installed, although the average is 16-20 days, according to HIA. The usual rule of thumb is that the longer the bathroom takes to renovate, the more your job will cost in labour.
There are also other associated costs that should be kept in mind, such as those involved in purchasing new tiles or other materials, as well as the fact that you may have to move out and pay for temporary accommodation if your only bathroom is out of action for a considerable period of time.
Full or partial renovation
Considering the scope of work needed for your bathroom could also help you to produce a cost estimate. Have you decided the whole bathroom needs to be ripped out and replaced, or will cosmetic changes – such as painting and replacing tapware – suffice?
Keep in mind that there are some items in a bathroom that could involve more work than first expected. This is because there are a lot of technical specifications that apply to the space, such as those involving the waterproofing of areas that are regularly exposed to water. Replacing a shower screen, for example, could upset the waterproof barrier of a shower in some circumstances.
With these considerations in mind, it could be a wise idea to ask for advice from an experienced professional during the planning phase.
Blueprint
The final price of the renovation could be greatly impacted by the extent of alterations to the bathroom's original floorplan. Retaining the bathroom's existing size and ensuring that fixtures are kept in the same spot are usually cheaper options, as moving plumbing and doing major structural work – such as moving walls or doors – could add a considerable amount to the bill, in both labour and materials.
Builders surveyed in HIA's research said they mostly renovate within the existing footprint of the bathroom, compared to enlarging the space or changing the location of the bathroom in the home.
Complex trade work
Any additional specialty work that is required, such as complicated plumbing, carpentry or electrical work, could increase the amount of money you end up spending on tradesmen and fixtures. Examples of this could include installing heated flooring, or adding a skylight for natural light and ventilation.
Budget, mid-range or luxury looks
The cost of products and finishes, such as tapware, tiles and vanity units, can vary a great deal depending on quality and style. Will you choose the luxury look or go down a more budget-friendly route?
Luckily, when it comes to bathrooms, decor can be one of the easier areas of the house to tailor to a specific budget, although you may need to be willing to compromise on the final outcome if you want to make significant savings.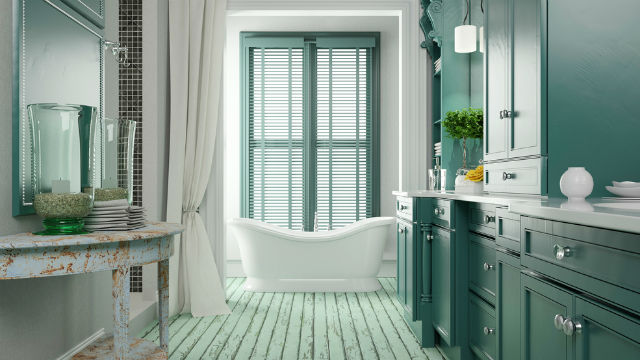 What tradespeople will I need for a bathroom renovation?
You might be handy on the tools yourself or be willing to take on a few small DIY projects, but if you're planning a full bathroom renovation, it's likely you'll require some professional help – that's where hiring tradies comes in.
Get the right tradie for the right job
The typical bathroom renovation will probably require you to make room in the budget for a plumber, tiler, carpenter, electrician, painter and labourer. These tradespeople could help with tasks such as:
Plumber: installing a toilet, bath or shower, and any work on the plumbing system.
Tiler: waterproofing and laying tiles. There are also tradesmen who specialise in either waterproofing or tiling, which you may wish to consider when gathering quotes for the best deal.
Electrician: installing or replacing lights, exhaust fans or heating systems such as heated floors.
Carpenter: crafting and installing cabinets or shelving.
Painter: re-painting the walls, ceiling and door. In some cases, it is also possible to repaint cabinets or recoat sinks.
Do your research and gather quotes from different tradies
It can be good practice to source a number of quotes based on the work that you want to be done.
Some companies are able to handle the entire job, from planning through to completion, and will coordinate all of the trade work themselves or hire in subcontractors. This extra service can be convenient, but it does generally cost more for the privilege of having someone else do all the legwork. It is usually a good idea to ask the company about their level of insurance cover and to ensure the contract covers the scope of work you want them to do.
And remember – quotes are just estimates of what the work might cost. It is a good idea to have room in the budget for cost overruns.
Check your tradie's licence and reviews
It's important that any tradie or company you hire holds the appropriate licence – your state or territory's building regulation authority can provide details about what licences are required for which jobs.
In some places, work worth over a certain amount must be done by a licensed tradesperson. You should check the licences of anyone you are considering hiring to help with your renovation before engaging them.
It can also often be a good idea to check out online reviews of anyone you plan to hire, and ask trusted friends and family for recommendations.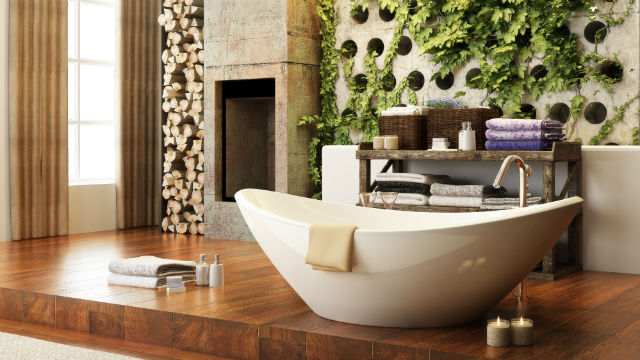 How much do bathroom renovation tradies charge?
The time it takes to complete a job, whether you are in a metropolitan or regional area and the scale of the project are all likely to impact the cost of your trades. Trade quotes business ServiceSeeking has a breakdown of what typical bathroom renovation tasks could cost:
Trade costs estimates
Bathroom Renovation Task
Quoted Prices
Waterproofing
$1,000
Tiling
$1,500
Bathroom fixture installation
$1,000
Shower screen installation
$1,400
Plumbing
$5,000
Source: ServiceSeeking.com.au. Prices are as quoted on the site at the time of writing.
According to ServiceSeeking, these are some approximate hourly charges of common tradespeople that may be required for a bathroom renovation:
Plumber: $80/hour, with the common range between $69/hour to $88/hour.
Tiler: $45-$100/hour, plus between $30/$45 up to $100/$120 per square metre of tiling.
Electrician: $80-$100/hour is the average range across Australia.
Carpenter: $50/hour, but the prices can range from $45/hour up to $60/hour or even $100/hour in some cases. Rates typically depend on their qualifications and experience.
Handyman: $50/hour, starting at $40/hour for simple tasks, up to $55/hour for jobs that require a higher level of skill.
Calculating the cost of a bathroom can be a complex equation. A great place to start, however, is to have a good idea what you'd like to achieve, a reasonable account of what that might cost and a willingness to make compromises if necessary.
Header Image Source: Illustrator Graphic Desig (Shutterstock)