Tiny houses are en vogue lately, but would you be prepared to make a shipping container your next home? If so, here's how much it might cost you.
In their original form, shipping containers aren't exactly inspiring to look at. They're big metal boxes after all, more often than not painted in drab shades of grey, blue or rusty orange. That being said, if you're the DIY type, you may be able to turn a humble shipping container into something much more exciting. But they don't necessarily come cheap. Here's a guide to how much a shipping container might set you back, where you can buy one, and how it could be transformed.
What's a shipping container?
A shipping container is technically any container that's built to withstand being shipped, stored and handled. However, what generally comes to mind when we think of a 'shipping container' is actually an 'intermodal container'.
Intermodal containers are large, standardised steel boxes which can be used across several different modes of transport – hence the name – to transport cargo. They are usually either 6.1 or 12.2 metres long, 2.6 or 2.9m tall, and 2.4m wide. Some are taller than the standard, and these are often referred to as 'cube containers'.
How much does a shipping container cost?
According to supply company Container Traders, you can expect to pay the following prices for a standard shipping container:
Container type
Price Guide
Refurbished
New

6m long standard container

$2,900 to $3,300

$3,800 to $4,100

6m long cube container

(Not supplied)

$4,200 to $4,600

12m long standard container

$3,600 to $4,100

(Not supplied)

12m long cube container

$3,900 to $4,300

$7,150 to $7,500
Source: Container Traders
Prices are likely to vary between suppliers, so shopping around could be a savvy move. It's worth noting that containers considered 'cargo-worthy' (which are in a good enough condition to be used for shipping cargo) will command a higher price, but unless you're buying one specifically for transport purposes you probably don't need to pay that premium. Non-standard options, such 'side-opening' models, are likely to cost extra, too.
What can I do with a shipping container?
If you decide to buy a shipping container, you'll find that the range of things you can turn a shipping container into is surprisingly large. Here are just some of the ways you could transform a shipping container:
Turn it into a tiny house to live in
Tiny houses made from re-purposed shipping containers have been quite trendy for some time now, and you can see why some are drawn to this option. They can be quite visually attractive, offer a more minimalist way of living, and can cost as little as $30,000 all up according to Gateway Containers. You will also generally pay more for a shipping container that has been modified to make it more suitable for living in.
There are several other factors to take into account if you're planning on building a tiny house, including ventilation, water and energy, council regulations, and finance. These considerations may drive up both the complexity and total cost of your tiny house project.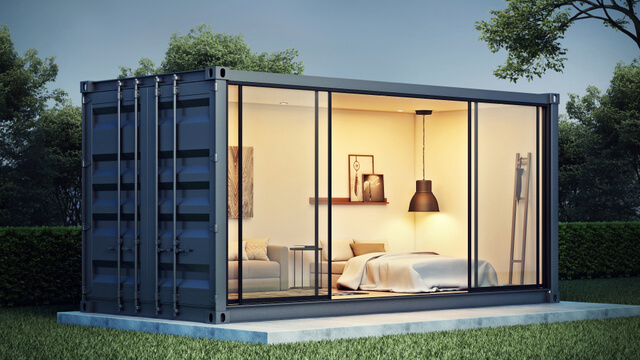 Turn it into an above-ground pool
Don't fancy forking out to have an in-ground pool installed in your backyard? An alternative could be buying a shipping container and turning into an above-ground pool? According to Compass Pools a shipping container pool will generally cost less than a traditional pool, and due to the fact that they require no excavation work and come fully fitted with filtration, they can typically be used immediately, providing that your state or territory's pool safety requirements are met.
Use it as a shed
A shipping container can also relatively easily be turned into a backyard shed and generally requires less effort than turning it into a house. This may be a good option for the DIY-minded individual or gardening enthusiast who needs a significant amount of space in which to keep their equipment. Depending on its size, you may need council approval to install one in your backyard, so consider checking this with your local authority.
Build yourself a mini-greenhouse
If you've got a green thumb and want to grow your own produce or raise climate-fussy plants, you could consider kitting out your shipping container as a greenhouse or mini-farm. The addition of an irrigation system and LED lighting could turn it into the perfect environment for your plants.
Make it a workshop, studio, or office
Whether you're a carpenter, metalworker, ceramicist, painter – or even an office worker who wants somewhere to work in peace and quiet – a shipping container could become your ideal workplace.
Where can I buy a shipping container?
While there may not be shipping containers for sale at your local shopping centre, a quick Google search reveals numerous Australian websites selling both new and second-hand shipping containers. Some suppliers even offer extra services, such as the installation of windows and flooring or full refurbishment.
Before deciding to buy from one website over any others, it may benefit you to check the following:
Does the site look legitimate? If they list a contact number, it may be worth calling it to check that the number is connected to the website's business, and that the person on the other end sounds professional – Scamwatch advises that you check their refund/returns policies, as well as what payment options they accept and where they are based.

Do they have the best prices? Due to the large number of websites selling shipping containers in Australia, it may benefit you to shop around in order to ensure you're getting the best deal.

Do they 'ship' to your area? Some businesses may only operate in one state or territory, so be sure to check what the website says about interstate shipping.
If you're not comfortable buying something as expensive as a shipping container online, you may be able to find brick-and-mortar businesses selling shipping containers near you – Google Maps or a business directory such as White Pages may be able to help you with this.
Points to consider before buying a shipping container
Council regulations
Depending on what you're planning on doing with your shipping container, there may be local laws that restrict or regulate what exactly can be built using a shipping container.
According to a report from the ABC, most Australian councils will treat a permanently installed shipping container as they would any other building or home on your property. This means that turning a shipping container into a shed, home, or other permanent structure on your property will require the same approvals, engineering oversight, and inspections that building a traditional home would. This means that the total cost of a shipping container project will most likely exceed the initial expense of the container by a not-insignificant amount.
Structural integrity and safety
Any modifications you make to a shipping container – and modifications will almost certainly be necessary in order to use it for any of the purposes listed above – may weaken its structural integrity, which could in turn cause issues in the long term.
Additionally, you may want to try and discern what the shipping container previously held at various points – some may have held harmful or toxic substances which the container hasn't been entirely purged of. A 2012 report from Safe Work Australia found that as many as 30% of shipping containers in Australia could have air concentrations of residual hazardous chemicals which exceed standard occupational exposure limits.
Insurance
Depending on the size and intended purpose of your shipping container, you may have a difficult time obtaining conventional insurance for the container itself. That being said, home insurance will generally cover outbuildings such as sheds, so depending on your policy and insurer, this may extend to a shipping container located on your property.
These are potential issues that you may want to consider at length before committing to purchasing a shipping container. It may even be worth consulting a real estate expert or architect in order to get an idea of what building a tiny house or other structure using a shipping container might cost you. This may help you make a more informed decision.