Just because the sun is blazing down, doesn't mean you should stay indoors. With a pergola, the gap between enjoying summer and keeping cool can be bridged. If you are after inspiration, take a look through our list of eight pergola design ideas.
What is a pergola?
Pergolas are a garden structure that provides shade, usually via overhead crossbeams rather than a solid roof, according to renovation website renoguide.com.au. Though thought to be originally from Rome after English writer and gardener John Evelyn mentioned them during his trip to Italy in 1645, pergolas are said to have originated in Ancient Egypt with the earliest-known garden plans to be from 1400BC belonging to the Egyptian High Court of Thebes. After Rome conquered Egypt in 30BC, pergolas later became prominent in Roman architecture.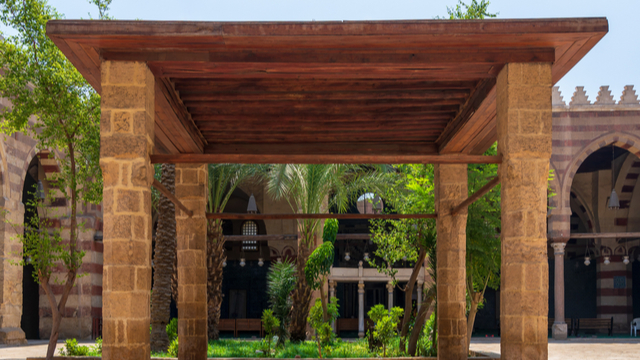 This garden feature can be a great place for entertaining or a spot that allows you to relax in shade and privacy. To escape those hot, summer rays, a roof must be installed which, depending on your location, may need council approval.
Shade seems to be in high demand – the Houzz 2017 Landscape Trends study found 86% of homeowners updated structural elements in their outdoor area over the 12-month period, with 24% updating a pergola.
How much does a pergola cost?
Trade comparison website ServiceSeeking.com.au states the cost of a pergola depends on many factors, such as:
Materials

Style

Labour costs

If it is a custom design or not
ServiceSeeking estimates the cost to be anywhere between $2,000 and $5,000, as a rough guide. A custom build with extras, such as shade screens, will result in a more expensive price compared with one using basic materials.
According to a recent Canstar's Consumer Pulse Report, home renovation was in the top three reasons for saving for both Gen X (40 to 54-years old) and Baby Boomers (55 to 73-years old). Besides saving, finance options for your home renovation may include refinancing your home or applying for a loan.
Will you need council approval for your new pergola?
Trade services website hipages.com.au states that, in certain cases, council approval is needed prior to building your pergola. As a general rule, elements that may need to be approved include:
The attachment to your house

The roof

If it takes up more than 25sq m or more than 15% of the floor area of your property

If the floor of your pergola will be 60cm or more above ground level

If it will be located less than 90cm from an adjoining property

If your home is heritage listed

If you live in a bushfire-prone area

If your pergola will have a wall enclosure higher than 1.4m
Each council's regulations can differ, so hipages recommends contacting your local council first to confirm development approval requirements, as well as hiring a professional builder, carpenter or construction company who will include council approval as part of their building process.
Shade and style: Pergola design ideas
1. Light-Filtering
Home renovation and lifestyle website thespruce.com states this kind of pergola helps to filter strong light while still allowing the sun to shine on the patio area.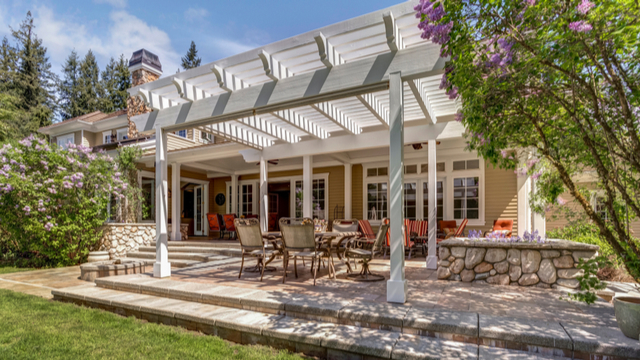 2. Outdoor Dining
Wanting to get the family away from the television at dinner? An outdoor dining-styled pergola can create an inviting, entertaining atmosphere. As the home design magazine website Architectural Design states, a pergola can make outdoor dining feel more intimate. When evening falls, style the area with some fairy lights or lanterns to add ambient lighting.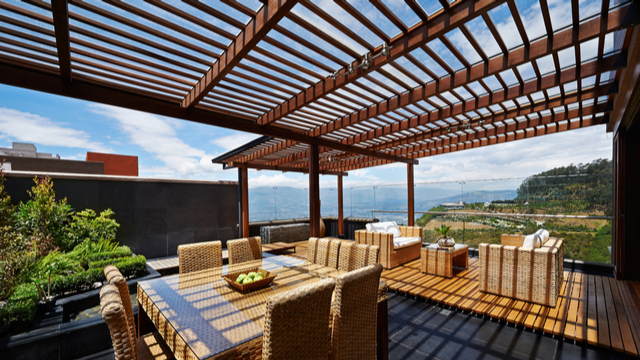 3. Poolside
If you aren't relaxing in your pool, sitting in the yard under the hot sun can be unpleasant without some shade. A pergola will not only help to keep you cool, it could also add to that private oasis fantasy.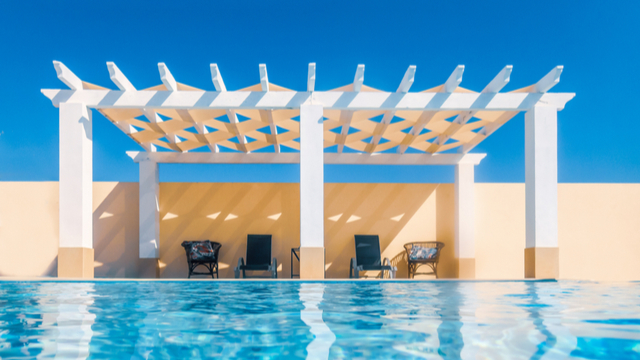 4. Beach Style with Curtains
If you are after that holiday in Bora Bora but don't have the millionaire status, why not create it for a fraction of the price in your backyard? This style can create a relaxing atmosphere. If you are after more privacy, more or less light or a different design, RenoGuide suggests using different curtains to match your needs – thicker fabric to reduce light, or prints and colours for more vibrancy.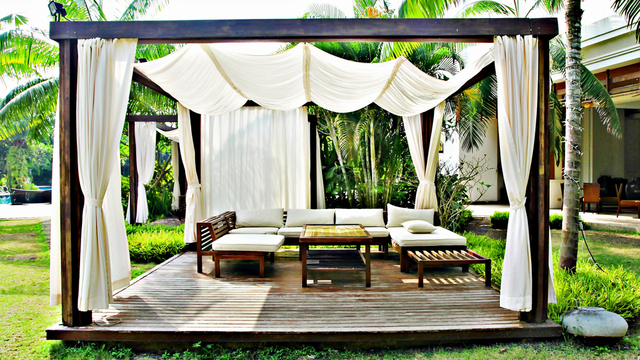 5. Attached to the house
Lifestyle magazine website Better Homes and Gardens describes this pergola as, "a simple yet effective design that will complement most homes". By attaching the pergola to your house, transitioning from entertaining indoors to outdoors is smooth, as well providing more shelter. Your project may need prior council approval due to it being attached to the property. This pergola features a glass roof over the top of the crossbeams, which takes advantage of the open-air feeling of the structure but also provides protection from the weather.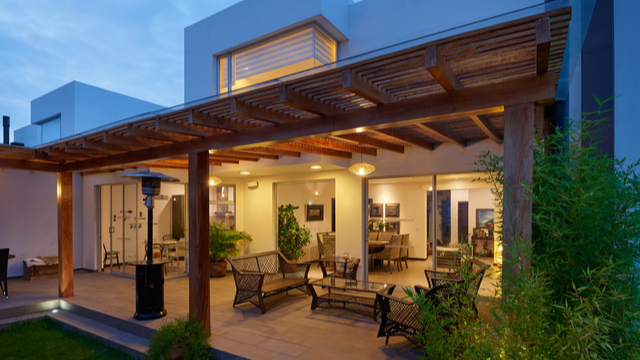 6. Louvred
If you are after a more modern and perhaps more practical approach, a louvred pergola could be the perfect fit. The louvres are adjustable so can be moved according to the weather conditions or how much light you would like to let in. Council approval may be necessary due to the roofing component.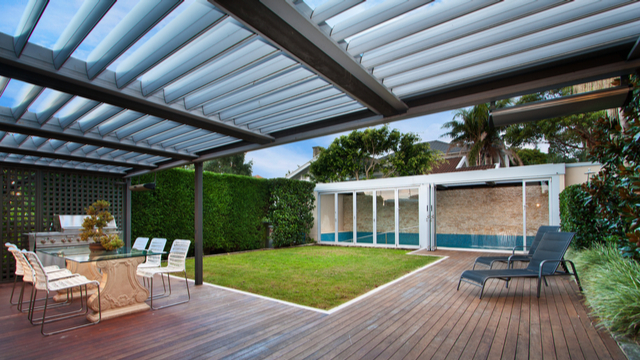 7. Wisteria
You could add some extra shade and colour by training a climbing plant to grow over your pergola. A pergola with plants growing on it is also known as an "arbour". Sitting in your new garden feature while gazing up through a flowering wisteria vine is what gardening website Garden Clinic describes as, "bliss". RenoGuide states, "Wisteria shrubs add colour, dainty flowers, and glorious scent to your garden". If you do want to grow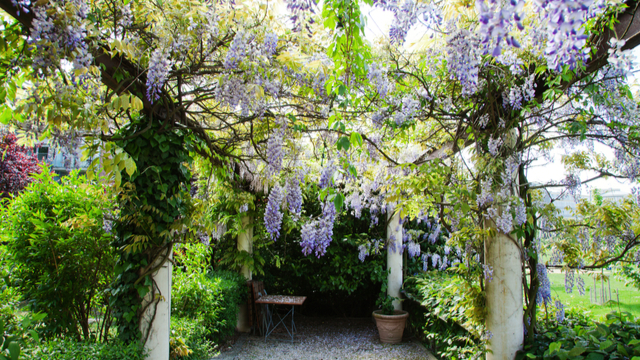 8. Tilted slats
If you are worried that the light filtered by the crossbeams on the roof of the pergola will be too harsh, it could be possible to angle the slats. Positioned correctly, the slats could act to block out the harsh western sun in summer, and let in the more subdued light in winter.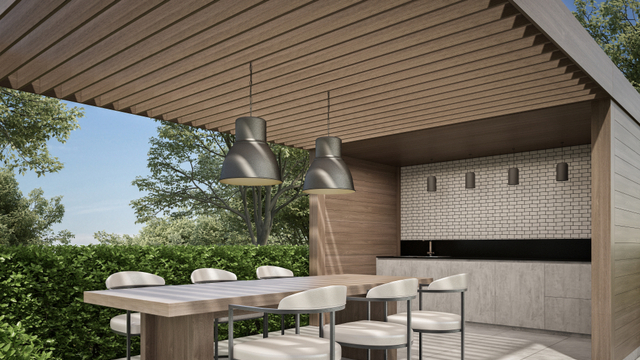 Header Image Source: Dimasik_sh (Shutterstock)