A lick of paint can help transform the appearance of your home and potentially increase its value. But are the expense, effort, and possibly the mess, worth it? We take a look at the costs and some other factors involved.
If you're preparing to sell or just want to freshen up the look of your home, here's how much a professional paint job could set you back, depending on whether you're painting the outside or inside of your home, or both.
How much does it cost to paint the exterior of a house?
Professional painters typically charge by the square metre. As an example, according to tradie listing website Hipages, it usually costs between $15 to $45 per square metre to paint the exterior of a brick house and between $12 to $60 per square metre to paint a timber house.
To paint a whole house, Hipages says you can expect to pay between $4,000 to $7,000 for a small one-storey brick veneer or rendered house, between $7,000 to $12,000 for a small one-storey weatherboard house, and between $10,000 to $20,000 for a two-storey weatherboard house.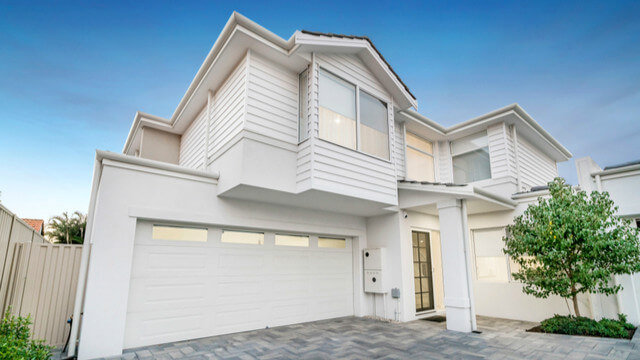 In addition, other factors that may impact the price include:
How much preparation is involved for the painters

The number of storeys and the total height of the building

Any detailing that might complicate the job (such as fascias under the roof and window trims)

How easy the site is to access

Whether the house is on flat or sloping ground

The type and quality of the paint
For example, if some walls need to be cleaned or old paint needs to be removed before painting, this can add to the preparation time and can make a paint job more expensive. Additionally, if your home is more than one storey, additional equipment like scaffolding and extra safety precautions may be needed.
How much does it cost to paint the interior of a house?
The average cost of interior house painting is $10 to $30 per square metre including ceilings, tradie directory service.com.au says. This estimate is based on one undercoat and two finishing coats.
Painting two bedrooms and a kitchen/living area will cost about $800 to $1,500, service.com.au says, and a three-bedroom house with two bathrooms, a kitchen and a laundry will likely cost between $4,500 and $6,000.
On top of the size of the area to be painted, other factors that may affect the price include:
How much preparation is involved

The height of ceiling

The type and colour of the paint to be used

The number of windows and doors

The number of architraves and amount of trim work

If there are any decorative features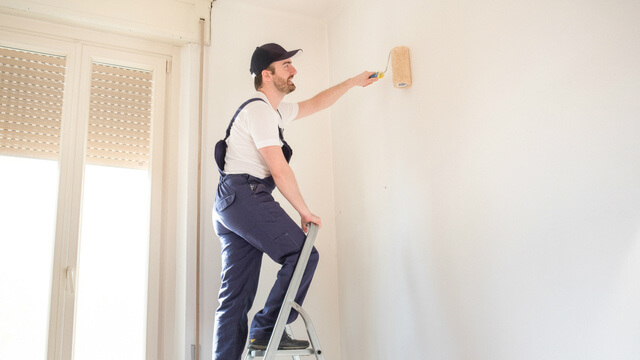 For example, your painter may need scaffolding if you have high ceilings. It may also take more time if you have decorative features to be painted on the walls or ceiling.
The previous colour of the walls can also impact costs as it can take more preparation work and extra coats of paint when transitioning a room from dark or strong paint colours to light or neutral tones, to ensure that the original colour doesn't show through and impact on the desired decorative effect.
Extra costs to keep in mind
It's a good idea to remember that if, during their work, a painter discovers any serious building defects or dangers, this could prolong the project and add to the cost. For example, if you live in an older house and lead-based paint is discovered, this can present a serious health hazard. The Australian Government says homes containing lead should ideally be assessed and dealt with by trained professionals.
It's a good idea, too, to check with a painter during the quoting process if they can fill any holes that may be visible on the painting surface. The painter may request that a specialist plasterer fix certain sized holes or damage to certain materials, before painting can commence.
Should you DIY or hire a professional painter?
Painting your house yourself can be a way of saving money on labour costs, but it's important to know when to call in the help of a professional.
A trade-qualified and experienced painter will typically be able to achieve a neater, better-quality paint job. As the experts, they'll also be able to advise you on what kind of paint to use and may be able to help you decide which colours could best suit your home.
Painters will also be able to deal with any hazards that may arise and will typically have specialist equipment so they can safely paint your home. They should also have the necessary insurance to cover any accidents to people and property during the course of their work – such as paint spillage. During the quoting process, it could be a good idea to check what their insurance covers.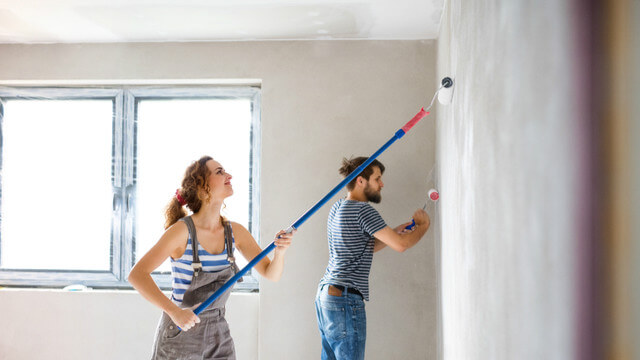 It's also worth keeping in mind that painting your home yourself will take time, and it can be a big undertaking if you're painting your entire property. You'll also need to factor in costs like paint, primers, brushes, rollers, drop sheets and a ladder. Paint can be a fairly significant cost, and research by Canstar Blue found that on average consumers spent $284 on their most recent paint purchase. But for a big job, particularly if you're painting a few rooms, the cost could well be more than this as you may require several tins of paint.
For example, according to Dulux's paint calculator, to repaint a 5×4 metre room with one door and one window, you'll need about five litres of paint for the walls, three litres for the ceiling, and one litre for the doors, windows and trim.
If you are going the DIY route, it could also be a wise idea to check what your home and contents insurance covers if you have an accident, such as spilling paint on carpet.
Painting your house yourself? Our friends at Canstar Blue have compared house paints on durability, ease of application, value for money, quality of finish and more.
Tips to help you save money on painting
If you don't want to DIY but still want to curb expenses, there are a few options you could try:
1. Do some prep work yourself
According to painting service Priority One Coatings, you may be able to cut down on labour costs by doing some of the prep work yourself. This might involve cleaning the surface to be painted or filing in any holes or scratches. Talk with your painter when they are quoting you and see if you can come to an agreement on this.
2. Get a number of quotes
Another way to potentially save money is to ensure you are getting a competitive price for the level of finish you desire. One way to do this is to obtain multiple quotes and compare them. Make sure you check what type of paint and how many coats each quote covers.
3. Do your research
In addition to price, it's important to do your homework and research your potential painting contractor. This may help you get long-term value for money, Priority One Coatings says. It's worth asking about training and experience, licence, insurance and any warranties, and seeing if they have any previous work they could show you. Ask how much time the job might take, and what happens if the work runs overtime or if any problems are discovered which could require extra time.
Will a new paint job add value to your home?
While no two cases are the same, some experts believe that a nice paint job may add to the sale price and make it easier to get a timely sale. According to CoreLogic, painting your home can help create a more positive first impression to prospective buyers. Depending on market conditions, this may reduce a home's time on the market.
It's worth noting however, that while expert property valuers may take into consideration how the property presents when estimating your home's market value, they will not necessarily consider how much you've spend on a paint job. Consider consulting a local property expert for guidance before investing in an expensive paint job for your home. They may be able to advise on whether it is likely to affect the value and, if so, whether it would be enough to offset your costs.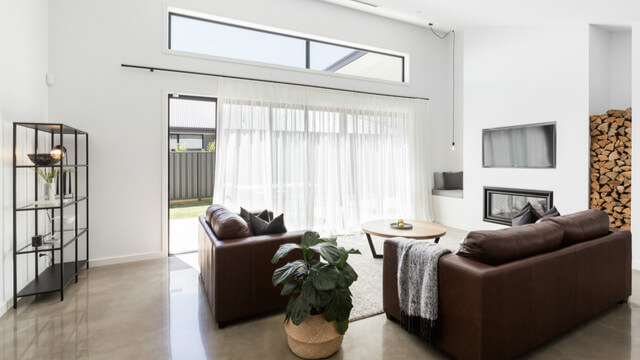 Which paint colour you choose may also have an impact on the sale price. US real estate website, Zillow, looked at 135,000 photos from sold homes across America to see how certain paint colours impacted sales.
It found that homes with cool, neutral wall colours like light taupe living rooms and blue bathrooms sold for more than expected. This might be because these colours can give the illusion of space and can act as a blank canvas for potential buyers' to visualise their own decor.
On the other hand, Zillow found that style-specific colours should be avoided. For example, it found that homes with brick or raspberry red kitchens sold for less than was expected.
Want more reno content? From bathrooms to butler's pantries, follow Canstar on Facebook for our latest articles.
Main image source: kitzcorner (Shutterstock)