Applications for the Federal Government's HomeBuilder scheme have now closed, but the 2021 Budget saw the period in which construction and renovations can commence extended from six to 18 months. Here's what you need to know if you applied for one of the grants.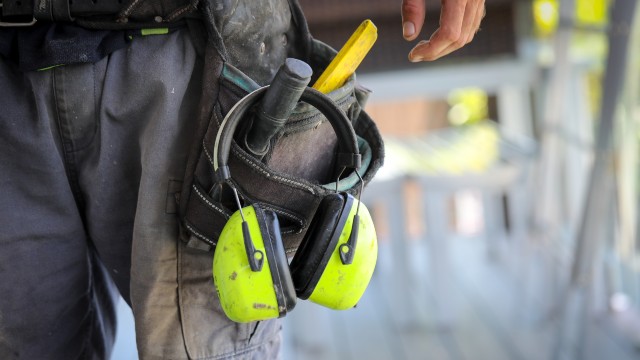 What is the HomeBuilder grant scheme?
In June 2020, the Morrison Government announced a new package that would offer grants of $25,000 to encourage new home builds before the end of the calendar year, in a bid to prop up the pained building industry that had taken a hit during the coronavirus-induced economic downturn.
This scheme, known as HomeBuilder, was later extended to cover purchases up to 31 March 2021, although the size of the grant was reduced to $15,000 for contracts completed in the first three months of 2021.
The government received more than 121,000 applications for HomeBuilder grants, nearly four times the number it had originally expected. Applications for the grant formally closed on 14 April 2021, and new ones are no longer being accepted. If you have already started the application process but had not submitted by 14 April 2021, you can no longer log in to complete your application.
On 17 April 2021, Treasurer Josh Frydenberg announced that the Federal Government would be extending the construction commencement timeframe for successful HomeBuilder applicants from six months to 18 months.
HomeBuilder is just one of a series of measures designed to pump money into the economy, and its initial announcement last year came just a day after Australia's first recession since the early 1990s became all but official.
Data from the Australian Bureau of Statistics revealed that Australia's gross domestic product (GDP) fell 0.3% in the quarter to March 2020, before slumping by around 7% in the June quarter, meaning Australia experienced its first 'technical recession' since the early 1990s.
And while the economy did recover by 3.3% in the September quarter and a further 3.1% in the December quarter, the Australian and global economies do not appear to be out of the woods yet, with the economic side-effects of COVID-19 likely to continue for the foreseeable future.
To help combat this downturn, the government turned to the housing construction sector to help launch its post-coronavirus stimulus program.
Canstar finance expert Steve Mickenbecker said the HomeBuilder program was targeted to create real jobs, aiming to avoid the risk that the grants would just encourage a transfer of assets and wealth.
"The construction sector is a major employer, and with grants extended to home renovations as well as construction of new dwellings, this program is targeting projects with short lead times to help grow jobs quickly," Mr Mickenbecker said.
The new proposal came after the Master Builders Association and the Housing Industry Association had proposed grants to help boost the construction industry of between $40,000 and $50,000 – higher than the grant of $25,000 that the government initially offered or the $15,000 that was subsequently available. The Property Council of Australia proposed a $50,000 grant for buyers of newly built homes and a reprieve from paying stamp duty.
Prime Minister Scott Morrison told 2GB radio prior to the launch of the scheme that any renovation projects would have to be "substantial", and the funds would be more focused on large-scale builds.
Who is eligible for the HomeBuilder grant?
HomeBuilder applicants were required to meet eligibility criteria to successfully receive the grant, including income caps and limits on the value of new home builds. These things were likely to have excluded more well-to-do buyers from accessing the grants. Renovators had to meet the same income thresholds, but were also required to have plans to spend a great deal more than the value of the grant to secure the funding.
In November 2020, the government announced it would update the eligibility criteria to increase the home build value caps in NSW and Victoria for 2021 contracts, and to allow a bigger window of time for construction to commence. In the May 2021 Budget, a few weeks after applications closed, the construction commencement window was then extended by a further 12 months. The full list of eligibility requirements for 2021 was as follows:
You must be a "natural person", not a company or trust.
You must be at least 18 years old.
You must be an Australian citizen.
You must meet one of the following two income caps:

$125,000 per year for an individual applicant based on your 2018-19 tax return or later; or
$200,000 per year for a couple based on both tax returns for 2018-19 or later.

You must enter into a building contract between 1 January 2021 and 31 March 2021 to either:

Build a new home as a principal place of residence, where the property value does not exceed:

$950,000 in NSW (increased from $750,000 under the scheme's initial criteria)
$850,000 in Victoria (increased from $750,000 under the scheme's initial criteria)
$750,000 in all other states and territories; or

Substantially renovate your existing home as a principal place of residence, where the renovation contract is between $150,000 and $750,000, and where the value of your existing property does not exceed $1.5 million before renovation.

Construction must commence within six months of the contract date (increased from three months under the scheme's initial criteria). This window was subsequently extended to 18 months in the 2021 Budget.
Owner-builders and people wishing to build a new home or renovate an existing home as an investment property were not eligible for HomeBuilder.
More specifications on renovations
Given the size of spending required on renovations to be eligible for the grant, more modest refits would generally not make the cut. Even full-scale bathroom renovations, for instance, typically cost an average of around $19,500 in Australia, while kitchen renovations, excluding appliances, cost around $26,000 on average, well below the $150,000 minimum for renovation contracts to qualify under the scheme.
Leader of the Opposition Anthony Albanese criticised elements of the scheme, particularly the requirement for renovation contracts to be at least $150,000.
"There aren't too many Aussie battlers out there who have a lazy $150,000 who will see this announcement today and say, 'I'm going to go between now and December 31 and sign a contract for a project which is worth more than $150,000'," Mr Albanese said in a statement to the media at the time the HomeBuilder scheme was announced.
It's worth noting that the government requires HomeBuilder renovations or building work to be undertaken by a registered or licensed building service contractor, who must be named as a builder on the building licence or permit.
Furthermore, renovation work funded by the grant must be to "improve the accessibility, safety and liveability of the dwelling", according to Treasury. This means it could not be used to add any of the following, for example:
Swimming pools
Tennis courts
Outdoor spas and saunas
Sheds or garages that are unconnected to the property
How do eligible applicants apply for the HomeBuilder grant?
To apply for the HomeBuilder grant in 2021 as a first home buyer, a new home builder or someone purchasing a new home or off-the-plan apartment, an applicant was required to enter into a contract by 31 March and have their lender apply on their behalf to the relevant state or territory revenue office by 14 April. The revenue office would then conduct the eligibility checks.
Likewise, an owner-occupier seeking to substantially renovate their home with the grant would need to pay the builder to commence renovation by the deadline and then apply directly to their state or territory revenue office, which would then conduct eligibility checks and approve or deny the application.
In a fact sheet about the program, the Australian Government encouraged would-be HomeBuilder applicants to contact the revenue office in their state or territory for more details about when and how to apply for a grant.
What other home ownership assistance is available to new buyers?
According to the government, HomeBuilder grants are non-taxable and designed to build on the existing help available for new buyers in states and territories, including:
1. Stamp duty concessions
Stamp duty is a government tax charged when you buy real estate, and is also known as transfer duty. Stamp duty is imposed by state and territory governments and therefore varies from state to state. It can be charged at a flat rate or it can be based on the value of the property. Check with your state or territory government to confirm what laws may apply to your situation, and whether you may be eligible for any concessions or exemptions.
In Queensland
, for instance, first home owners may receive a concessional (reduced) rate of stamp duty on homes valued up to $550,000, which the Queensland Government says could potentially result in not having to pay stamp duty at all.
2. First Home Owner Grant
The
First Home Owner Grant (FHOG)
is a government scheme that works by providing a one-off payment for eligible first home buyers who purchase or build a residential property to live in. The grant differs in each state and territory and in most places it applies to new homes or home builds only. In NSW, for instance, eligible applicants may qualify for a $10,000 grant under this scheme if the property they're buying or building has never been lived in before and is worth $750,000 or less. Check with your state or territory government to confirm what laws may apply to your situation, and whether you may be eligible for any concessions or exemptions.
3. First Home Super Saver Scheme
The
First Home Super Saver Scheme
allows people to save money for their first home within their super fund, which has the benefit of the concessional tax treatment of superannuation, according to the Australian Taxation Office. The scheme allows eligible Australians to make voluntary contributions to their super before and after tax, and then apply to withdraw those contributions and any associated earnings to help buy their first home.
4. First Home Loan Deposit Scheme
The
First Home Loan Deposit Scheme (FHLDS)
is a relatively new government measure, introduced in January 2020. Usually, Australian home buyers have to either save up a deposit of at least 20% of their property's value, or take out
Lender's Mortgage Insurance
. Under the FHLDS, the Australian Government partially guarantees 10,000 low-deposit loans each financial year, for eligible low- and middle-income earners who have saved up a deposit of as little as 5% of a property's value.
In the 2020-21 Federal Budget, the Government also announced
an additional 10,000 FHLDS places
for the year to 30 June 2021, although these extra places are only open to people building or buying new homes.
With dozens of lenders vying for new home loan customers, Canstar's database shows there are also some
incentives
on offer for first home buyers as well. However, while sign-up deals can be helpful, generally the biggest difference to the cost of a home loan is the interest rate that the lender charges, along with any other fees that apply.
For those who have already bought their first home, they may wish to consider other ways to access funds for a renovation instead. Using a home loan
redraw facility
or topping up your existing home loan may be just a couple of the options worth considering. Be sure to take all interest, fees and repayment amounts into consideration when determining the total cost of borrowing to fund a renovation.
Interested in the property market? These articles may also be of interest:
---
Compare Home Loans with Canstar
The comparison table below displays some of the variable rate home loan products available on Canstar's database for first home buyers with links to lenders' websites. The products displayed are based on loan amounts of $350,000, $400,000 and $500,000 at 95% LVR in NSW, available for principal and interest repayments. The results are sorted by comparison rate (lowest to highest), then by provider name (alphabetically). Before committing to a particular home loan product, check upfront with your lender and read the applicable loan documentation to confirm whether the terms of the loan meet your needs and repayment capacity. Use Canstar's home loans comparison selector to view a wider range of home loan products. Canstar may earn a fee for referrals.