Buyers of newly built homes in Australia could be given a $50,000 government grant and a reprieve from paying stamp duty if a proposal by the property industry's peak body is adopted. The plan, which is aimed at saving jobs in a sector hit hard by the coronavirus pandemic, includes sweeteners to entice more first home buyers into the market, as well as making it easier for older Aussies to downsize.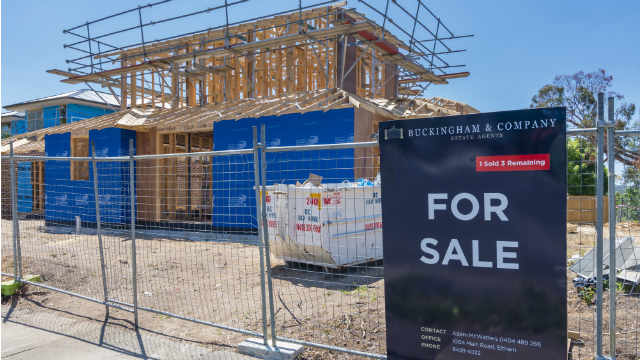 The Property Council of Australia has announced a seven-point proposal "to stimulate construction, grow skills, attract investment and boost confidence" across the ailing property industry, which it says could help revive Australia's economy after COVID-19.
"As Australia's biggest employer which contributes over 13% of GDP, the property industry can be a powerhouse behind economic recovery and growth with the right policy settings and market incentives from the federal, state and territory governments," Property Council Chief Executive Ken Morrison said.
Among the measures proposed under the plan is a $50,000 "New Home Boost" from the Federal Government for buyers of newly built homes. This grant would be limited to the first 50,000 purchasers of homes constructed between 1 July 2020 and 30 June 2021.
Mr Morrison said this boost may help stimulate the construction of 50,000 new dwellings and support more than 200,000 jobs in the industry by "bringing forward market demand for new housing".
What could this mean for the property market?
Canstar finance expert Steve Mickenbecker said that while this proposed $50,000 grant could help induce some buyers to enter the market, they should be wary of buying for that reason alone.
"Don't jump in just because there is a $50,000 grant available. Move when you have the finances in place and when you are in good shape to make a purchase," he said.
There are also fears among some property analysts of what this proposed handout could mean for property prices in Australia if it is introduced.
Director of economic research at the REA Group, Cameron Kusher, told news.com.au that incentives such as this often result in buyers adding that lump sum on top of what they had already set aside for the purchase, meaning prices across the board lift in line with the handout amount.
"Once you start giving people those grants, prices start increasing and while that makes people feel wealthier, it may not be what we need economically," Mr Kusher said.
Mr Mickenbecker said that while he did not believe this grant would drive property prices up across the board, there was the risk it could "distort demand towards new houses" and ultimately increase prices for new homes in particular. This, he said, may mean it could become more of a benefit to builders and suppliers in the industry than for those looking to purchase new.
"But provided this is a temporary incentive, I believe a grant such as this could help to rescue a lot of jobs in the property industry and assist with the recovery of the economy, which would be a good thing," he said.
What about stamp duty?
Another measure proposed by the Property Council in its plan was a call to abolish state and territory stamp duty for new homes and to replace this tax revenue by broadening the GST.
Mr Mickenbecker said the Australian Government had promised to scrap stamp duty when the GST was introduced 20 years ago, but never did.
"I would like to see stamp duty disappear, as it is an incredible impost on people trying to enter the housing market," he said.
Mr Mickenbecker said stamp duty, which typically must be paid upfront by those buying a home or investment property, can add a significant amount to a home's overall cost, which some first home buyers may overlook.
How would first home buyers benefit?
The Property Council's proposal also calls on "States and territories to initiate additional demand stimulus", including offering more first home buyer assistance and "stamp duty relief" for new housing. This would be an extension of the existing help available for new buyers, including:
The First Home Owners Grant (FHOG) is a government scheme that works by providing a one-off payment for eligible first home buyers who purchase or build a residential property to live in. The grant differs in each state and territory and in most places it applies to new homes only. Check with your state or territory government to confirm what laws may apply to your situation, and whether you may be eligible for any concessions or exemptions.
The First Home Loan Deposit Scheme (FHLDS) is a new government measure. Usually, Australian home buyers have to either save up a deposit of at least 20% of their property's value, or take out Lender's Mortgage Insurance. Under this new scheme, the Australian Government will guarantee 10,000 low-deposit loans for the first half of 2020, for eligible low- and middle-income earners who have saved up a deposit of as little as 5% of a property's value. Another 10,000 places for the next year of the scheme are set to open up in July, 2020.
With dozens of lenders vying for new home loan customers, there are also some incentives on offer for first home buyers as well. However, while sign-up deals can be helpful, generally the biggest difference to the cost of a home loan is the interest rate that the lender charges and other fees that apply.
You can compare home loans by finding out who won this year's First Home Buyers Award and comparing First Home Buyer home loans on Canstar's website.
Compare First Home Buyer Home Loans
How could the Property Council's proposal benefit older Australians?
The proposal suggests the Federal Government should remove "disincentives to right size for older Australians", by allowing some age pensioners to sell their homes and move into smaller properties more suited to their needs without impacting their pension. The Council states that this could be achieved "by enabling full rate age pensioners aged 75 years or older and who own their own homes, to quarantine a portion of their surplus sale proceeds from the age pension assets test".
At the same time, the plan suggests state and territory governments should "incentivise and reduce regulation for retirement communities to develop new facilities".
A full summary of the Property Council's recommendations has now been published for consideration by the federal, state and territory governments.
Interested in the property market? These articles may also be of interest: