If you're saving for your first home, you may be able to use your super to help boost your deposit.
The government's First Home Super Saver (FHSS) Scheme allows eligible first home buyers to save money in their super. This money (plus the associated earnings) can then be withdrawn to help purchase your first home. The Australian Government says that tax cuts are a major benefit of the scheme. It claims that the FHSS Scheme can boost the savings you can put towards a deposit by at least 30%, compared to a standard deposit account.
---
---
How does the First Home Super Saver Scheme work?
The FHSS Scheme allows you to make voluntary contributions into your super to put towards a home deposit. You can make voluntary concessional (before-tax) contributions, such as through salary sacrificing, or you can make voluntary non-concessional (after-tax) contributions, such as making contributions from your take-home pay.
You are allowed to make voluntary contributions up to $15,000 per financial year. The most you can withdraw through the scheme is $30,000 (plus earnings). Couples are allowed to pool their savings together, so could potentially release $60,000 (plus earnings).
How much could I save in the First Home Super Saver Scheme?
According to Canstar's Research team, someone with an annual income of $89,123 (before tax) who salary sacrifices $5,000 a year into the FHSS Scheme, could have $2,834 more to boost their home loan deposit after three years (including withdrawal tax) than someone who deposited the equivalent after-tax money into the average bonus savings account.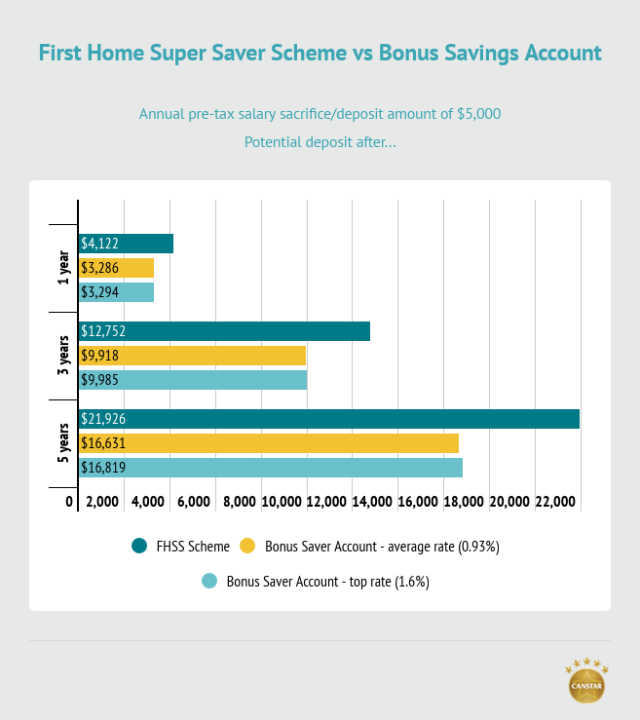 Source: www.canstar.com.au – 26/10/2020. Deposit for FHSS Scheme based on the CSC First Home Super Saver Scheme Calculator with an annual contribution of $5,000, less SG contributions tax of 15%. FHSS scheme maximum release amount includes associated earnings calculated on the eligible contributions using a deemed rate of return of 3.1%, per the Shortfall Interest Charge rate from October to December 2020, and is taxed at the marginal tax rate plus Medicare Levy less a 30% offset. Bonus savings account calculations based on equal monthly deposits at the start of each month with an annual deposit of $3,275 (the post-tax income from $5,000). Average and top bonus rates of 0.93% and 1.6% respectively are based on a balance of $10,000, and include savings accounts that pay a total rate of at least 0.1%. Income tax rates based on the average adult full-time ordinary time earnings of $89,123, per the ABS May 2020 Average Weekly Earnings.
Under the FHSS Scheme, you can make voluntary contributions of up to $15,000 per year. However, this must be within the existing contributions caps (currently $25,000 per year for concessional contributions). This means if you have a high income and therefore a high level of superannuation guarantee contributions paid by your employee, you will have less scope to make voluntary concessional contributions under the scheme. As a result it could also take you longer to boost your deposit using the scheme.
How are my savings taxed in the First Home Super Saver Scheme?
Before-tax contributions are typically taxed at 15% in your super fund, the Australian Taxation Office (ATO) says. After-tax contributions are not taxed in your super fund.
This is compared to investments outside of super, which will be taxed at your marginal tax rate (so this could be up to 45%, depending on your income). By making before-tax contributions, you'll have more money left after tax to invest in your super.
Your savings are also taxed when they are withdrawn from your super. When your super is released, the ATO says it will typically withhold your marginal tax rate (including the Medicare levy) less a 30% tax offset. For example, if you earned $90,000 per year, you would be taxed at a marginal rate of 32.5% plus the 2% Medicare Levy, less the 30% tax offset. This means you would pay an extra 4.5% in withdrawal tax.
How much super can I withdraw in the First Home Super Saver Scheme?
You can withdraw up to $30,000 of your voluntary contributions in total, or $60,000 for a couple (plus earnings). This is limited to 85% of eligible before-tax contributions and 100% of eligible after-tax contributions. You can't withdraw super guarantee contributions made by your employer or spouse contributions under the scheme.
In addition to your super contributions, you will also receive the earnings on your contributions. The ATO says the earnings are calculated using a 'deemed' rate of return and not the actual rate of return your super fund delivers. The deemed rate is based on the ATO's shortfall interest charge (SIC) rate, which is currently 3.10% as of October–December 2020.
Who is eligible for the First Home Super Saver Scheme?
To be eligible for the FHSS Scheme you must:
Be at least 18 years old
Have never owned property or vacant land in Australia, including investment properties (unless you've experienced financial hardship that resulted in a loss of ownership of all property interests)
Not previously requested for your super to be released under the FHSS Scheme
Live in or intend to live in the premises you are buying as soon as practicable
Intend to live in the property for at least six of the first 12 months you own it, after it is practical to move in
What type of properties can I buy with the First Home Super Saver Scheme?
You must sign a contract to buy or construct a home in Australia if you withdraw funds from the FHSS Scheme. If you buy vacant land to build a home on, you must enter into a contract to construct a home to meet the FHSS Scheme requirements.
There are certain types of property that you cannot buy, such as a houseboat or motor home.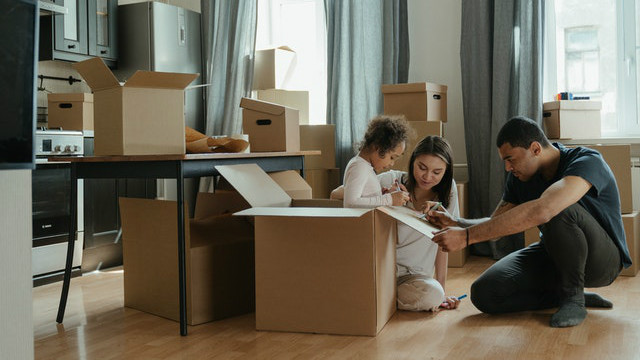 If you're currently considering a home loan, the comparison table below displays some of the variable rate home loans on our database with links to lenders' websites that are available for first home buyers. This table is sorted by Star Rating (highest to lowest), followed by comparison rate (lowest-highest). Products shown are principal and interest home loans available for a loan amount of $350K in NSW with an LVR of 80% of the property value.
Before committing to a particular home loan product, check upfront with your lender and read the applicable loan documentation to confirm whether the terms of the loan meet your needs and repayment capacity. Use Canstar's home loan selector to view a wider range of home loan products.
*Comparison rate based on loan amount of $150,000 and a term of 25 years. Read the Comparison Rate Warning
How do I withdraw my super from the First Home Super Saver Scheme?
Once you are ready to withdraw your FHSS savings, you will need to apply to the ATO to determine how much you can withdraw and then have it released.
After you make your request, the ATO will issue a release authority to your super fund. Your super fund will then release the money to the ATO, who will deduct the appropriate amount of tax. According to the ATO, it usually takes between 15 to 25 business days (or about three to five weeks) for your super fund to release your money and for it to pay the money to you.
Once your savings have been released, the ATO says you need to sign a contract to purchase or construct a home within 12 months from the day you requested the release. If you don't, you may be required to re-contribute the amount withdrawn back into your super or keep the withdrawn amount but pay a 20% FHSS Scheme tax. Alternatively, an extension may be granted that gives you a further 12 months.
Compare superannuation with Canstar
If you're comparing Superannuation funds, the comparison table below displays some of the products currently available on Canstar's database for Australians aged 30-39 with a balance of up to $55,000, sorted by Star Rating (highest to lowest), followed by company name (alphabetical). Use Canstar's superannuation comparison selector to view a wider range of super funds.
Fee, performance and asset allocation information shown in the table above have been determined according to the investment profile in the Canstar Superannuation Star Ratings methodology that matches the age group you selected.
Other ways for first home buyers to save
There are various schemes, incentives and offers available to help Australians buy their first home. In addition to the First Home Super Saver Scheme, you may like to find out more about:
Main image source: Proxima Studio (Shutterstock).