Budget Direct Travel Insurance
Budget Direct is a provider of travel insurance, car insurance, home insurance, health insurance and roadside assistance.
Compare Budget Direct Travel Insurance policies
The table below displays a snapshot of Budget Direct Travel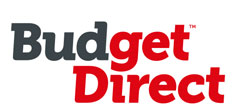 Insurance's policies on Canstar's database, sorted by Star Rating (highest to lowest). Please note the products and Star Ratings displayed are based on a couple travelling to the USA aged under 70.
What types of travel insurance do Budget Direct offer?
Budget Direct offers both domestic and international travel insurance, with specialised policies for annual travellers, seniors, cruisers and skiers. All of these fit under Budget Direct's comprehensive travel policy.
If you're unsure as to which kind of travel insurance is most appropriate for you, or would like to better understand the differences between the different types of cover, check out our comprehensive guide on travel insurance.
What does Budget Direct's domestic and international travel insurance cover?
Budget Direct Travel Insurance's international comprehensive policy will cover you for:
Medical cover: Budget Direct Comprehensive has unlimited medical, dental and hospital cover; however, you must provide a medical practitioner's report confirming you're unfit to travel.
Loss/theft of personal items: Budget Direct also covers the loss or theft of personal items, including trip delays or damage. It will pay up to $7,500 for different items.
Travel cancellation: Budget Direct has unlimited cancellation and amendment fees, which include accommodation meals and tours if there is an unforeseeable event.
Travel delays: It also covers travel delays due to strikes, natural disasters, riots or other severe weather conditions. Its comprehensive cover offers $100 every 12 hours, with a total amount up to $2,000.
Rental car excess: If, as a result of an unexpected event, the rental vehicle you have hired is stolen or damaged during your journey, Budget Direct Comprehensive will reimburse you for any non-refundable excess payable to the rental vehicle company of up to $6,000.
24/7 assistance: Budget Direct Travel's emergency worldwide assistance team is available 24 hours a day via phone.
Lost or stolen documents: Budget Direct will cover the cost involved in replacing important documents that have been lost or stolen.
Please note that exclusions may apply. For example, your medical cover may not pay claims for medical or dental treatment received in Australia, and it will only cover losses related pregnancy up to and including the twentieth week. Another example of an exclusion is not being covered for any delays caused by a natural disaster occurring before the start date of your insurance.
For more details about what is and isn't covered, check out the Product Disclosure Statement on Budget Direct's website.