Budget Direct Health Insurance
Budget Direct is a provider of health insurance, life insurance, home and contents insurance, car insurance, and travel insurance.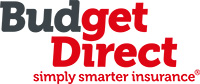 "Simply smarter insurance." (Budget Direct)
Please note that as of May 25 2018, Budget Direct is no longer offering health insurance to new customers. Existing customers will not be affected. More information can be found here.
Budget Direct Health Insurance FAQs