CUA Health Insurance
CUA Health is a provider of health insurance, life insurance, car insurance, home and contents insurance, landlord insurance, travel insurance, home loans, personal loans, credit cards, savings accounts, transaction accounts, term deposits, and international money transfers.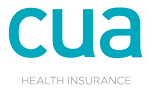 Compare CUA Health Insurance
Here's a snapshot of CUA Health's current hospital only health cover for a single male living in NSW. The results are sorted by estimated monthly premium (lowest to highest) along with links direct the provider's website.
To compare other health insurance policies, please click here.