Bupa Health Insurance
Bupa Australia is a provider of health insurance, car insurance, home and contents insurance, life insurance, travel insurance, and pet insurance.
"Helping you find a healthier you." (Bupa)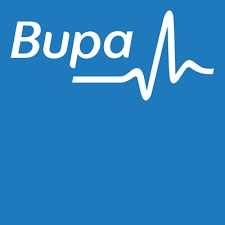 Compare Bupa Health Insurance
Here's a snapshot of Bupa's current hospital and extras health cover for a single male living in NSW. The results are sorted by estimated monthly premium (lowest to highest).
To compare other health insurance policies, please click here.
Compare Health Insurance with CANSTAR
Health Insurance FAQs
Choosing a health insurance policy can be a difficult task. Below, we answer some of the most frequently asked questions about Bupa health insurance.
How to join Bupa health insurance
You can sign up for Bupa health insurance by comparing health insurance on our health insurance comparison pages and clicking on one of their products.
If you need help applying, you can ask your questions in person at the many Bupa branches across Australia (click here to find your nearest centre). Or you can use the online live chat on their website, or call Bupa on 134 135 (open Mon-Sat).
Can I manage my Bupa health insurance policy online?
Yes. Bupa have a number of options to manage your policy; however, it's encouraged that members manage their policy online. If you want to visit a Bupa branch in person, they can print out or send you policy documents, tax statements, and other communications.
Do I need Bupa travel insurance if I have health insurance?
Yes. Your health insurance does not cover you overseas. If you are travelling overseas, you need travel insurance. Bupa also offers travel insurance, and you can compare travel policies on the Canstar website.
And vice versa – travel insurance only covers you while you are away from home on a trip. While you are in Australia, you need health insurance if you want to be covered for private healthcare costs. Find out more about the difference between health insurance and travel insurance here.
You can compare travel insurance on the Canstar website:
Can I get dental cover with Bupa health insurance?
Bupa Extras Cover and Bupa Hospital & Extras Cover both include dental as standard. The level of cover you need will depend on the complexity and cost of the dental procedures you would like to have covered.
Compare Bupa Health Insurance with Dental Extras
How do I lodge a claim with Bupa health insurance?
Once you've received medical treatment or made a purchase covered by your policy, the next step is to make a claim. There are several ways you can lodge a claim with Bupa:
On-the-spot: Around 20,000 Australian specialist providers have the HICAPS electronic claim system – just make sure you remember to bring your Bupa membership card to process the claim immediately. There are no forms to fill out with this option.
Mobile app: Make claims using the Bupa mobile app. Simply take a photo of your receipt using your smartphone and submit the claim for a benefit instantly (requires connection via mobile data or WiFi).
Online: Log into your Bupa account to make your claim online. Simply click the 'claim online' button and enter the details found on your receipt. Have your BSB and bank account number ready for immediate transfer of your benefit from Bupa into your bank account.
By Post: You can fill out a claim form, attach your invoice and receipt from the specialist provider, and post this paperwork to:
Bupa Reply Paid 990
Adelaide SA 5001
Bupa will then make the payment, either by bank transfer or by sending you a cheque.
Can I get Bupa health insurance as an international student?
Bupa offers Overseas Student Health Cover (OSHC) for international students who are planning to study in Australia. Their policy is fully compliant with the necessary student visa conditions, and includes benefits such as hospital treatment cover, unlimited emergency ambulance transport, and medication. Find out more by comparing OSHC policies on our website:
Can I get Bupa Working Visa Health Cover?
Bupa offer Working Visa Health Cover, which is 100% Australian Government Visa Compliant. They pride themselves on having over 22 million members across 190 countries. Find out more by comparing working visa health cover on our website:
Bupa was founded in the UK, and they established themselves in the 1930s in Australia to help people cover the cost of their hospital treatment. They were formed by three main health providers: HBA, MBF, and Mutual Community. Today, Bupa are present in over 190 countries.
Bupa has an amazing list of online health tools and calculators that you can use to track your progress towards your health and fitness goals. Mobile apps from Bupa Australia that can help you find a healthier you include:
Bupa has won the coveted CANSTAR Award for Outstanding Value Health Insurance in 2016, 2015, 2014, 2013, 2012, 2011, 2010, and 2009. One of the keys to their success is their development of health insurance policies specifically targeted to the needs of different life stages, such as Young Singles, Growing Families, and Live Well cover.
We highly recommend the live well food series on Bupa Australia's YouTube channel. Bupa also ask the Australian public many important health questions such as "How do you get a baby to sleep?" and "Do you find it hard to talk about cancer?"
Source: Bupa Australia
Bupa also supports the community with the Bupa Health Foundation, established in 2005. This foundation has invested over $26 million in national initiatives for wellbeing, chronic disease, healthy ageing, and affordable healthcare.
Source: Bupa Australia
Bupa also works to protect our environment. Since 2014, Bupa have invested more than $17 million in renewable energy, technical energy upgrades, and employee engagement projects towards their environmental sustainability goals. Bupa was been recognised as the 2015 ABA100 Winner in the Australian Business Awards (ABA) for Sustainability for their carbon reduction measures.
Bupa Health Insurance
CANSTAR Research
Award:
Outstanding Value Health Insurance
CANSTAR is an information provider and in giving you product information CANSTAR is not making any suggestion or recommendation about a particular insurance product. If you decided to apply for a health insurance, you will deal directly with an insurance provider, and not with CANSTAR. Rates and product information should be confirmed with the relevant insurance provider. For more information, read our detailed disclosure, important notes and additional information.
The inclusions mentioned represent a selection of what is covered at the time of writing. Additional terms and conditions may apply to different features. Additional fees may apply to the product. CANSTAR is not making any suggestion or recommendation to you about this product. Please ensure that you read the product disclosure statement to determine all the current options and inclusions for the product you are considering.
Important Notes: The Star Ratings in this table were awarded in September 2016. The search results do not include all providers and may not compare all features relevant to you. View the CANSTAR Health Insurance Star Ratings Methodology and Report. The rating shown is only one factor to take into account when considering products.
Other Health Insurance from