Mediscare or not, the latest findings from Roy Morgan Research show that the proportion of us paying for a visit to the doctor in an average 4-week period has declined over the past 10 years.
The Federal Opposition ran an alarming "Mediscare" campaign during the recent federal election – but it would appear that those fears were unfounded.
A recent Roy Morgan survey found that just over 27% of Aussies visiting the doctor in a 4-week period have to pay out-of-pocket expenses to see a GP, compared to almost 32% in 2007.
And it's not that we're less likely to go to the doctor, with just over half of all Australian adults going to the doctor (GP) in an average month. This is well ahead of the dentist/orthodontist (11.8%) and medical imaging such as CT scans or X-rays (11.1%). Overall, 63.0% use at least one medical or health service, paid or unpaid, in that time.
Perhaps reassuringly, less than 1% of Australians use an ambulance during a given 4-week period.
Paying to see the doctor has dropped across all income groups, as follows: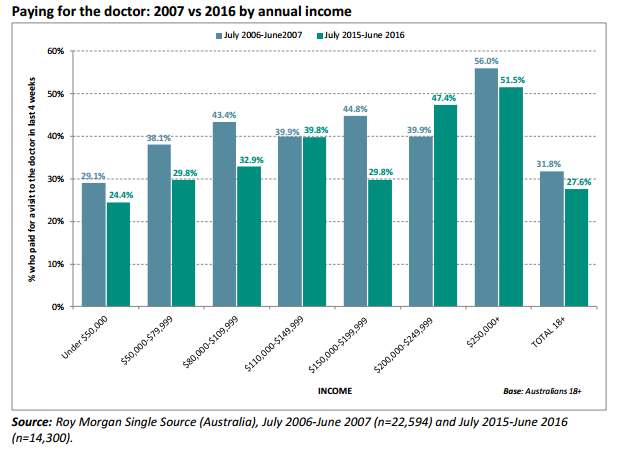 Industry Communications Director for Roy Morgan Research, Norman Norris, says, "After the ALP's Medi-scare campaign in the lead-up to the election, and general confusion regarding whether or not bulk-billing is to be scrapped for pathology services, it may come as a surprise to learn that fewer Australians are paying for doctors' visits now than they were in the 12 months to June 2007."

How does bulk billing work?
Bulk billing is a process which allows Australians to visit their GP for free – a vital system for low-income Australians, who may not be able to afford to pay to visit a GP.
Bulk billing is a rather complex system, but it's essentially where a GP or health professional takes the Medicare rebate for an appointment or procedure as full payment for their fees. This means there is zero cost to the patient.
At the time of writing, the Medicare rebate for a standard GP consultation is $37.05. If a patient has to pay to see a GP, they will receive $37.05 back from Medicare. If a patient were being bulk billed, the $37.05 rebate that would usually be given to the patient is instead given to the doctor, meaning that the patient doesn't pay anything.
Health professionals that bulk bill are not permitted to charge other costs, such as booking fees, administration fees, or record-keeping expenses. However, some health professionals may choose to only allow bulk billing for certain patients, such as pensioners or Health Care Card holders.
Medicare freeze
The amount of Medicare benefits that are paid by the government to your medical practitioner depend on what medical service is being provided. As an example though, Medicare pays $37.05 for you to have a short consultation of less than 20 minutes with your GP.
In 2013, the Labor government introduced a Medicare freeze as a "temporary" measure to assist in getting their budget back to a surplus. The current Liberal government extended that indexation freeze out until 2020, meaning doctors are still being paid 2014 levels in 2017. That means that the amount of Medicare benefit that your GP receives will not increase with inflation between now and then.
At the time this freeze was introduced, there was a great deal of debate around whether the move would lead to increased out-of-pocket expenses for patients, or decreased attendance at clinics. Thus far, it appears that while doctors are increasing fees and abandoning bulk billing (Herald Sun), patients have not stopped visiting the doctor.
Disconnect between what we want and what we ask
A national consumer survey of more than 2,000 women, conducted by Jean Hailes for Women's Health Week, has found somewhat of a disconnect between the health issues that women want more information on, and the health issues that health professional think are the top priorities.
The top 5 topics that the women surveyed said they wanted to know more about, compared to the top 5 topics health professionals said women asked them about, were as follows:
| | |
| --- | --- |
| Identified by women | Identified by health professionals |
| Weight management | Mental and emotional health |
| Cancer | Menopause |
| Mental and emotional health | Weight management |
| Menopause | Breast cancer |
| Chronic pain | Fertility |
It may be that we're simply not willing to ask the questions we really want to know the answer to in that short, bulk-billed appointment timeslot.
If you are in need of further protection from medical costs, and are in the market for a new health insurance policy, check out our comparison table below which previews some current low premium policies available for hospital cover. Please note that this table has been formulated based on a single male seeking cover in NSW. You can compare health insurance policies for yourself here.