Vision Super
Vision Super is an industry super fund. It has been around for just over 70 years, with membership open to all Australians at any time in their working lives.
Types of Vision Super accounts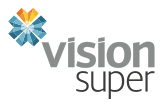 Vision Super Saver is available to employees of employers who nominate Vision Super as their default fund, or who register their employees as members of Vision Super. It offers 13 investment options, including a balanced growth investment option, five premixed options and eight single sector options. Vision Super Saver members have access to death, TPD and IP insurance cover automatically if eligibility criteria are met, and can also organise additional coverage.
Regardless of the product their super in invested in, Vision Super superannuation account members:
may get a potential retirement bonus if transferring a Vision Personal or Vision Super Saver account to an account based pension with the same provider. Terms and conditions apply.
have online account access via Vision Online
can use the Vision Super Mobile App
can top up their super account via BPAY, direct debit or cheque
Vision Super also offers:
Pension plans, including the Vision Super Account Based Pension and Vision Super Non-Commutable Account Based Pension
Corporate plans, including for Vision Super Saver and Vision Super Saver for the Australian Services Union
How to join Vision Super
Before committing to a particular fund, consider comparing your options with Canstar and checking out our choosing a super fund checklist. You can also read the Product Disclosure Statement (PDS) and Target Market Determination (TMD) for a Vision Super product to help you decide whether it may be suitable for your needs.
If you decide to join Vision Super you can sign up via an online form or call the Vision Super member hotline.
Finally, remember to tell your employer you've joined Vision Super. Your employer should give you a Superannuation Standard Choice Form to fill out, sign and return to them.