Future Super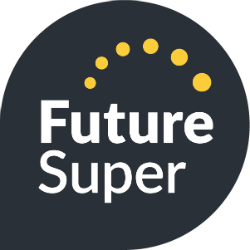 Future Super is a retail super fund that is open to all eligible Australians. It says it invests "for impact" and its portfolios are 100% fossil fuel free across all asset classes.
Types of Future Super accounts
Future Super
Future Super is the main accumulation product available to members. Future Super members have access to three investment options:
Balanced Index: Invests in majority growth assets, targeting investments that are ethically screened with no exposure to fossil fuels.
Balanced Impact: This option targets investments in social impact and renewable energy projects. Companies that do not meet the Environmental, Social and Governance (ESG) criteria of the fund are avoided.
Renewables Plus Growth: This option targets investments that are ethically screened and have zero exposure to fossil fuels, with a 20% target exposure to climate change solutions. Companies that do not meet the ESG criteria of the fund are avoided.
In addition, some of the features offered by the Future Super product include:
The ability to opt in to insurance products, namely death cover, death and total and permanent disability cover, and income protection cover. As with any insurance product, consider checking the cover amount, any exclusions, limitations or other conditions that may apply, as well as the premiums you would be charged before deciding whether it suits your needs.
Baby Bump, which is a refund of the annual dollar-based admin fee a member pays while they are on parental leave, up to a maximum of 12 months.
An online member portal where customers can manage their account.
How to join Future Super
Before committing to a particular fund, consider comparing your options with Canstar and checking out our choosing a super fund checklist. You can also read the Product Disclosure Statement (PDS) and Target Market Determination (TMD) for a Future Super product to help decide whether it is suitable for your needs.
If you decide to join Future Super you can apply through its website or over the phone. Future Super says you should have your tax file number at the ready when applying to join.
Finally, remember to tell your employer that you've joined Future Super. Your employer should give you a Superannuation Standard Choice Form to fill out, sign and return to them.