Defence Service Homes Insurance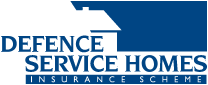 The Department of Veterans' Affairs (DVA) is a provider of home and contents insurance through its Defence Service Homes Insurance Scheme (DSHIS).
What do Defence Service Homes Insurance policies cover?
Defence Service Homes (also known as DHS Insurance) offers the following policies for home and contents insurance on behalf of the DVA to eligible Australians under the DSHIS:
Building Insurance
According to Defence Service Homes, its building insurance policies provide cover for the replacement cost of your home or rental property for a range of reasons, including flooding and storm damage. It may also help with the costs of accidental damage (upt to a monetary limit of $5,000 at the time of writing), as well as provide some cover for extra expenses that you may incur, including temporary accommodation, demolition costs and other costs related to rebuilding.
Home Contents Insurance
According to Defence Service Homes, its contents insurance covers a range of household goods, items of special value and furniture, among other things. Some exclusions listed include photographic equipment, musical instruments and caravans or trailers.
Some additional bonuses that you get with DHS contents insurance include:
Change of site – If you are moving into a new home within Australia, DHS will insure your contents at both sites for a maximum of sixty days
Loss or damage to contents caused by theft from the vehicle or flood, fire or collision of the vehicle – DHS will insure your contents while they are in transit by land in a vehicle to your new, principal place of residence or a storage facility
Hole in one – If you score a hole in one while playing golf, DSH will pay $100
Veterinary expenses – If your domestic pet is injured in a road accident, DHS will cover up to $1,000 in vet bills for cats and dogs that are registered and micro-chipped as required by law
Taxation Audit – Reimbursement of accountants fees as a result of your personal taxation affairs being audited by the Australian Taxation Office
Modification to your Home – If you permanently become a paraplegic as a result of an insured event, DHS may pay up to $20,000 for the cost of modifying your home to a suitable home
War medals and decorations – DHS will cover the accidental loss or damage of war medals and decorations anywhere in Australia while they are being worn or carried by you when you are attending or traveling to or from any official military or commemorative function or service, including ANZAC Day. The maximum amount in total for all war medals and decorations is the lesser of $10,000 or 25%.
For a complete list of inclusions and exclusions, make sure to read the Product Disclosure Statement (PDS) available on the Defence Service Homes Insurance website.
Defence Service Homes home and contents insurance FAQs