Bankwest Home & Contents Insurance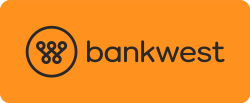 Bankwest is a provider of home insurance options for home owners, renters, landlords and property investors through its partner, CommInsure.
Compare Bankwest home & contents insurance
See below for a snapshot of Bankwest's home & contents insurance products on offer for a home owner under 50 living in New South Wales to replace building and contents worth less than $550,000.
What do Bankwest home and contents insurance policies cover?
Home building insurance
Bankwest's building insurance covers:
Flood, fire and storm damage
Theft cover
Accidental glass breakage
Additional benefits, including:

Alternative accommodation costs
Temporary repairs and emergency work
Storage fees
Contents insurance
Bankwest's contents insurance covers:
Flood, fire and storm damage
Theft cover
Accidental glass breakage
Additional benefits, including:

Contents in transit
Visitors' property
Domestic pet cover
Portable contents insurance
Bankwest also covers portable contents for those items you may take away or wear away from home. Items are covered worldwide for the first 30 days of your travel. Bankwest's portable contents insurance covers:
Theft, accidental loss or damage anywhere in Australia and New Zealand
Packaged Cover covers items worth up to $1,000 each
Customised Cover covers items at and away from home for their replacement value