Latitude 28° Global Platinum Mastercard

The 28° Global Platinum Mastercard is a credit card product provided by Latitude Financial Services. Latitude Financial Services also provides other credit cards, personal loans and car loans, personal insurance, and interest-free and promotional retail finance.
Compare Latitude Financial Credit Cards
If you're considering a Latitude Financial card, check out what's available below in our comparison table based on a monthly spend of $1,000. Please note that this table has been sorted by purchase rate (lowest to highest).
What is the 28° Global Platinum Mastercard?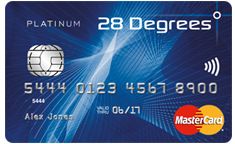 The 28° Global Platinum Mastercard credit card is a credit card designed for international travel and online shopping. It has no fees on overseas purchases, no currency conversion fee, and no foreign transaction fees. Even if you never leave the country, this card still offers benefits when making international purchases in your online shopping. On top of all that, it has no annual fee.
This card won our CANSTAR 5-star rating for outstanding value travel credit cards in 2015 and 2016.
Source: 28° Global Platinum Mastercard
The inclusions mentioned represent a selection of what is covered at the time of writing. Additional terms and conditions may apply to different features. Additional fees may apply to the product. CANSTAR is not making any suggestion or recommendation to you about this product. Please ensure that you read the product disclosure statement to determine all the current options and inclusions for the product you are considering.
About the 28° Global Platinum Mastercard
Features
Card type: Mastercard
Minimum credit limit: $6,000
Security: Card protected by Mastercard SecureCode for security verification of online shopping purchases, chip protection, anti-fraud protection, and The Falcon fraud detection system. Worldwide emergency credit card replacement for free.
International travel benefits: No overseas fees on purchases, no currency conversion fee, no foreign transaction fees (cash advance fees will apply at ATMs). One of the new benefits for 28 Degrees cardholders is free global Wi-Fi.
Concierge: 24/7 complimentary concierge service available to help book flights, accommodation, restaurants, travel tours, and more.
Contactless payments: Contactless payments are enabled via Mastercard PayPass for transactions under $100 without a PIN, and transactions above $100 with a PIN.
Compare Frequent Flyer Credit Cards
CANSTAR provides an information service. It is not a credit provider, and in giving you information about credit products CANSTAR is not making any suggestion or recommendation to you about a particular credit product.
If you decide to apply for a credit card you will deal directly with the financial institution, and not with CANSTAR. Rates and product information should be confirmed with the relevant financial institution. For more information, read our detailed disclosure, important notes, and additional information.
Showing Rewards products in Canstar's database with links to lenders' websites. The display is sorted by Star Rating (highest to lowest) for credit cards that offer signup bonuses to consumers for a spend of $5,000 per month.
Table only displays five products. Click here to see more. Be sure to read the full terms and conditions of each deal before signing up.