CommInsure Home & Contents Insurance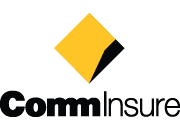 CommInsure is a provider of home and contents insurance, car insurance, life insurance, credit repayment protection insurance, and travel insurance. Parent company CommBank is a provider of home loans, credit cards, bank accounts, investment products, superannuation funds, and business products.
"When we believe, we can. CommBank CAN."
About CommInsure
Source: CommBank
CommInsure is a brand owned by the Commonwealth Bank of Australia (CommBank). Founded back in 1911 as the government bank for our young nation, CommBank remain Australia's largest provider of financial services today.
CommBank offers a suite of helpful tools for next home and first home buyers. Their Property Guide mobile app makes it easy to search for your next home on the go with Apple and Android devices. On their YouTube channel they have a great series of videos on buying a home.
This table features CommInsure home insurance products currently on the market based on home and contents insurance for under $550,000 of cover for building and contents, for people located in NSW or ACT and aged less than 50 years old. The table is sorted by star rating (highest to lowest).
Compare Home Building Only Insurance
How CommInsure/CommBank supports the community
How CommInsure/CommBank protects the environment
Compare Home Building Only Insurance
Compare Contents Only Insurance
CANSTAR is an information provider and in giving you product information CANSTAR is not making any suggestion or recommendation about a particular insurance product. If you decided to apply for a home insurance, you will deal directly with an insurance provider, and not with CANSTAR. Rates and product information should be confirmed with the relevant insurance provider. For more information, read our detailed disclosure, important notes and additional information.
The inclusions mentioned represent a selection of what is covered at the time of writing. Additional terms and conditions may apply to different features. Additional fees may apply to the product. CANSTAR is not making any suggestion or recommendation to you about this product. Please ensure that you read the product disclosure statement to determine all the current options and inclusions for the product you are considering.