Has your state legalised ridesharing services yet? What the laws are in each state.
It's rare that a week (or even a day) goes by in Australia these days without Uber making the news.
But whether it's for good or bad reasons, the more the country hears about Uber, the more popular the ridesharing service seems to become.
The market disruptor spread to Australia back in October 2012, but it wasn't until 2014 that it really started making its presence felt.
Australian taxi services began holding anti-Uber protests while local police in some states started hitting Uber drivers with fines. Yet usage of Uber around the country was growing faster.
The anti-Uber groups were shooting themselves in the foot, it seems.
They should've learnt from what was happening overseas:
In London, June 2014: Uber experienced record sign ups following highly publicised cab strikes across Europe. In one day, a Wednesday, they reported an 850 percent increase in sign-ups in London compared to the Wednesday before.
In Hamburg, September 2014: Following a ban by the German government, Uber reported a 590 percent increase in downloads in Hamburg one day, compared to the same day last week.
As they say, any publicity is good publicity.
Uber says it now has over 1.5 million riders in Australia, with around 30,000 drivers. This widespread uptake has recently forced many state governments to amend existing laws to allow legal usage of the popular transport app.
Take a look at the legal status of Uber in each state below:
Uber in New South Wales: Legal
After over a year of slapping Uber drivers with $2,500 fines, Uber was legalised in NSW on the 17th of December 2015.
Taxi drivers were to be compensated $250 million – $20,000 for up to two taxi licences – paid for by a $1 levy on all taxi and ride-sharing trips.
Uber drivers are required to have criminal and car-safety checks though.
Uber in Victoria: Changes Underway
Uber is not technically legal in Victoria at the time of writing, but the State Government has a plan to make it so.
In June 2016, the Victorian Government agreed to work on new laws with the Sex Party. By August, plans were revealed to charge a $2 levy on taxi and ride-booking fares to help compensate taxi drivers for the loss of their exclusive taxi licences.
Premier Daniel Andrews said that the State Government would provide $378 million to help taxi licence holders transition to new laws, as well as set up a $75 million "fairness fund" to assist taxi drivers experiencing financial hardship.
"This is the most progressive, the most comprehensive reform agenda anywhere in the nation," Mr Andrews said.
"It's also the fairest and it provides everyone across Victoria the certainty that there will be more choice, there will be greater value, there will be better transport options for you, because we are making sure that the law is written to take advantage of the technology that's here now and all that will come hereafter.
"It gives to the taxi industry what they've been calling for, the chance to compete on an even playing field."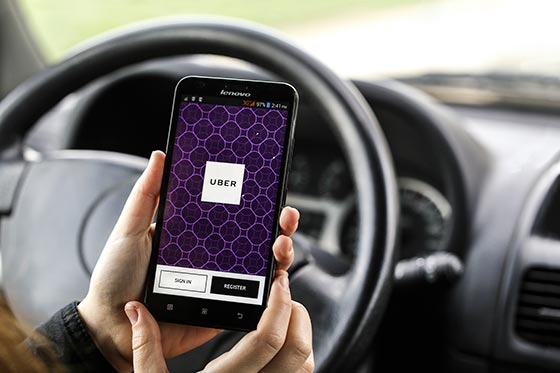 Uber in Queensland: Legal
Queensland is the most recent state to allow ridesharing services, officially legalising them on the 5th of September 2016.
The government is delivering an assistance package of $100 million for the taxi industry to make up for it. This includes $20,000 one-off payments for taxi licence holders.
State Transport Minister Stirling Hinchliffe said the reforms will deliver a more flexible and modern personalised transport system that can keep pace with future changes
"These reforms give Queenslanders more choice, will drive competition and innovation across the whole industry, and," he said.
"As a result of the reforms, Queenslanders will have a wider range of affordable travel options, and the industry will benefit from less red tape and costs.
"Ride-booking services will now be able to operate legally across Queensland but there will be additional safety measures, such as requirements for identification signage and annual inspects to certify safety at approved inspection stations."
Uber in Western Australia: Legal
WA Transport Minister Deal Nalder announced in December 2015 that Uber would be legalised in the state.
As part of a 27.5 million compensation package for the WA taxi industry, a $20,000 payment was promised for each Perth metropolitan-owned taxi plate purchased before the government's December announcement.
The State Government is also setting up a $6 million industry hardship fund for drivers facing extreme difficulties.
Mr Nalder said the proposed reforms would create a more level playing field for WA's on-demand or taxi industry.
"Changing customer expectations, the emergence of new market entrants and three separate reports into WA's taxi industry have highlighted the need for a significant overhaul of the current rules and regulations for on-demand transport and taxis in this State," he said.
"The proposed reforms will reduce red tape, address cost disparities and unnecessary operating conditions imposed on current metropolitan government-leased taxi plate holders and privately owned taxi plate holders in both metropolitan and regional areas.
"Under these new measures, taxi operators will be freed up to adapt to customer's demand and take on competition. We believe WA's on-demand or taxi industry will continue to grow, provided drivers and owners adopt innovation and technology to provide a better service and accept greater accountability for the services they provide to the community."
Uber in South Australia: Legal
Ridesharing services have been officially allowed to operate in South Australia since July 2016.
As part of the new regulations the State Government is offering a $31 million compensation package for the taxi industry. This includes a $30,000 payment per taxi licence. This would be funded by a $1 per ride levy on all metropolitan trips.
In May there was a public standoff between Uber and the South Australian Government, with Uber threatening to abandon plans to operate its Uber X service in South Australia over high start-up costs.
The State Government claimed these threats were a bluff.
Transport Minister Stephen Milligan said the start-up costs of over $600 were not much more expensive than other states.
"Uber is merely trying to pressure the Government to further reduce costs and requirements, on top of the massive reduction already granted in the Government package announced in April," he said.
"Uber is well-known for this behaviour around the world. The State Government won't be bullied into compromising safety for drivers or passengers."
Uber in Tasmania: Legal
Uber is now legal is Tasmania and the state government expects ride-sharing to be up and running by the end of the year. The Tasmanian Transport Commission exempted ride-sharing drivers from the requirement to obtain accredation, meaning that they can operate without a taxi or vehicle licence, however vehicles will be inspected before they can operate and they'll be annual inspections subsequently for cars older than three years.
'I am delighted to announce that ride'sharing is now legal in Tasmania,' Infrastructure Minister Rene Hidding said in a recent statement, adding he expected Uber to start operating 'before Christmas.'
Uber in Australian Capital Territory: Legal
The ACT was the first of Australia's states and territories to legalise Uber.
Their government passed the ruling in October 2015.
Uber in Northern Territory: Changes Underway
Having recently come to power in the Territory, the Labor party has made plans to legalise Uber, as was promised during the election campaign. They has been a recent survey for locals to fill out where they have an opportunity to voice their opinions on the use of ride-sharing vehicles.
"Territorians voted to have ride-sharing in the Northern Territory," said Northern Territory Chief Minister Michael Gunner.
Featured image by Nicolas McComber & GoodLifeStudio