When you're driving, accidents can happen in a split second. It's important to maintain your composure, and use these tips to help you navigate the claims process.
Life has a habit of surprising us – sometimes it can be good, but in some circumstances, it can be 'not-so-good'. When a financial disaster occurs, like a car crash, the first step in any situation is to calm yourself down, and avoid making the situation worse. By following these seven (7) top tips, you can help to financially protect yourself against any condition that's out of your control:
Exchange details with the other driver
Make as many notes as you can
Notify the police
Notify your insurer
Talk to your insurer before spending any money
Recieve a visit from an assessor
Always be honest
If you're considering car insurance policies, the comparison table below displays some of the policies currently available on Canstar's database for a 30-39 year old male seeking cover in NSW without cover for an extra driver under 25. Please note the table is sorted by Star Rating (highest to lowest) followed by provider name (alphabetical) and features links direct to the providers' website. Use Canstar's car insurance comparison selector to view a wider range of policies.
1. Exchange details with the other driver
If a car accident has just occurred, the best thing to do is to pull over somewhere safe and exchange details with the other driver/s. A way to make this process easier is to carry around a pre-filled slip for the other driver to fill in with important details such as
Name
Vehicle registration
Contact number
Address
Licence number
CTP Insurer and insurance policy
Brief statement of what happened
Make sure to gather the names and phone numbers of any witnesses nearby. You can either pick this form up at the Department of Transport, or type one up yourself.
2. Start making notes
As soon as you believe you may have to make a claim. Start making notes about what happened, and where. Take photos and videos via your phone of the damage, and email them to yourself to keep track of everything.
Some car insurers have handy claims apps, what can guide you step-by-step through the process of documenting the evidence and damage. Check whether your car insurer has a car insurance claims app and if so, download it.
3. Notify the police
Depending on the particular circumstance, it is always a good idea to report a car accident to the police. The law requires that the driver of a motor vehicle involved in a crash in which a person is injured, must report that crash to the police. There is also a legal requirement on the person making a CTP claim to ensure that the crash has been reported to the police before the claim can proceed.
4. Notify your insurer
The next most important step is to notify your insurer or broker of the loss, and seek guidance. If you file your claim over the telephone or internet, usually the insurer can begin processing it immediately. If you delay reporting your claim, your insurer may not pay for any additional loss or damage caused by your delay.
5. Talk to your insurer before spending money
Temporary repairs or replacement products may seem like a good option after an accident, as they help you get back on the road faster. Some repairs may be urgent or necessary, such as a gas leak; however, many insurers have preferred repairers or suppliers to arrange appropriate emergency repairs for you. Remember to keep the receipts for any out-of-pocket expenses you incur.
6. Insurance claims may be examined by claims assessors
You will need to prepare an explanation of what happened and provide evidence to support your claim. When filing a damage claim, your insurer may feel the need to send an assessor to your property. These assessors will inspect the damage to your vehicle in order to estimate how much the repairs will cost the insurer.
Your insurance product disclosure statement (PDS) will provide information on the claims process for your insurance policy, including what evidence the assessors may need. Collect every receipt you can.
7. Be honest with your insurer
Despite the fact some things are better kept in the dark, making a mistake in the information you give your insurer, whether it's deliberate or not, can affect the premium you pay. Provide truthful information at all times. If you don't the insurer might refuse to pay when you try to make a claim.
Also inform your insurer if your circumstances change. For example, if you:
Modify your car (e.g. rims, tinted windows, woofers and kits)
Move house
Have additional drivers
Use your car for work
Case Study: Jimmy's claim is rejected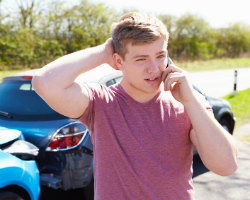 Jimmy bought a new car and took out comprehensive insurance. He decided to add a spoiler and lower the car a few inches to give it a more distinctive look. But when the car was damaged, his claim was rejected because he had not informed his insurer of the changes.
Source: ASIC
A car accident can be a scary thing. Once it's clear that there are no serious injuries involved, you can begin the claims process. Remaining calm is key in a situation like this, and if you follow these tips, the claim process will hopefully help you keep your financial peace of mind.