Mazda's CX-5 is a mid-sized SUV that has proven popular among Australian families.
According to Car Sales, the CX-5 has topped the Federal Chamber of Automotive Industries' (FCAI) annual sales chart in the medium SUV category since it was introduced in 2012, beating out the likes of the Toyota RAV4 and Nissan X-Trail. The CX-5 won Drive's Car of The Year award for an SUV under $40,000 in 2012 and was also a finalist for Wheels Car of the Year in 2018.
And when it comes to customer satisfaction, Mazda was rated the joint-best brand by Canstar Blue in the SUV market in 2018.
The CX-5 is currently available in a two- and all-wheel drive and in a choice of petrol, turbocharged diesel and, starting with the 2019 model, turbocharged petrol engines. The current model range starts with the entry level Maxx, then steps up to the Maxx Sport, Touring, GT and finally to the top-spec Akera.
Mazda CX-5 price
According to Eagers Mazda, the 2019 Mazda CX-5 ranges in price from $30,380 to $50,630 to purchase new, depending on the model and your chosen specs.
2019 Mazda CX-5 Pricing

2.0-litre, manual (FWD)
2.0-litre, auto (FWD)
2.5-litre, auto (AWD)
2.2-litre turbo-diesel, auto (AWD)
2.5-litre turbo-petrol, auto (AWD)
Maxx
$30,380
$32,380
$35,380
Maxx Sport
$35,590
$38,590
Touring
$40,280
$43,280
GT
$45,390
$48,390
$47,890
Akera
$47,630
$50,630
$50,130
Source: Costs shown in the table above have been provided by Eagers Mazda as at 5 March 2019. Price excludes on-road costs (e.g. registration, CTP and stamp duty).
Based on averages taken from car listings on carsguide.com.au in the last six months, a used Mazda CX-5 starts from $11,913 for a 2012 entry-level model to a maximum of $54,679 for a 2018 top-of-the-range model.
Used Mazda CX-5 Prices 2012 – 2018

Model year
Minimum price ($)
Maximum price ($)
2018
24,999
54,679
2017
26,500
46,888
2016
19,800
39,990
2015
15,500
36,880
2014
15,488
33,900
2013
13,991
30,888
2012
11,913
28,990
Source: Prices shown in this table are based on averages taken from car listings on carsguide.com.au as at 8 March 2019. Minimum price is for the entry-level model and maximum price is the top-of-the-range model. These costs are an estimate only. The price of a used vehicle will depend on a range of factors such as the car's specs, accident history, odometer reading and current condition.
Mazda CX-5 specs
A range of new features have been added to the 2019 Mazda CX-5, including a turbocharged petrol option in the GT and Akera models. Every model now also comes with a number of enhanced safety features, such as auto emergency braking for high speeds, driver fatigue detection, lane-departure warning and reverse cameras, as well as improved connectivity features such as Apple CarPlay and Android Auto for connecting with smartphones.
Some key highlights that come as standard with the entry level 2019 Mazda CX-5 Maxx include:
Apple CarPlay and Android Auto
Bluetooth handsfree phone and audio capability
7-inch infotainment screen
i-stop (a function that saves fuel by automatically switching off the engine while you're stopped)
Reverse camera and rear parking sensors
Blind spot monitoring
Keyless push-button engine start
Emergency brake assist
Cruise control
Dusk-sensing LED headlights
Lane-departure warning
What are the experts saying?
"With five stars across multiple categories, it seems that Australian drivers enjoy the Japanese manufacturer's CX series. Offering a small, medium and large model SUV for all family types, Mazda seems to have the SUV market on its side, with five stars for reliability and point of sale service, as well as the only five-star rating for driving experience. Other results include four stars for after sale service, value for money and car servicing."
Mike Costello from Caradvice.com.au rated the Mazda CX-5 Akera 8.1 overall, saying:
"Be aware of the smaller-than-average boot and small centre screen, and the fact that the drivetrain is not tuned to feel like a proper performance setup, as the numbers may suggest. Yet there's no doubt the new engine is better, and it remains a stylish, well-equipped and generally good-to-drive family SUV that by and large lives up to the price tag."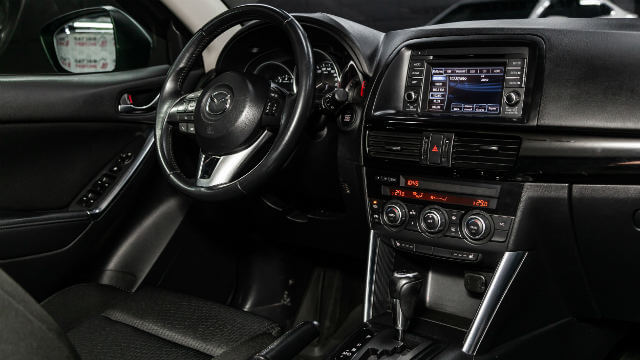 Toby Hagon from WhichCar rated the 2019 Mazda CX-5 range 4.5 stars out of 5, saying:
"The second-generation CX-5 adheres closely to the very popular original but refines its formula with a roomier, quieter, and more comfortable cabin, and enhanced handling. The mid-sized SUV from Mazda is available in five increasingly well-equipped versions, all with active safety that includes auto braking. What might bug me? Dealing with a flat tyre when you're out of town. All CX-5s have a space-saver spare tyre, which limits the recommended top speed to 80km/h."
Cover image source: Yauhen_D (Shutterstock)