Budget Direct Hail Hero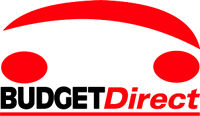 Budget Direct is taking on the role of hero, with the development of a world-first software application that helps their customers to avoid being hit by hail. Their new technology utilises precise data which accurately pinpoints areas likely to be hit by severe hailstorms within a short space of time. This information is then sent by SMS text message to car owners who are likely to be immediately affected by severe hail. With the average costs of hail-related repairs costing several thousand dollars per vehicle, the technology has the ability to save money for both the insurer and the customer.
How does the service work?
The Hail Hero software application was developed after two years of research and development and was launched in December 2011. Budget Direct employed the services of a weather specialist who had developed algorithms to track the progression of damaging hail storms. These algorithms were then developed into the Hail Hero system exclusive to Budget Direct.
The system looks at the reflectivity in the different storm levels, using radar images to gauge the size and height of ice in a storm cell. It then makes a decision on whether that hail will survive a fall to the ground and be damaging. The system identifies the origination of the hail storm, which is then converted into a probability of where that storm will move within a certain period of time. The data can be verified against the radar images supplied by the Bureau of Meteorology.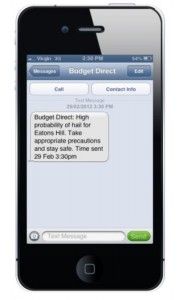 As a matter of course, Budget Direct records the latitude and longitude of each new policy holder?s address in their system which is then attached to the client?s mobile phone number for location identification purposes. Thus they are able to warn car insurance policy holders by SMS message when damaging hail s approaching, allowing customers at least 10 minutes notice to move their vehicles.
Why was the product developed?
"Our goal was to give our customers enough time to move their car when damaging hail is approaching. From a safety perspective we don?t want people moving their car during a hail storm. This is another example of us implementing clever technology to help our customers. At the time of development only one in 10 people got a benefit from owning an insurance policy beyond simply just being insured – we aim to offer more benefits to our customers." Paul Malt – Director of IT, Budget Direct
Canstar's verdict
Hail Hero is a fantastic and certainly innovative service that harnesses current technology in a way that is both personalized and cost-effective and which provides a real and material benefit to customers.