How has Australia's financial media reacted to news that Trump is president? We cite the experts…
We've shared our general thoughts on the pros and cons for Aussies of Donald Trump as US president. Now let's take a look at what some of Australia's finance and economics experts have said in the immediate aftermath of the result:
Australian Finance Media Reactions
"President Donald Trump will declare economic war on our biggest customer…"
– Peter Martin, Economics Editor of The Age
Peter Martin from the Age has written of grave fears for what lies ahead for Australia, opining that the consequences of Trump's win would be disastrous for Australian economy.
His main concerns arise from Trump's threat to put a 45 percent tariff on Chinese imports into the US, which is sparking fears of a trade war. Martin writes that a trade war would damage both the US and Chinese economies and points out that Australia avoided recession during the GFC with help from China. "We mightn't get it a second time," Martin suggested.
"The world as we know it may be ending, but if so it won't be for a while."
– Ross Gittins, Economics editor of the Sydney Morning Herald
Renowned economics writer Ross Gittins has suggested people should "keep their shirt on" and not get too worked up about Trump.
In his regular column for the Sydney Morning Herald, Gittins has been much less gloomy than Peter Martin, suggesting that things might not change as much as feared.
Optimistically, he writes that Trump's push to renew US public infrastructure would "boost the US economy and spread a little growth on to the rest of us.
But he did warn that Australia would suffer if Trump started a trade war with China…
"The GFC was quite scary at times. President Trump worries me much more."
– Michael Pascoe, BusinessDay contributing editor
Should Australia become completely independent of the United States and take full control of its own trade, defence and foreign policies? Michael Pascoe argues the case for it.
Pascoe wrires that protectionism (which Trump embodies) only ends up making goods and services more expensive – hurting the poor most. As such, he believes Australia should distance itself from a country which represents such policies.
"Above all, this is a middle-class economic revolt."
– Alan Kohler, financial journalist for ABC News and The Australian
Alan Kohler wrires that Trump's victory is part of the world-wide "strike" by middle-class labour seen also with the Brexit result.
Essentially, it represents the middle-class revolution against globalisation.
"Globalisation — the combination of free trade and global capital — has lifted millions out of poverty in the emerging world, and is still doing so. But there are losers in the developed world — democracy gives them a voice, and digital media makes that voice louder and less controlled," he writes.
Trump victory "now seen to be good for the world, good for Australia"
– Ross Greenwood, Channel Nine Finance Editor
Ross Greenwood looked at how the share markets both in Australia and around the world have reacted in the wake of Trump's victory. With the evident bounce in the markets in the US, Greenwood explains that Wall Street now believes that Donald Trump will be "business friendly".
When Wall Street is happy, Australian shares are typically happy.
Australian Finance Expert reactions
"If America becomes isolationist, it is negative for Australia."
– Craig James, CommSec Chief Economist
In his latest economic insights clip, CommSec Chief Economist Craig James said that Australia requires free and open trade with countries around the world, so Trump's anti-free-trade agenda could be harmful.
But James also points out that we won't really know how big a threat that is until we see the composition of Trump's cabinet. If he appoints well-respected economic staff, investors will respond positively.
"Policy uncertainty and populist agendas rarely lead to sustainable economic growth."
– Michael McCarthy, CMC Chief Market Strategist
In his daily market forecast the morning after Trump's victory, Michael McCarthy writes that the market turn-around in the US suggested a consensus that much of Trump's policies were merely a sales pitch, not a commitment.
But he also warns that the sudden bounce we saw was probably as good as it will get on the markets for quite some time.
"China carries a lot of risk for Australia, but this risk is not likely to be exacerbated by President Trump."
– Marcel von Pfyffer, Managing Direct of Arminius Capital
Arminius Capital director Marcel von Pfyffer writes that Australia is not particularly affected by Trump's policies.
In a commentary piece, he writes that a trade war between the US and China "will not impact Australia's exports of coal and iron ore, despite what alarmists and journalists will tell you".
He points out that Australia's export dependence on China relates to the level of construction activity in housing, offices and infrastructure – goods that would not be affected by US trade restrictions.
"I'm pretty bullish on the local impact of a Trump presidency."
– Josh Callaghan, CANSTAR General Manager, Wealth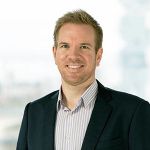 "Trump's anti-china agenda will open up opportunities for our local suppliers and his complete disregard for the APAC region means that we should be left alone to continue shaping up our economy and leadership in the region."
"This however won't stop the market going through some ups and downs over the next few months as the world (and local traders) consume and react to the various Trump announcements.
"There will also be an underlying depression on prices as big businesses delay investment plans until the dust settles.
"So I'll be holding fire and using the next few months to try to identify some early winners and losers from Trump's policies and make minor holding adjustments if necessary. For most investments, the fundamentals haven't changed."
Featured image by DanBrandenburg | iStock