Australian retirees are asset rich because they own their home, but many are so income poor that they do not achieve even a modest retirement, shows a new report from the government Productivity Commission.
The government Productivity Commission report released this month, Housing Decisions of Older Australians, covers older people's attitudes on a range of housing and retirement issues including:
Planning for retirement
The family home
Debt and home equity release products
Downsizing
Housing preferences
The report analyses a Commission survey of 1,500 senior Australians aged 60 years and older, as well as ABS data from the past decade, creating a strong analysis of how older Aussies really think. The survey was representative of our nation's population in terms of age, gender, location, and socio-economic background.
Most older Australians own their home
Today's seniors are wealthier than previous generations before them, having earned higher incomes, paid off a mortgage, and benefited from rising house values. 80% of 75+ aged Australians own their home and do not sell it unless they have to.
The report showed Australians see home ownership as giving them freedom and independence to make financial decisions about their lifestyle in retirement. As people age, they become more and more likely to pay off their mortgage and own their home outright.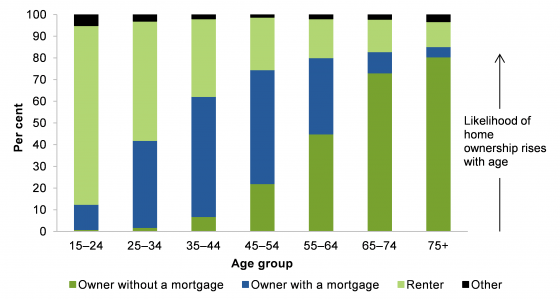 Figure 1: Housing type by age group, based on ABS data from 2011-2012, Cat. 6541.0.30.001.
These homes are also worth more than ever before. Home owners aged 65-74 have the highest home equity on average: $480,000 in 2011-2012.
These home owners have benefited from significant growth in house values over the past decade. This is especially true for those living in the nation's capital cities, who have experienced growth of around 5.5% per year since the 2000s.
Most older Australians rely on the Age Pension
The vast majority of retirees have low or no private incomes and rely on the Age Pension as their main source of income during retirement. The 45-54 age bracket appears to be the last time people are earning a stable income, with income declining rapidly from then until the 75+ bracket, where income is very low.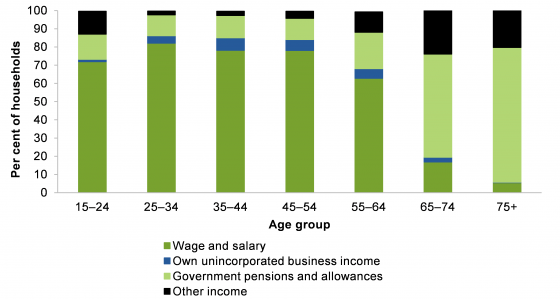 Figure 2: Main source of income by age group. Source: ABS, 2011-2012, Cat. 6541.0.30.001.
Over-saving: Seniors spend less but have poor quality of life
The report showed a worrying trend in precautionary saving by Australian seniors. Despite the fact that their expenses decrease as they age thanks to public health services available on the pension, seniors tend to cut back on their spending as they age, continuing to save a considerable portion of their income. A longitudinal study of Age Pension retirees showed that the poorest and oldest retirees actually tend to grow their savings during their retirement – but it does not pay off.
The report stated this bread-and-butter approach drastically reduces retirees' quality of life unless they have a secondary source of income other than the Age Pension. Data from the 2010 HILDA census showed that of those on the Age Pension, 1 in 2 single home owners and 1 in 3 couple home owners did not reach the "modest" retirement standard.
However, the vast majority of this group (96% of singles and 93% of couples) could use their home equity to reach the modest standard for the rest of their lives, without ever going into negative equity. Yet drawing on home equity to pay for retirement was labelled "the last resort" for the majority in the report, because of a strong aversion to being in debt in their old age.
The Commission survey showed that quality of life was way down the list when it came to reasons Australians would consider drawing down on home equity (percentages are averaged across age groups):
Never, under any circumstances: >40%
Health, medical, and aged care needs: 40%
Living expenses, bills, and debts: 15%
Home repairs or renovation: 10%
Better lifestyle: 8%
Repair or replace household goods or car: 7%
Children or grandchildren's needs: <5%
Why do older Australians still see a need to save?
The Commission survey found the following reasons why older Australians overestimate their need to save money:
Concerns about possibly outliving their savings in a time of rising inflation.
A perceived need to 'self-insure' for unexpected health care or aged care in the future, although they make the most of public health services.
Continuing to pay off a mortgage in retirement is fairly common, at 15% of retirees aged 64, and 10% of retirees aged 75.
Most intend to leave a bequest in their wills of the family home, so they do not wish to sell it. Fewer people are leaving bequests than in previous generations, but the size of bequests has risen.
They have worked for more years than previous generations and are used to saving.
Older renters suffer from low income and low assets
20% of older Australians do not own their homes, rent a home, have low asset wealth, and tend to have low incomes based on the Age Pension. These people have far lower levels of household wealth compared to home owners.
Renting in old age is certainly not an ideal situation. The life and health risks associated with renting in old age include poverty, homelessness, mental illness, and a lack of social well-being.
What's more, the Age Pension was designed for home owners, modestly asset rich retirees. The report highlighted that the government should better care for this section of the older community by:
Increasing support payments such as the Age Pension and Commonwealth Rent Assistance for older Australians who do not own their home.
Providing more social housing for older Australians who rent.
Ensure that land use planning regulations don't limit the amount of land that can be used for social housing (affordable housing).
International comparison
Australia is quite comparable with other OECD countries when it comes to the proportion of home owners.
At 80%, we aren't far behind other OECD countries such as Great Britain and Ireland. In fact, we're even beating countries including the USA, Canada and New Zealand.
On the other hand, Poland leaves us behind in the dust, with 95% of their population owning their home.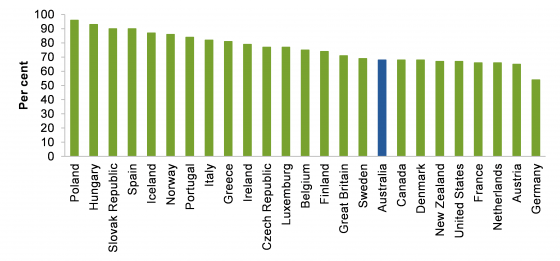 Figure #: Proportion of home owners by country. Source: ABS, 2006-2010, Cat. 1370.0.