Superannuation has evolved into a trillion dollar industry over the last decade. Where did superannuation come from and how did the market expand?
Superannuation is currently a $1.6 trillion industry, a figure that is projected to rise to approximately $3 trillion over the next decade and to $5 trillion during the decade after that. These trillions of dollars represent one of the largest pools of funds under management in the world and as well as providing financial security in retirement for millions of Australians, the flow of money also builds ongoing economic prosperity for the nation. The flow of superannuation investment into shares, property, bonds, cash and infrastructure is a key driver of our economic growth.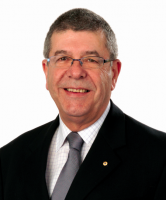 While younger workers may take superannuation entitlements for granted, it is less than one working generation since superannuation became a portable benefit. Greg Sword, the former CEO of Australia's first Industry Super Fund, LUCRF, was there at the start. His vision and dedication to ensuring the rights of workers, both during their working life and into retirement, saw him awarded the Member of the Order of Australia (AM) in 2010.
Before Superannuation
"Prior to the establishment of industry funds, superannuation was essentially a company-by-company proposition and the rules around it were quite draconian," says Mr Sword.
"Superannuation wasn't portable and to get any real benefit workers had to stay with the one employer until retirement. If they left before that period of time they'd basically get a return of their own money plus 3% interest. So in truth the overwhelming majority of people got nothing."
It was an issue that rankled for many people and as then-organiser for the Storemen and Packers Union, Mr Sword began agitating for superannuation to be a portable and accumulating entitlement for union members.
"When we looked at the problem for the workers that we represented, most of them weren't receiving a superannuation benefit because the world had changed," explains Mr Sword.
"People changed their jobs every five or ten years – that's even more pronounced now. So we came to the conclusion that we needed to have superannuation options for people who existed outside the company-for-life structure and that's why we started the Labour Union Co-operative Retirement Fund (now LUCRF Super). It was my job to do the work to set the fund up. In its day it was quite a challenge for the industry."
When did super begin?
A challenge may be a mild description of the level of opposition the union faced in the early years. "I guess you could say that between 1978 and 1981, if you wanted to be a member of the fund you would most probably have to go on strike for at least a week to win that right," says Mr Sword.
"It was quite heavy going. It wasn't so much the individual employers; it was the employer organisations and the conservative Liberal Party in government in the time."
"The commentary in parliament was incredible – essentially they were saying that the Storemen and Packers Union were setting up a mafia-type protection racket rather than a genuine superannuation fund, that we were criminals, that we were going to take and spend the money – all that sort of hysteria."
Beyond the hysteria though, industry superannuation forged a revolutionary industrial partnership between unions and employer groups, removing control of retirement funds away from individual employers and creating a fully vesting accumulation-style fund for workers, with a board of 50% employer and 50% union representation. The long-term investment performance of industry superannuation has vindicated the model.
What Are The Current Problems with Super?
Ironically it is now the performance and growth of the industry that can spark concern in some quarters.
"At inception there was a lot of comment that: we've got to stop this. If unions get control of super money they'll start owning shares in companies and they'll be able to tell companies what to do and this is socialism and we have to stop it," says Mr Sword.
"And notwithstanding the success of industry funds between 1978 and today, that's still the argument! There was a quite hysterical speech given by Mathias Cormann recently, where he said that he had researched through the APRA website how many union official are on boards and that it was terrible. Terrible! Not that he could say why it was terrible!
"For some of those people it's still a class issue – that they need to stop unions having influence. And it's even more stark now because now there's around $1.5 trillion in banking and $1.5 trillion in superannuation so for the first time ever there is another set of financial institutions apart from banks which challenge the central role and influence in the economy that banks have."
Where to From Here?
So where to from here? "The benefit of industry superannuation has been to transform the way in which superannuation is run and that has resulted in benefits going to ordinary people," says Mr Sword. "Industry super will continue to be a gatekeeper to what people consider good returns, good service and fair fees."