Now that we have reached the midway point in the year, it?s a good opportunity to take a look at what markets have done so far in 2015 and review that in light of your overall investment strategy – particularly if you are managing your own superannuation.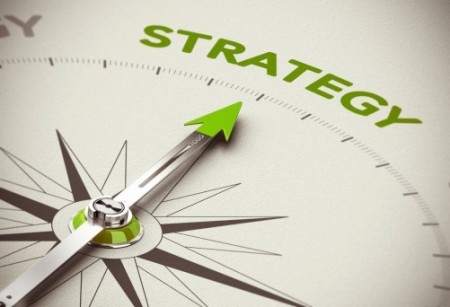 From the open on the 2nd of January until the close of the 30th of June the ASX200 has finished up about 25 points up or 0.42% to 5459. A fair way off its lofty heights of 5997 in April which was not helped by a quick drop in the dying days of June due to the currency concerns relating to the Greek Exit. All the same, this performance may have left some investors disappointed after talk earlier in the year of rallies north of 6000 – but for the bulls it provides another entry point that may have been missed in January.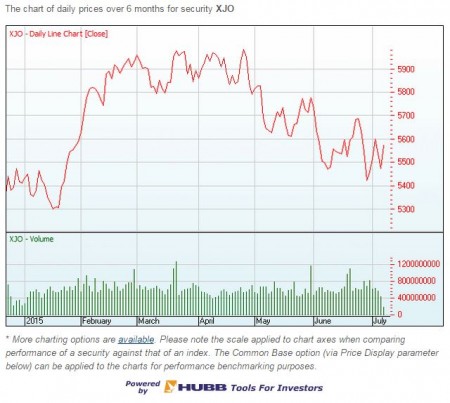 Cash is at record lows as monetary policy is arguably compensating for the failures of fiscal policy (but that?s an argument for another day). Where it leaves consumers is in a hunt for yield as CPI creeps ever closer to the official cash rate, causing some cash investments to be close to delivering a negative yield. In these times investors have two main options: 1) focus on ensuring your cash is getting the best rate possible or 2) find another investment vehicle like ETFs, direct shares or property. The rates available on a $100,000 term deposit for 3 months varies from 1.05% to 2.90% so it?s worth comparing at each renewal to ensure you?re squeezing the most out of you cash.
Property, as always, is multispeed in the country but on the balance it is still on an upward trajectory with the latest RBS release reporting 1.6% growth across the market; 0.4% below the previous quarter but the 10th straight quarter in the positive.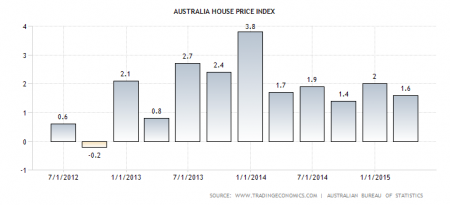 Clearance rates in the first half of the year in Sydney and Melbourne have been very strong, driving up consumer expectations on values which seem to have been met by the market. There has been a lot of talk about where this increased purchase power has come from (low rates, overseas investors or SMSF to name a few) which will ultimately determine the length and extent of this run.
We?ve seen the banks tighten their grip on investment lending but rates are still competitive with comparison rates for investment lending starting at just over 4%. However, with the aggregate gross rental return across the 5 main capital cities being just 3.63% it?s not likely to generate a positive cash flow which, if matched with a bearish view on property valuations, will raise some red flags for investors.
Where to look for yield
So far this year the rest of the world has been experiencing significant growth due to a number of factors including the recovery of the US economy and the growth of the Chinese middle class.
While the Dow Jones has lost ground so far this year the NASDAQ has grown 5.5% since the start of the year despite the recent correction for the same reason as that of the ASX200 (Greek crisis).
With most online share traders now providing some access to the US equities market, there may be some favorable company valuations there that can provide long term growth or if you have a bullish view of the Dow Jones then an ETF may be a good way to capture those gains.
In China, the first quarter GPD growth dropped to 7% which some point to as a slowdown from the previous quarter?s 7.3%. While technically true, I like to think of it in terms of the Australian context and 7% growth in China equates to 40% of Australia?s GDP that they are adding each year. Meaning that in 2.5 years they have added the entire economy of Australia to theirs.
One criticism of the Australian SMSF market is the overexposure to Australia shares and cash. The key point here is that there are opportunities all around the globe that are now more accessible than ever through direct investment, ETFs or managed funds. The important thing for any investor is to develop a diversified investment strategy that has a mix of economies in it to ride out local trends.
Whether you?re a direct or SMSF investor, tax time is a great opportunity to review your investment performance and modify your asset allocation strategy to ensure you?re on the right path for the next financial year. In these market conditions diversification is a key ingredient to a successful strategy so don?t get boxed into Australian only investments and explore what other options are available to you.
---

About Josh Callaghan
Josh Callaghan is the former General Manager of Wealth at Canstar and co-founder of Fintech Queensland. In his role at Canstar, Josh was responsible for the strategic direction, operations and commercial outcomes of the Wealth division, which includes Superannuation and Investments. He has over 19 years of experience in product management, strategy, technology and marketing in the financial services industry.