Australia has a climate and geography that is conducive to bushfires, both grass fires and forest fires. It can pay to be prepared.
While homeowners are not able to control the weather, there are things that can be done to reduce the potential damage to their property and to prevent loss of life. Our quick checklist to help you prepare for a bushfire is as follows: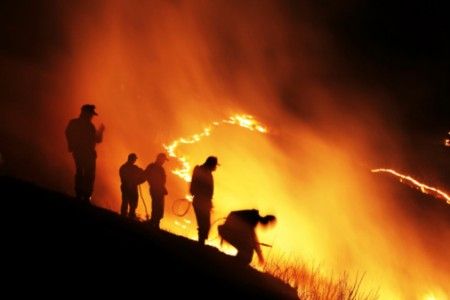 Before bushfire season starts:
Bushfires can occur at any time of year, but in most parts of Australia, the danger time is early summer and autumn. The Bureau of Meteorology (BOM) has a useful infographic here demonstrating this: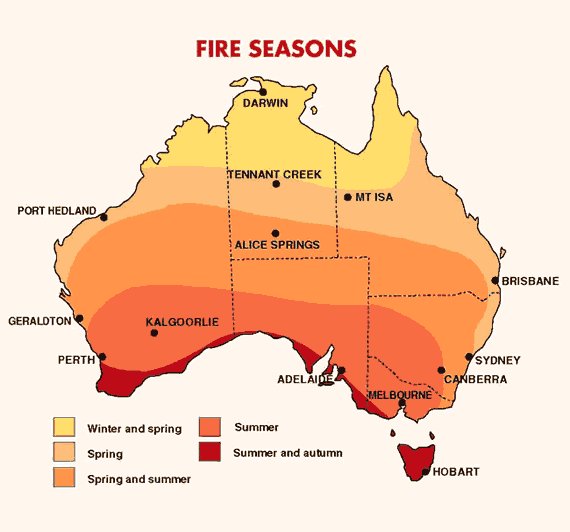 Check your property before the start of bushfire season
Check all smoke alarms are working and replace batteries.
Ensure that any trees on your property are trimmed.
Clean your roof and gutters of debris.
If you live in a rural area, the WA Department of Fire and Emergency Services recommends creating a 20-metre building protection zone around your property, by clearing away long grass, shrubs, and any rubbish that might catch fire.
Keep a 2-metre gap between your house and any tree branches. Don't let any trees overhang your house.
Prune the lower branches of trees (branches up to as high as you can reach) to prevent a fire on the ground from climbing into the tree canopy.
Are you able to create a mineral earth firebreak at your property? This is a line around your property boundary where you have no vegetation or trees at all.
Use non-flammable fences wherever possible.
Block any gaps under the floor space of your house and in the attic or roof space. This prevents sparks from entering the building.
Metal fly screens on all windows and over evaporative air-conditioning systems to prevent embers and ash from entering the building.
Make sure your garden hose is long enough to reach all areas of your house.
Check whether any bridges or cattle grids on your property are strong enough to take the load of a fire engine tanker coming to rescue you.
Clear trees or branches around power lines.
If you have a pool, tank or dam, put a Static Water Supply (SWS) sign at your property entrance, so firefighters know where to find water to pump out during a bushfire.
Keep a ladder handy so you could get to the roof if you needed to.
Tidy up your yard in general
The more unnecessary "stuff" you leave lying around your property, the more work there could be for you to do at short notice if there is a bushfire warning. So keep your property as tidy as possible.
Ensure that you have a safe and secure place for any outdoor furniture to be stowed if needed.
Store firewood away from your house building.
Secure all gas bottles away from the house and point the pressure relief valves away from the building.
Have a written bushfire plan
While we think we know what we would do in the event of a bushfire, it can be a frightening, chaotic event. With your family, put together a written bushfire plan – your relevant state fire authority (links are in the article, below) will have a bushfire plan guide and kit that you can download. The Country Fire Authority of Victoria recommends that at a minimum, households should talk through:
Which Fire Danger Rating is your trigger to leave?
Will you leave early that morning or the night before?
Where will you go?
What route will you take – and what is your alternative in the event that a fire is already in the area?
What will you take with you?
What do you need to organise for your pets or livestock?
Who do you need to keep informed of your movements?
Is there anyone outside your household who you need to help or check up on?
How will you stay informed about warnings and updates?
What will you do if there is a fire in the area and you cannot leave?
Put together an emergency kit
Your emergency kit should contain all the things you might need if a bushfire hits and the power goes out. Important things to include are:
Torches
Battery-powered radio
Extra batteries
First aid kit
Any medications you take
A really good supply of water (They say 10 litres can last one person 3 days.)
Food that won't perish quickly, for about 3 days (and a can opener if that food is in tins!)
Woolen blankets
Have a list of emergency numbers
It's also good to know the frequency of your local radio station so you can listen in on developments.
Pack an evacuation bag
Just in case, pack all the usual things that you would take on a weekend away into one bag. Plan to spend the night away, so bring sleeping bags if you can. Check that you can carry the bag easily once it is full.
Keep your home and contents insurance up to date
Does your home and contents insurance cover you for bushfire?
What is your sum insured – is it sufficient to replace your property?
Prepare a room-by-room inventory of everything you own inside and outside your house.
Make sure that you regularly review your home and contents insurance to ensure that the policy you have matches your needs. You can compare home and contents insurance here.
Do you have Comprehensive or Third Party Theft and Fire cover for your car or other vehicles?
What is your car's sum insured – is it sufficient to replace your car?
Prepare a quick inventory of everything you usually store inside your car.
Make sure that you regularly review your car insurance to ensure that the policy you have matches your needs. You can compare car insurance here.
If there is a bushfire warning:
Prepare the car and check your evacuation kit
Put petrol in your car.
Make sure you have plenty of drinking water.
Make sure your smartphone and tablet or iPad are fully charged.
Draw extra water from dams or pools on your property if you have them, so that you don't have to rely on the mains water.
Check the fire rating in your area and decide whether you are going to evacuate or stay
Many bushfire casualties are caused by people deciding too late that they need to evacuate. Remember, during a bushfire there may be thick smoke that reduces your visibility, and some roads may be littered with debris or impassable. It is recommended that for those staying to fight the fire, you could need more than 20,000 litres of water from an independent water supply, which many people would not be able to gather in the event of a fire.
So make your decision early on about whether you will stay or leave. Leaving early is always the safest option.
Some states use slightly different ratings; you can check the fire danger ratings definitions for your state below:
Get everyone ready to go.
Get your pets with you and put a leash on or keep them contained.
Have your emergency kit, protective clothing, and bushfire plan ready to go.
Ensure that you wear durable clothing – long sleeves and long pants in natural fibres – and enclosed shoes. Even if it's hot, thongs and a T-shirt are not suitable clothing to deal with a bushfire.
Move livestock to a well-grazed paddock.
Stay tuned. Keep everyone indoors (including your pets) and stay tuned to your local radio station and the BOM website for updates.
If an evacuation order is issued, follow it. Take your evacuation bag, emergency kit, food and water, bedding needs, and your pets. Try not to delay evacuating, as you risk getting caught in traffic, or in thick smoke and debris.
During a bushfire:
Fire authorities recommend actions including the following:
Close all windows and doors. Block all cracks with wet towels.
Stay together. Try to keep everyone together in one area.
Take special care if driving. Driving during a bushfire should be a last resort, because a car is not well-insulated against radiant heat. If you are trapped, keep the engine running, with the air-conditioning system on the recirculation or recycling of air setting. Park behind something to block radiant heat such as a concrete wall or building. Cover up with a woolen blanket until the fire and continue to drink water to stay hydrated.
After a bushfire: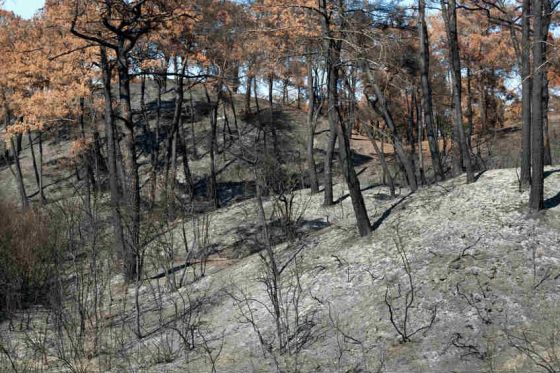 Check your entire property and extinguish any embers that land still alight, to prevent further fires.
If you are unlucky enough to suffer damage from a bushfire, contact your home and contents insurance provider as soon as possible, to find out what steps you need to take to submit a claim.
Do not return home until you are advised by authorities that it is safe to do so.
Do not eat or drink any food, drinks, or medications that have been touched by smoke, fire, or ash.
After a bushfire, it is the owner's responsibility to secure a property against potential break-in or theft. This may mean locking doors and boarding up broken windows or skylights.
Stay safe and secure this bushfire season.