Are you ready to start building your home or investment property in Hobart, but are not sure where to start your research? Hiring the services of a specialty development or construction company may be one option worth considering.
Top 3 home builders in Hobart, Tasmania
The Housing Industry Association's (HIA) top home builders for 2018/19 were revealed in its Housing 100 Report. The report details the top builders nationally and by state, as chosen by HIA industry experts. To find out their pick for the top 3 builders in Tasmania, measured by new buildings constructed (new housing starts), see below:
1. MJH Group
The MJH Group started out as a family-owned business in the Hunter region of New South Wales, and now builds a broad range of detached residential homes, investment houses and multi-units across Tasmania, NSW, the Australian Capital Territory and Queensland.
The group has five core brands: McDonald Jones Homes, Mojo Homes, Brighton Homes, Wilson Homes and MJH Multi. Wilson Homes won two awards in Tasmania in 2019 – the HIA Tasmanian Professional Major Builder award and the HIA Tasmanian Display Home of the Year award.
The HIA report shows that MJH Group is one of the top 10 largest builders in Australia, having started 2,378 home constructions during 2018/19, of which the vast majority were houses. In Tasmania, it built a total of 437 homes, 363 of which were houses and 74 that were semi-detached dwellings.
2. Hotondo Homes
Hotondo Homes, a family-run business established in 1979, has a network of more than 80 new house builders, situated all over the country. Each Hotondo Homes franchise is independently owned and operated by local builders.
In 2019 the brand won a range of awards, including Professional Builder of the Year for Victoria, South Australia and Tasmania.
The HIA report states that Hotondo Homes is one of the top 20 largest builders in Australia, with 985 new builds started in 2018/19, of which most were houses. In Tasmania, the builder started a total of 68 homes, 48 of which were houses and 20 semi-detached dwellings.
3. GJ Gardner Homes
Founded in Queensland in 1983, GJ Gardner Homes has built more than 36,000 houses in Australia and has 120 franchisees operating here, in New Zealand and the USA. The company says that because their builders are locals, they can capitalise on their local knowledge and access skilled subcontractors and suppliers.
GJ Gardner Homes says it has received more than 200 HIA and MBA building awards over the years.
The HIA report states that GJ Gardner Homes is one of the top 10 largest builders in Australia, having started 1,949 new house builds in 2018/19. In Tasmania specifically, construction was started on 52 houses.
What's happening in the Hobart building market?
It has been a challenging year for home builders across the country, due to the sharp fall in the number of new homes being built (-15%), according to the HIA. However, builders on the association's Housing 100 list have increased their market share. Smaller builders have not been so lucky, but the HIA expects there will be good news to come.
"Two interest rate cuts, a cut to income tax and the easing of the credit squeeze will start to support economic activity and prevent a more sustained downturn in home building," HIA said in a statement.
In Tasmania, new home starts increased by about 7% from 2,814 to 3,008 in 2018/19. The market share of the top 3 home builders in Tasmania is 19%.
The below screen grab from the Ausrtalian Bureau of Statistics (ABS) shows the number of buildings approved for construction in Tasmania in September (the most recent ABS data), clearly centralised in the Hobart region.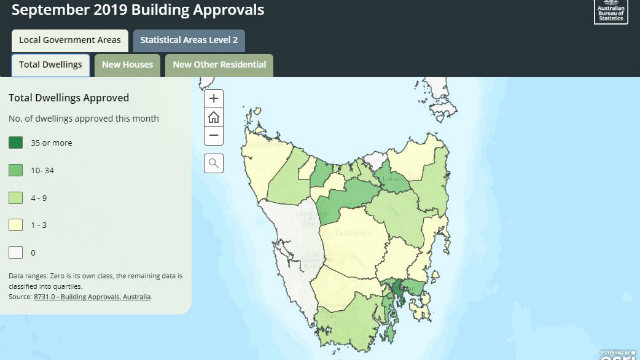 According to Realestate.com.au, the median house price in Hobart is currently $697,500 and the median rent is $500 per week. Units can be bought for a median price of $630,200, which rent out for $465 per week (median price). However, CoreLogic's figures differ, recording Hobart's November private treaty median house price at $471,000 and units at $393,750. According to CoreLogic, houses only spend a median of 29 days on the real estate market, while units spend a median of 28 days.
Image source: David Lade (Shutterstock)