With the lowest official cash rate on record, interest rates below 3% and competitive deals on offer, a home loan refinance could be on your "to do" list. We take a look at how much it could cost.
There are two types of home loan refinance: an internal home loan refinance and an external home loan refinance.
An internal refinance occurs when you refinance your home loan with your existing financial institution
An external refinance involves moving your loan to another institution.
What fees do I have to pay when refinancing?
Home loan refinance costs will vary depending on your individual circumstances. Some common refinance costs to enquire about, though, are:
Discharge fees: An administration fee paid to your current lender to pay out the existing loan in full and to prepare the required documentation.
Application fees: The fee associated with making a new loan application. On Canstar's database, this fee can range from $0 up to just under $1,000.
Valuation fees: A fee charged by the new institution to cover the cost of obtaining an up to date valuation on the property that you are offering as security.
Land registration fees: These are the fees to remove the existing mortgage from your current lender and register a new mortgage to your new lender.
Lenders Mortgage Insurance (LMI): If you have less than 20% equity in your property, your new financial institution may charge you lenders mortgage insurance. This protects the lender against mortgage default. Find out more about Lenders Mortgage Insurance here.
Ongoing fees: Some home loans will charge on ongoing fee. On Canstar's database, this fee ranges from $0 up to $420 per annum.
Break fees: If you have a fixed rate home loan, you may also be hit with a contract break cost if you decide to refinance during the fixed rate period. This represents compensation for any loss of profit to the bank by your decision to break the contract. Break costs may or may not be charged depending on interest rate movements at the time. Click here to find out more about home loan break costs.
The overall costs will vary depending on which institution you are currently with, which institution you are going to and which state/territory you live in.
You can use our Loan Comparison Calculator to work out the difference in repayments between two loans. But you will also need to calculate the other fees and charges into your estimations.
What's the average cost to refinance a mortgage?
As you can see in the table below, refinancing can potentially be very cheap but also very expensive. On average it will cost you more than $750, and that's before taking into account mortgage deregistration fees which vary from state to state (but tend to be around $150 on average).
Cost to Refinance a Home Loan
Fee Type
Minimum
Average
Maximum
Discharge Fee
$75
$310
$600
Application Fee
$150
$502
$995
Valuation Fee
$50
$265
$420
Documentation Fee
$100
$257
$385
Legal Fee
$125
$301
$550
Settlement Fee
$15
$206
$650
Total Fees
$80
$781
$1,940
Source: Canstar.com.au – 11/11/2019. Based on principal & interest loans for fixed and variable terms. Minimum, Average and Maximum calculated based on products that charge each type of fee. Total Fees Minimum, Maximum and Average calculated based on the sum of all listed fees for each product, for products that do charge fees.
At its most expensive, a refinance could cost you thousands, although it's unlikely that your home loan will charge the highest fees listed in the table (above). Likewise, you probably won't have a home loan that doesn't charge any refinancing fees at all, so you're more likely to sit around the average.
You should consider whether any long-term savings are worth the loss in loan features. Remember – the cost of refinancing can change significantly based on the upfront costs on the new product. So do your maths to ensure that the savings you are going to make via the new home loan are worth the cost.
One final word – be patient. Whether you are refinancing to a new organisation or sticking with your existing lender, the application and documentation process can take a number of weeks.
---
The comparison tables below display some of the fixed rate home loan products on Canstar's database with links to lenders' websites, for refinancing owner-occupiers in NSW making principal and interest repayments on a loan of $350,000 with an 80% LVR. Choose between the 1-year fixed, 3-year fixed and 5-year fixed tabs to view results most relevant to you. The results are sorted by 'current rate' (lowest to highest). Before committing to a particular home loan product, check upfront with your lender and read the applicable loan documentation to confirm whether the terms of the loan meet your needs and repayment capacity. Use Canstar's home loan selector to view a wider range of home loan products.
About Mitchell Watson: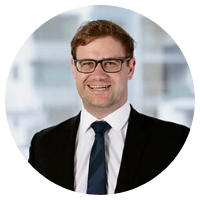 Mitch Watson is the Group Manager for Research and Ratings, with responsibility for Canstar's flagship Star Ratings and Awards program. Mitch's role at Canstar sees him deliver compelling insights that help consumers make informed decisions about their personal finances and help businesses develop more customer-centric products.
Mitch is also a company spokesperson, and prides himself on providing balanced views on the latest news in the marketplace to paint a clear picture for consumers.
Joining Canstar in 2007, Mitch has held various roles within the business, beginning as a Relationship Manager, which boosted his industry and product knowledge, before moving to the Research team as a Research Analyst. During this time Mitch was responsible for a range of lending and insurance portfolios including Home Loans and Health Insurance.
Mitch has a Master's Degree in Business Administration and Management from Griffith University.