Single parents may be able to purchase a property with a deposit of just 2%, under a new scheme introduced by the Australian Government.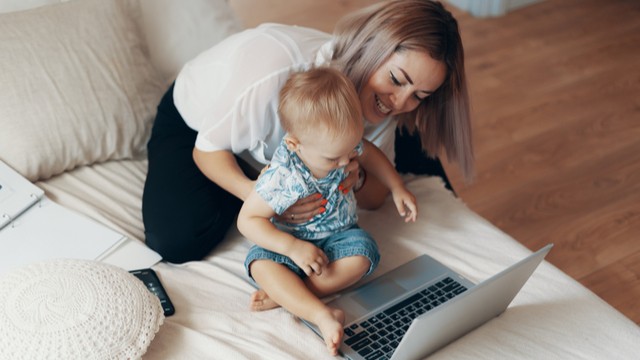 The Family Home Guarantee aims to help single-parent families, most of whom are led by women, get onto the property ladder or re-enter the market. Here's how it works.
What is the Family Home Guarantee?
The Family Home Guarantee aims to help single parents with dependants to purchase a new or existing home with a deposit as low as 2%, with the government guaranteeing the remaining 18%. Usually, home buyers would need to save up at least a 20% deposit, or take out lenders mortgage insurance (LMI) which can leave them thousands of dollars out of pocket.
The Family Home Guarantee is limited to 10,000 places. However, this will be spread out over four financial years from 1 July, 2021 – which equates to 2,500 spots per year.
The scheme is similar to – but more generous than – the First Home Loan Deposit Scheme (FHLDS), in which the government guarantees loans of first home buyers who only have a 5% deposit.
Are there any risks buying a house with a 2% deposit?
While some lenders such as CommBank and NAB have welcomed the scheme, other groups have raised concerns.
The Finance Brokers Association of Australia (FBAA) warned some borrowers could end up with a negative equity position if property values fall and interest rates rise.
Research house CoreLogic also cautioned that low deposits mean more debt, adding more interest that needs to be paid over the life of the loan. However, this could be worthwhile if the borrower would otherwise be spending thousands in rent, CoreLogic said. Borrowers may also benefit from long-term gains in real estate values.
Eligibility for the Family Home Guarantee
The Federal Government says about 125,000 single parents will be eligible for the scheme. That means only 8% of eligible families would benefit from the measure over the four-year period.
There are a few specific requirements applicants will need to meet:
they are single parents with dependants, and earn up to $125,000 per year
they are Australian citizens and at least 18 years old
they have a deposit that's between 2% and 20% of the property value
the loan term can't be longer than 30 years
they must intend to be owner-occupiers, and repayments must be for the principal and interest of the loan for the full period of the loan agreement
The scheme is open to first home buyers, as well as those who have previously owned a home. You will not be eligible if you currently have a freehold interest in real property, a lease of land or a company title interest in land in Australia.
What types of properties are eligible for the scheme?
In good news for applicants, properties don't need to be new builds – they just need to be a residential property. The National Housing Finance and Investment Corporation (NHFIC) identifies eligible residential properties to generally include:
an existing house, townhouse or apartment
a house and land package
land and a separate contract to build a home
an off-the-plan apartment or townhouse
What are the property price caps?
Just like the FHLDS, the Family Home Guarantee scheme has specific property price caps depending on where you intend to buy. The table below lists the price caps for capital city and regional centres against the rest of the state.

How do I apply for the Family Home Guarantee?
All applications for the Family Home Guarantee need to be made directly with one of the Scheme's participating lenders (or one of their authorised representatives, such as a mortgage broker).
As taxable income is an eligibility requirement, you may need to have your most recent Notice of Assessment from the Australian Tax Office (ATO) on hand as part of your application. The NHFIC recommends speaking to your chosen participating lender to understand the risks of signing a Contract of Sale prior to obtaining your latest Notice of Assessment.
You can find out more information about the scheme on the NHFIC website.
Other housing measures to consider
The government has also announced that another 10,000 places will be added to the First Home Loan Deposit Scheme (FHLDS) from 1 July, 2021, to 30 June, 2022, which will only be available for those buying or building new homes. FHLDS (New Homes) places allow first home buyers to purchase a new property with a deposit of as little as 5%.
The government also revealed plans to increase the amount that can be withdrawn under the First Home Super Saver Scheme (FHSS) from $30,000 to $50,000. The scheme allows first home buyers to make voluntary contributions to their super, which they can then put towards a house deposit.
This story has been updated. It was originally published by Tamika Seeto on 10 May 2021.
---
Thanks for visiting Canstar, Australia's biggest financial comparison site*