And while many may follow a more traditional path to home ownership, including saving up for a deposit and taking out a mortgage, some may turn to alternative methods like 'rent-to-buy' schemes to help them realise their dream. However, these schemes can carry added risks and costs compared to ordinary home loan or rental agreements, meaning it is important to think carefully before committing to one.
Below we break down how a rent-to-buy scheme typically works, what costs are involved and some of the potential risks to watch out for.
What are rent-to-buy schemes?
Rent-to-buy (RTB) schemes, also known as rent-to-own (RTO) schemes, allow aspiring home owners the option to purchase a property in the future (usually within three to five years) at a price agreed with the seller or developer, and to pay rent, along with 'option-to-buy' fees, for the property in the meantime.
Potential home buyers who use these schemes can then apply for a home loan if they decide to buy the property at the end of the agreed rental period.
While an RTB scheme may sound appealing to those trying to buy into the property market, there have been concerns raised regarding the financial risks of these schemes. Both the South Australian and Western Australian governments have stated that RTB schemes could leave prospective buyers out of pocket and with no claim to the property if they default on any rental payments or can't get finance from a lender to buy the home.
In a 2016 report by the Consumer Action Law Centre, the consumer advocacy organisation said it had not identified any "successful cases" of RTB deals and warned these schemes are "extremely financially risky and the legal protections for buyers is grossly inadequate".
So if you are thinking of entering into a rent-to-buy scheme, it may be a good idea to understand how these schemes work, what risks may be involved and to consider seeking financial or legal advice before signing any agreements.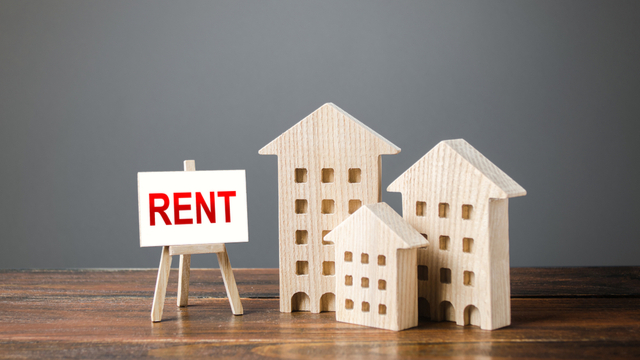 How do rent-to-buy schemes work?
According to the South Australian government, rent-to-buy schemes typically follow two phases: the 'rent' phase and the 'purchase' phase.
'Rent' phase:
The first step in this phase is to find a property which is available for rent under an RTB deal. The range of RTB properties on offer may be limited compared to those available for a regular sale, as only particular sellers or developers offer it.
Once you have found a suitable property under an RTB scheme, you'll need to do your own due diligence on the home, just as you would in a traditional property rental or when looking for a home to buy. If the property itself 'checks out' and you've decided an RTB scheme is the right choice for you, then it's time to apply to lease the property, just as you would lease any other property.
A non-refundable deposit is also often still required to enter into an RTB scheme, but many buyers may utilise the first home owner grant (if they're eligible for it) in lieu of or in combination with their own savings.
RTB schemes usually require the payment of an 'option-to-buy fee' above the standard rental payments, so that you have the choice to purchase the property at the end of the rental term. This fee can be 50-100% of the weekly rent and is calculated to add up to the deposit needed at the end of the rent phase to proceed with the purchase. If you end up purchasing the property, the option-to-buy fees paid during the rental period are deducted from the purchase price of the property. On the other hand, you will lose these fees if you are unable to complete the purchase or decide not to buy the property.
Additionally, some RTB schemes may require you to cover the costs for building maintenance, council rates and home insurance even if you do not yet own the property.

'Purchase' phase:
When the rental contract ends, if you would like to purchase the property you will need to secure finance from your bank or other lending institution. The purchase price will be the fixed price you agreed to at the commencement of the rental period, minus the deposit and option-to-buy fees you have already paid.
As with a traditional home loan, the lender will check your eligibility against its lending criteria, as well as your financial history and credit rating before deciding whether to approve your application.
If approval is given, then once settlement has been completed the title of the property should be transferred to your name as the legal owner. As with any home loan, you will then need to make regular repayments over a number of years until the loan is paid off.
Rent-to-buy schemes: Risks and benefits
A significant risk of RTB schemes is that you do not own the property until you successfully apply for a home loan and buy it at the end of the rental period. This means that if you are unable to make a rental payment (including any option-to-buy fees), you may risk having the contract terminated, leaving you out of pocket and without a home. If you are unable to secure a home loan at the end of the rental period, you also risk losing the property, along with any deposit paid as well as all the rental payments (and additional fees) that you have spent.
The fact that the final sale price is set at the beginning of an RTB agreement may help protect the buyer from future house price increases. However, the Consumer Action Law Centre's report warns the property price in an RTB agreement is often "inflated" well above a home's market value. If there is a downturn in the local property market during the rental period, it may also mean the buyer will need to pay more for the home than what it is worth, or risk missing out on it altogether and lose all the money they have already spent. It pays to do your research when looking at the final sale price of a property in an RTB scheme, to determine whether the terms of the agreement the seller or developer is offering are reasonable compared to other properties on the market in the same area.
Another key risk of RTB schemes is that the vendor may use the property as security for their own debts, which may result in the property being seized by the security holders if the vendor defaults on their loan obligations. This would result in you being unable to continue with the RTB scheme and losing the value of any option payments you had already made.
On the benefits side, through an RTB scheme a tenant can potentially get a foot on the property ladder by renting a property they would like to eventually buy, and delay the need to secure finance until the end of the rental period.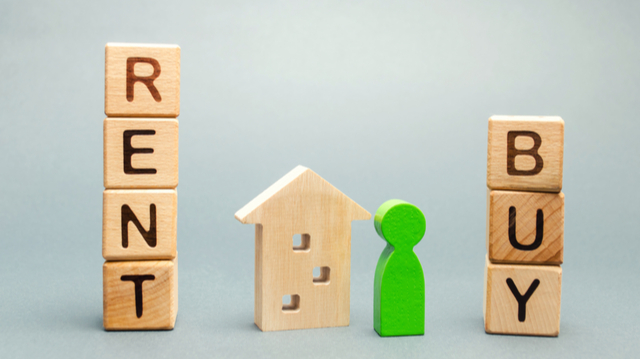 Rent-to-buy schemes: What are the costs?
The overall cost of an RTB house purchase will vary between providers, depending on the initial deposit required, the amount of rent you have to pay, the option-to-buy fee, and more.
According to real estate comparison service OpenAgent, the rent you pay through an RTB deal can be as much as 50-100% higher than the average rent for that area. In addition, OpenAgent said many RTB schemes also require you to save approximately 3% of the agreed purchase price to put down as an "upfront option fee" that will go toward the equity in the house.
Where to find rent-to-buy schemes
Whilst RTB schemes have been available for some time, the supply of these properties in Australia is somewhat limited, particularly in regional and rural areas outside of major cities.
Instead of looking for a home for rent on a property portal, you may need to research specialty 'rent-to-buy' or 'rent-to-own' providers to ascertain what may be available in your target area.
Alternatives to rent-to-buy schemes
RTB schemes may appeal to some people who can't get finance approval from their bank or lending institution for a traditional home loan due to a low income or bad credit rating.
However, for those in this position, using an RTB scheme is not the only option worth considering to get on to the property ladder.
There are various types of home loans that may suit those struggling to get a traditional mortgage, including a low deposit, low doc or bad credit home loan. However, there are some potential downsides to these types of loans, so it is important to research your options carefully.
Another alternative may be to look into a shared equity platform (SEP), scheme whereby equity (usually 5%) is given to tenants over five years as a form of leasing incentive.
Unlike an RTB, under an SEP deal, a tenant/prospective buyer will pay normal market rent and receive a fractional interest (meaning they own a set percentage) in the property they are renting when they move in, and this ownership percentage grows each year they remain the tenant. At the end of the SEP term, the renter can sell their interest and use the proceeds towards their deposit.
Considerations before entering a rent-to-buy scheme
Before signing the dotted line of any RTB contract, it's important to read the fine print and to consider seeking independent legal or financial advice, particularly considering the potential risks and significant costs associated with these schemes. It may also be worth weighing up some important questions before diving in, including:
Will you be able to pay the higher-than-average rent, 'option-to-buy' fees and any other additional costs such as those for insurance and maintenance that are associated with an RTB scheme? And if you default on any payment, what will happen to your right to the property and the payments you have already made?
Will you get any money back if you don't proceed with purchasing the home as part of the scheme (including if you are unable to secure a home loan)?
If you do decide to purchase the property, will you be able to obtain a loan at the end of the RTB agreement?
If the seller defaults on their mortgage and the home is taken as security before you've had a chance to buy it, what will happen to the payments you have made?
Cover image source: Iren Moroz (Shutterstock)