Australia's property market, consumer spending, wages and interest rates are just some of the key economic factors to keep an eye on this year – here's what the experts forecast for 2018.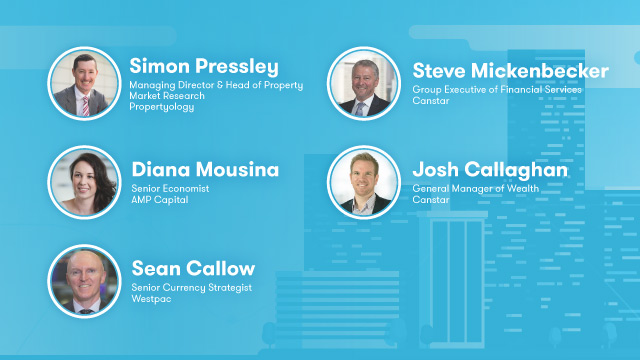 We spoke to some of the top economists, property experts and people 'in the know' to give you an idea of what to expect for the Australian economy in the year ahead.
Introducing the expert panel, we have:
Simon Pressley – Managing Director and Head of Property Market Research at Propertyology
Steve Mickenbecker – Group Executive of Financial Services at Canstar
Diana Mousina – Senior Economist at AMP Capital
Josh Callaghan – General Manager of wealth at Canstar
Sean Callow – Senior Currency Strategist at Westpac
Without further ado, here are some of the key economic indicators for 2018:
Australia's property market
Consumer spending and wages
RBA cash rate forecasts
Australian share market
Aussie dollar tracking
Bitcoin and cryptocurrencies
What's the outlook for Australia's property market in 2018?
Pay attention to regional cities like Cairns
Simon Pressley from Propertyology told Canstar the best opportunities for investors over the next few years lie not in capital cities like Sydney or Melbourne, but regional areas of Australia like Cairns.
"Some well-chosen regional cities are going to leave the capital cities for dead when it comes to property market performance," he said.
"We are very bullish about the Cairns property market – it's dead flat today but has a very low vacancy rate. There's been around 11% in jobs growth in Cairns in the last two years, which is three times higher than the national average. Confidence is building, housing is affordable, tourism is building and there are a few very large infrastructure projects getting underway."
As for capital city performance, Mr Pressley said to keep an eye out for Hobart's property market while Sydney and Melbourne are expected to moderate.
"Propertyology predicts that Hobart will be the run-away leading capital city property market in 2018," he said.
"Our analysis of a range of metrics suggest that, all things being equal, price growth in the mid-high teens is probable. Metropolitan-Hobart may even push through the 20% milestone, a feat last achieved by a capital city way back in 2007 (Darwin 22.2%)."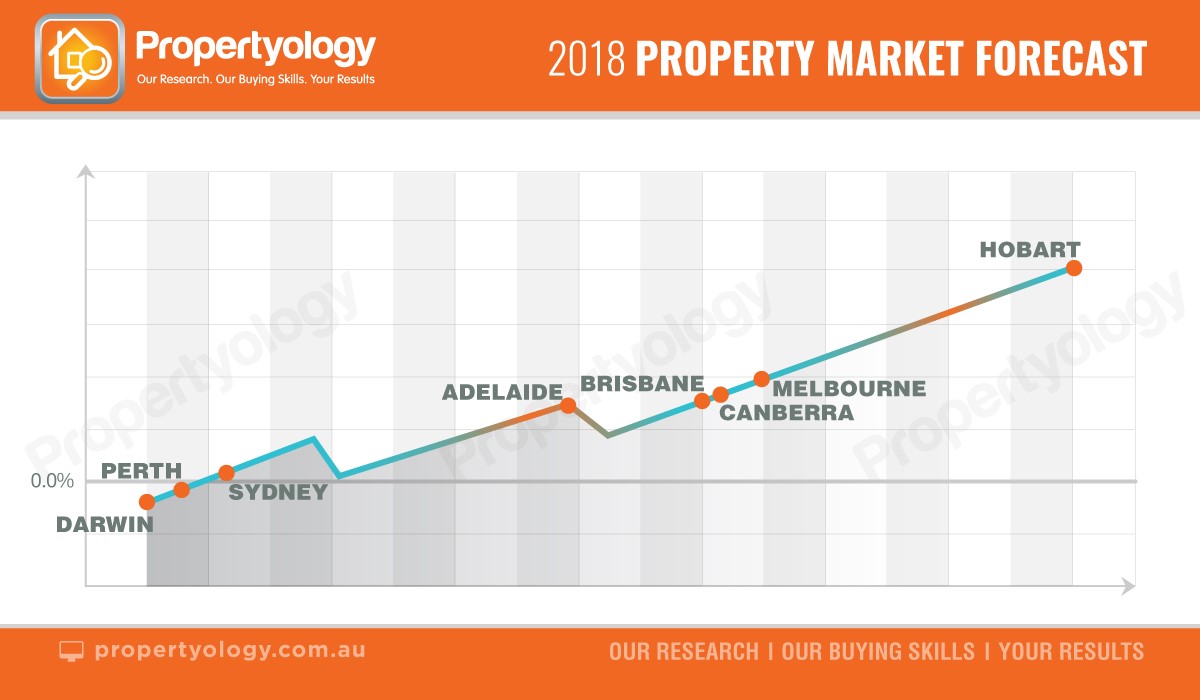 Sydney and Melbourne apartment prices to experience a big decline
AMP Capital's Diana Mousina told Canstar it's likely the national housing market will continue to show slower signs of growth.
"Growth could be close to flat this year and perhaps even show some negatives," she said.
"The areas where we think price growth will decline the most are Sydney and Melbourne apartment prices, which could experience a 5-10% decline. That might start to happen towards the second half of this year as sentiment turns more negative.
"Across the rest of the nation, Perth and Darwin prices look like they're starting to bottom while Hobart still looks like it will be a strong performer this year.
"People are leaving capital cities like Sydney and Melbourne for places like Hobart more and more."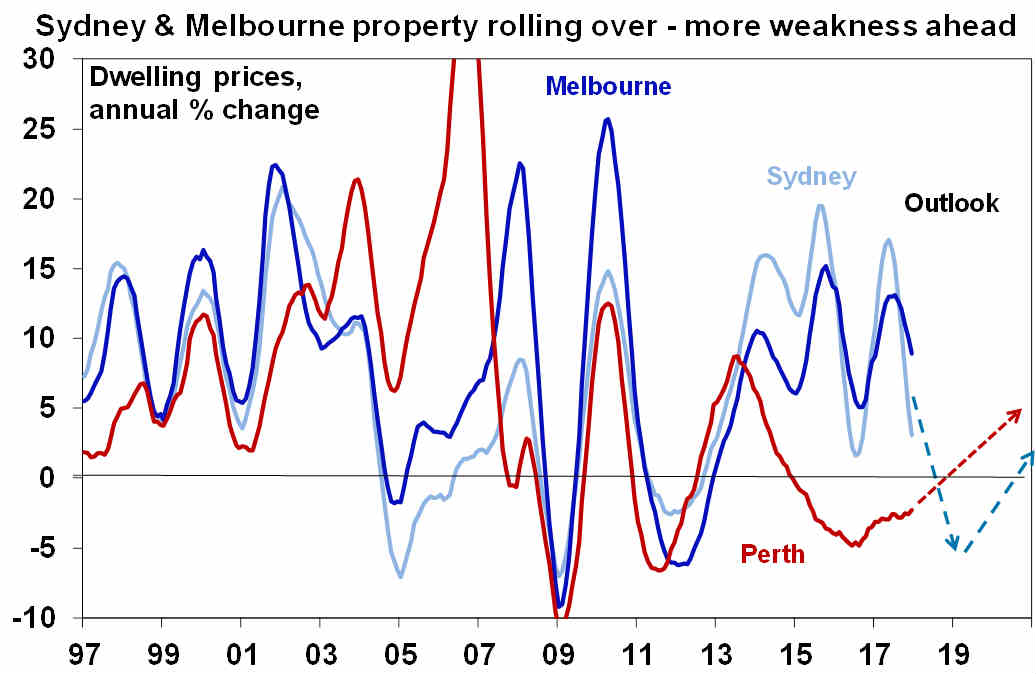 What's happening with consumer spending and wages in 2018?
Key factors affecting consumer spending
Ms Mousina said AMP Capital has a moderate view on the outlook for consumer spending in Australia this year.
"The volume data should remain ok, which is the component that goes into GDP," she said.
"The problem is there hasn't been enough pricing power in the retail sector which is bringing down the value of consumer spending.
"The key factors affecting the outlook for consumer spending are the low wage environment, high household debt, shaky consumer sentiment and uncertainty of what's going to happen in the housing market."
"If we take away the iPhone spending and Black Friday sales, the underlying consumer still looks stronger than what it was in the middle of 2017, which is a good sign and shows ultimately things won't be as weak in 2018."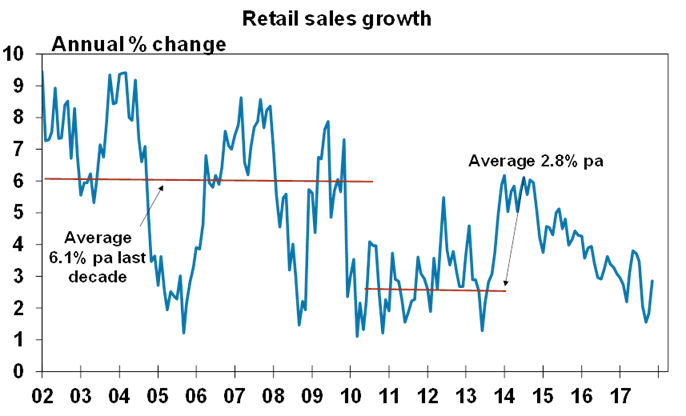 Employment forecasts positive, but wages still look dismal
"On the employment front, things till look positive," said Ms Mousina.
"Leading indicators are tracking around 2 – 2.5% employment growth which is below 2017 levels.
"On wages, we don't really see things changing much.
"We still see wages being stuck at around 2.0% and ultimately being driven by spare capacity in the labour market.
"We are in a low inflation environment and that's leading to low wages growth.
"There was an interesting report published on EBA's (Enterprise Bargaining Agreement) and it showed EBA agreements dropped again to 2.2% over the year, and they cover a pretty large portion of the labour market – I think it's an important sign this low wages environment isn't going to change."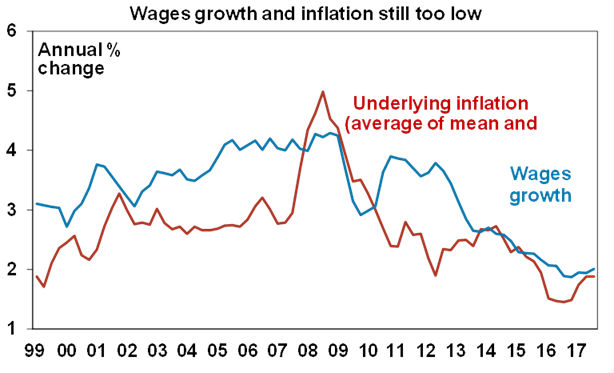 Will the RBA keep the cash rate on hold in 2018?
It's the question every homeowner wants to know the answer to – what is the RBA going to do with interest rates this year?
Forecasts: RBA cash rate 2018
Economists
Forecast
Westpac
Rates on hold in 2018
AMP Capital
0.25% hike forecast for the end of 2018
BIS Oxford Economics
Rates on hold in 2018 and until the end of 2019
HSBC
Expect RBA to start a "slow and steady hiking cycle in 2018"
Canstar's Steve Mickenbecker thinks it is still too risky for the RBA to raise the cash rate until at least the last quarter of 2018.
"With US, UK and Canadian rates all on the way up, there is a vague uneasiness that the RBA is not moving Australia in the same direction. But should this be so?" he said.
"Inflation is below the target range, but that doesn't mean that the RBA can't move now to head off an outbreak of inflation down the track. What it does mean is that there is not much pressure on the RBA to move early.
"The pressure also appears to be coming out of property markets, with Sydney slowing. Melbourne is proving to be a little more resilient, and the RBA will clearly be keeping a close eye on these markets through 2018.
"Then there are the reasons not to move early.
"The RBA doesn't want to see a high Aussie dollar and erosion of Australia's competitiveness while economic recovery is still a fledgling.
"Most tellingly, however, is the modest movement of wages. The normal course of a cycle is that jobs growth happens and then inflation and wage increases escalate. The wages growth makes room in household budgets to cover interest rate increases. This time around we are yet to see wages growth.
"Aggravating this is that Australia's household indebtedness has hit world-leading levels over the last couple of years. The banks have opened the purse strings with unprecedented access to interest-only loans, not just for investors, but also for first home buyers. Bank home loan write-offs continue to be low at the moment, and APRA already looks to have applied the brakes to the housing market and curbed lending excesses. But what will happen when the RBA increases rates?
"Particularly vulnerable are first home buyers, still taking that deep sigh of relief after scraping their way to a deposit. Don't forget, the banks have already hiked the rate for the most stretched of this group who have taken interest-only loans. Investors have not been spared either.
"Nobody will be thanking the Reserve Bank if it triggers bank bad debts and people to lose their houses when the case for a rate rise was tenuous. I can't see the case being any less tenuous until at least the last calendar quarter of 2018."
What's on the horizon for the Australian share market in 2018?
2018 could be a good year for the ASX 200, according to Canstar's General Manager for Wealth, Josh Callaghan.
"As the screws continue to tighten on investment lending for property and the cash rate remains low, equities will benefit from that money looking for a place to grow," he said.
"Some commentators are predicting a rocky ride in 2018 but almost all are bullish that the market will continue its rise. The macro factors that support the ASX continuing its steady climb through 2018 include Australia's strong economic fundamentals, commodity prices regaining some strength, strong bank sector performance and all of this with the backdrop of a global economy that is finally hitting its straps.
"In 2017 we saw the US stock markets break new highs while the ASX 200 only started its rally in the last quarter of the year. The index peaked out at 6,828 points back in November 2007, which represents around 12% growth from where we are currently.
"With a few things going our way, I wouldn't be surprised to see the index get there again this year."
How will the Aussie dollar track in 2018?
Aussie dollar to fall to 70 US cents in 2018
Westpac's Senior Currency Strategist Sean Callow told Canstar he is "unconvinced" by the reasons for the Aussie dollar rally in the past month, expecting it to fall later this year.
"We have the Aussie at 70 US cents by the end of 2018 and dropping to the high 60s by 2019," he said.
"There are three main reasons we expect the Aussie dollar to fall in the year ahead. First of all, our view on the RBA is we think it will not raise rates this year. Second, the sustainability of commodity prices. Commodities rallied quite sharply in recent weeks, but we don't think that will sustain further. Finally, the US dollar has fallen against almost all currencies in the past month but we expect the US dollar will recover."
Please note: Westpac Chief Economist Bill Evans has since revised Westpac's target for AUD/USD from 70 US cents to 72 US cents by the end of 2018.
Will cryptocurrency still be a 'big deal' in 2018?
The crazy world of Bitcoin and cryptocurrency – you're bound to have heard about the ups and downs and risks that seem to come hand-in-hand with investing your money in this space. Just this week we saw the Bitcoin price dip below $US10,000 – almost a 50% price drop from the peak of almost $US20,000 seen before Christmas.
Amid the hype, Canstar's Josh Callaghan is optimistic about how cryptocurrency will perform in 2018.
"As the chatter around cryptocurrencies continues to rise we will see more and more punters enter the market to claim their stake," he said.
"Investors who thought that they may have missed the rise of Bitcoin are now more aware of the potential of alt coins which is driving more money into the market. Bitcoins and Ethereum are still the gateway currencies to these coins and, as such, the demand for these will continue to rise. Throughout 2018 the more legitimate alt coins will see a continual rise as the market sifts through the thousands of options now on the market.
"Crypto exchanges all around the world have had to stop taking new clients at different times during the year as they cope with enormous demand. As exchanges become easier to use and the long backlog of new client requests are gradually processed there will be a continual flood of new money into the market which should continue to push prices up.
"I expect Bitcoin, Ethereum, Ripple and BitcoinCash to all experience triple-figure percentage increases again this year."