Which financial institutions offer outstanding value for first home buyers? Read on to find out…
Each year Canstar researches and rates the loans and resources available to first home buyers by Australia's financial institutions, and Canstar's First Home Buyer Awards were created to recognize and reward those institutions that make a concerted effort to assist first home buyers. This is primarily through loan products suited to the needs of this specialized group. We also take into account educational tools, information and calculators designed to help first home buyers every step of the way. In doing so, we compare how different lenders shape up. This includes banks, credit unions and building societies.
To be eligible for this award the institution must offer the following:
Loan must be available for new customers
Loan must be available for 80% LVR or greater
Loan is not a bridging loan, construction –only loan
Loan is not a special or introductory product
The institution must offer a full range of banking products (such as credit cards, deposit and transaction accounts)
The institution must have customer-facing branches or mobile lenders in the applicable state/territory
The loan must be available for both variable and 3 year fixed term
Here are the 2016 winners.
BANK OF THE YEAR – FIRST HOME BUYERS – NAB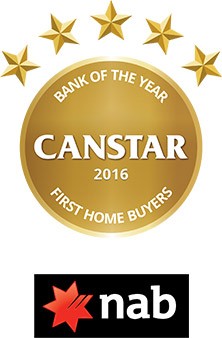 NAB has been helping homeowners for more than 150 years and boasts more than 10 million customers.
For first home buyers, NAB's products offer an outstanding balance of great price and great features, with competitive interest rates and features that include:
The availability of a family guarantee option
The option for a guarantor to provide both security and deposit
The ability to capitalise lenders' mortgage insurance (LMI) and Stamp Duty into the loan
NAB will lend up to 95% loan to value ratio (LVR)
The ability for borrowers to use the FHOB Grant as a deposit
A specific website for first home buyers
A number of excellent online calculators
The ability for borrowers to apply for a loan online
The ability for a number of security options to be used
NAB also offer excellent educational resources for first home buyers, such as information on the overall process of buying a first home; property and economic reports; market statistics; a glossary of terms; guidelines as to the costs associated with buying a house; guides to buying at an auction and other step by step guides to buying a property.
Canstar congratulates NAB on winning the national bank of the Year – First Home Buyers Award.
State Awards
In order to recognise and reward smaller institutions in the home loans industry, Canstar also offer a number of First Home Buyers state awards. The winners are as follows.
Customer Owned Institution of the Year – First Home Buyer NSW – Newcastle Permanent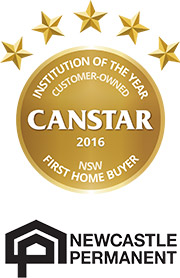 Newcastle Permanent works hard at retaining its pride of place in the community of Newcastle and surrounds, with strong products that balance price and features.
First home buyers are well catered for, with online information specific to this sector, particularly in relation to the costs you can expect when buying a house. A range of calculators are on offer, including a borrowing power calculator, as well as stamp duty and mortgage repayment calculators.
Newcastle Permanent allows first home buyers to incorporate lenders mortgage insurance and stamp duty into the overall loan. It will also arrange your first home owners grant for you so that it is available at settlement.
Customer Owned Institution of the Year – First Home Buyer QLD – Heritage Bank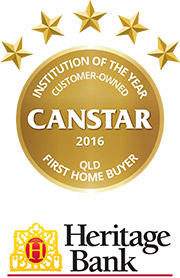 Heritage Bank is Australia's largest customer-owned bank, and is a market leader in both produce price and institutional features.
As well as a low interest rate, some of the great loan features on offer great home loan features include the ability to borrow up to 95% LVR, the ability to make additional and lump sum repayments with no minimum or maximum amounts, a full offset account and redraw facility, a fee free split facility, top-up and portability facilities and the ability to switch to another product fee free as well.
Customer Owned Institution of the Year – First Home Buyer VIC – Victoria Teachers Mutual Bank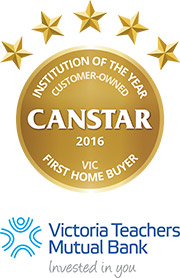 For the second year running, Victoria Teachers Mutual Bank lets its variable and fixed rates do the talking, while also offering a raft of features that include a top-up facility, split facility, portability, 100% mortgage offset, and switch facility.
Victoria Teachers steers first home buyers in the right direction with a good mix of educational tools and calculators, plus borrowers can apply online.
Customer Owned Institution of the Year – First Home Buyer SA – People's Choice Credit Union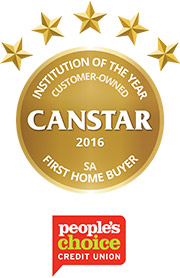 This is the fourth year in a row that People's Choice Credit Union has won a state award.
People's Choice offers competitively priced products which have a low interest rate and low total cost – something that's very important to first home buyers! And the loans are easy to apply for; People's Choice offers 31 branches and 11 mobile lenders in the state. Plus, first home buyers can apply online and get pre-approval which lasts for 90 days.
People's Choice Credit Union also have some terrific online educational tools including good articles and a range of home loan calculators.
Customer Owned Institution of the Year – First Home Buyer WA – Beyond Bank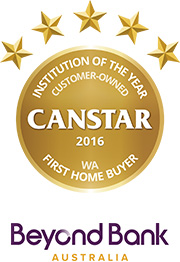 For the second year running, Beyond Bank has won the state award for WA.
Impressive loan features and great rates that stack up well against the competition demonstrate Beyond Bank's commitment to the first home buyer segment. The use of financial gifts and the First Home Buyers Grant as a deposit is very helpful, as is the 90-day home loan pre-approval facility.
Beyond Bank offers a range of guarantor options, including non-family guarantee, allowing a guarantor to provide the deposit and the ability to limit the financial liability of the guarantor.
Specific education for first timers includes a useful explanation of additional costs and home loan features, as well as other guides, calculators and checklists.
Canstar congratulates all First Home Buyer award winners.
Canstar is an information provider and in giving you product information Canstar is not making any suggestion or recommendation about a particular credit product. If you decided to apply for a home loan, you will deal directly with a financial institution, and not with Canstar. Rates and product information should be confirmed with the relevant financial institution. For more information, read our detailed disclosure, important notes and additional information. *Read the Comparison Rate Warning.