Property investment is popular in Australia, but the interest rate you pay on your investment loan makes a big difference to your potential profits.
More than 1.3 million Aussies or 6% of the country are the owners of an investment property in 2016, according to realestate.com.au. But those investments may not be doing as well as expected, with data from CoreLogic showing the average rent prices have fallen across the nation in the past year.
CoreLogic Research Analyst, Cameron Kusher, says landlords probably don't have much "wiggle room" to raise rents this year. "With construction activity set to peak over the next 24 months, and with many new properties still to settle, there is a real possibility that rental rates will fall over the coming months," he explains.
What does that have to do with interest rates? Well, the amount you're paying each month for the mortgage on your investment property will make or break the profit coming from that property in terms of rental income.
What interest rate can you get on an investment loan?
The table below shows interest rates available at different LVRs for variable rate investment loans. As you can see, the maximum interest rate on offer varies by around 0.25% depending on your LVR.
Meanwhile, the minimum rates on offer vary by only 0.01%, showing lenders are not guaranteed to penalise investors with a 70% LVR with a higher interest rate.
Interest Rate for Variable Rate Loans
Variable at 70% LVR
Variable at 80% LVR
Variable at 90% LVR
Minimum
3.89%
3.89%
3.90%
Average
4.77%
4.78%
4.84%
Maximum
6.03%
5.82%
5.84%
Source: www.canstar.com.au. Based on $500,000 loan amount. Interest rate is current as at 15 June 2016.
What about for fixed rate investment loans? Here the LVR of a loan makes a slightly less dramatic difference to the interest rate, with a 0.20% difference in the minimum interest rates on offer depending on LVR, and only a 0.04% difference in maximum rates.
Perhaps this reflects the sense of certainty that lenders have when a rate is fixed, so they don't view the LVR as having so much effect on the risk level of a loan.
Interest Rate for 3 Year Fixed Rate Loans
3 Year Fixed at 70% LVR
3 Year Fixed at 80% LVR
3 Year Fixed at 90% LVR
Minimum
3.69%
3.69%
3.89%
Average
4.46%
4.46%
4.47%
Maximum
5.34%
5.34%
5.30%
Source: www.canstar.com.au. Based on $500,000 loan amount. Interest rate is current as at 15 June 2016.
What difference does the interest rate make to your investment?
As you can see from the table below, the interest rate you pay on your investment loan makes a significant difference to the profit or loss you can achieve from a rental investment property. Similarly, the price of the property you choose as an investment – and consequently the size of your loan – makes a huge difference to the size of your investment debt.
We have based these figures on CoreLogic data that shows the average house price in Australia has now reached $617,870, while the average rental income for a house is now $490/week or $2,170/month.
Thank goodness negative gearing is here to stay, because based on these average figures an investor is likely to be making a loss of over $1,300 every month – whether they're on a 70% or 90% LVR loan.
That's a big chunk of money – especially when we know that the people using negative gearing are not fat cats, but everyday Mum and Dad investors on incomes less than $80,000/year, such as teachers, nurses, and defence personnel.
It is important to check that you can afford to make a loss on an investment property before diving in, regardless of whether there will be a tax break available or not.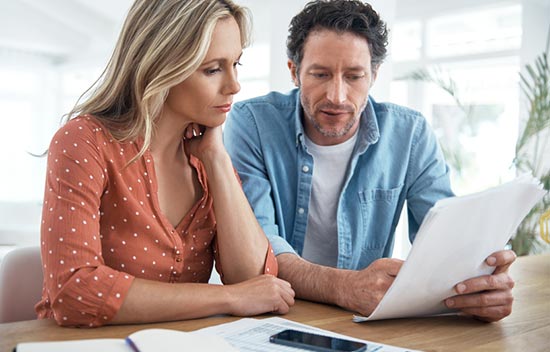 Interest and Repayments for Variable Rate Loans
(Interest Only)
70% LVR Loan
90% LVR Loan
Average Interest Rate p.a.
4.77%
4.84%
Monthly Interest Payment
$1,719.22/month
$2,242.87/month
Average Rental Income
Australia
$2,170/month
$2,170/month
Net Result
(income less repayments)
Profit of $450.78/month
Loss of $72.87/month
Source: CANSTAR Mortgage Repayments Calculator;
CoreLogic Rental Statistics; CoreLogic Average House Prices.
Based on $617,870 property value at 70% and 90% LVR.
Use the CANSTAR Mortgage Repayment Calculator to work out how much your home loan repayments will cost and the total interest you'll pay over the life of your loan, based on factors including your interest rate.
Compare Investment Loans
The CANSTAR website is designed to help you find outstanding value for money when it comes to the investment loan you use for property investment. Buying an investment property is a big decision, so make sure you do your research before diving in.