Looking at buying a home in sunny Perth? We've taken a look at some of the local factors to consider and a few pointers that might be helpful to keep in mind when choosing a home loan.
Why buy a home in Perth?
Perth is well-known for being a laid-back and liveable city. In fact, according to the Australian Bureau of Meteorology, WA has stolen the crown from Queensland as Australia's sunshine state with Perth coming in as the sunniest State capital. While geographically it's quite removed from the rest of Australia's urban hubs, the city has no shortage of attractions. It's home to the beautiful Cottesloe Beach, features the expansive Kings Park and is just a stone's throw away from Rottnest Island.
Another part of the appeal to buying in Perth may be its relatively affordable property prices, particularly when compared to other capital cities like Sydney and Melbourne. While other cities have only recently been hit by the housing downturn, Perth has been experiencing a market decline for the past four years after peaking in June 2014, according to CoreLogic. It forecasts that these values will bottom out in 2019, although a value rebound is not predicted. While the market remains quite uncertain, some people may see the current decline as an opportunity to nab a property in WA's capital for a cheaper price compared to a few years ago.
For those renting in Perth, high rental costs may mean the prospect of buying a property is becoming more attractive. According to the latest Rental Affordability Index report released in November 2018, while the geographic spread of affordability across greater Perth is uneven, areas along the coast such as North Fremantle and Claremont have remained "unaffordable" to the average rental household. Additionally, according to the recent Domain Rental Report, Perth's rental prices are rising faster than Sydney and Melbourne with house rental prices increasing by 2.9% during 2018.
So if you're thinking about buying or building a property in Perth, let's take a look at property costs and some other things to consider when choosing a home loan.
How much does property cost in Perth?
Perth property prices have been steadily declining since hitting their market peak. According to CoreLogic's 2019 Outlook Report, dwelling values are tracking at around 15% less than they were in mid-2014. The silver lining to this downturn, CoreLogic said, is that housing values are about the same as they were 10 years ago, providing one of the most affordable entry points to a capital city housing market.
Source: CoreLogic – as at 30 April, 2019
As with most cities, prices can vary significantly from one Perth suburb to the next. For example, based on realestate.com.au suburb data, the median price for a house in Medina in Perth's south is $225,000, compared to $3.5 million for a house in Peppermint Grove, a suburb which is often touted as Perth's most expensive.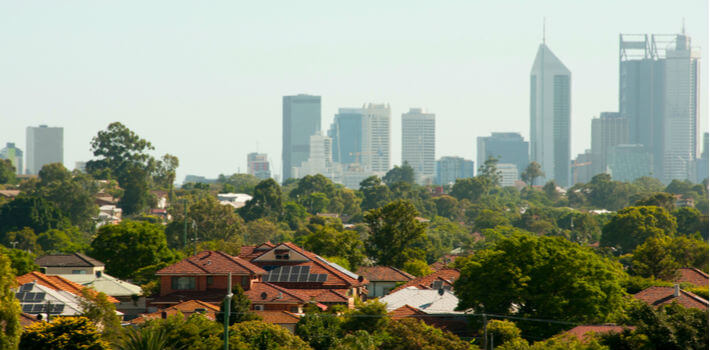 Some factors to consider when choosing a home loan in Perth
Maximum loan amount
Some loan providers or individual home loan products place an upper limit on the amount you can borrow ($1 million is an upper limit for some lenders in Canstar's database). And with median prices in some Perth suburbs coming in well over this, it could mean that certain products might not be suitable for people buying in these areas.
Branch access in Perth
While this might not be essential for everyone, you may want to consider lenders who have physical branches in Perth if you intend to buy there. This can be convenient for some buyers during the home loan application process and throughout their loan term. However, it's worth remembering that some banks without physical banks in Perth offer comprehensive online and phone services, while some may also have mobile lenders available who could potentially come to you.
Land transfer (stamp) duty in Perth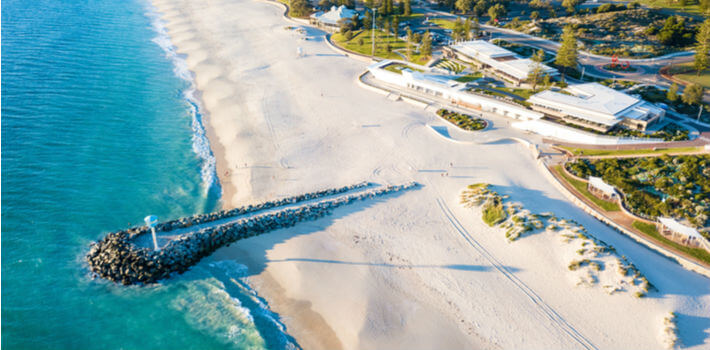 First Home Owners Grant in Perth
Perth buyers who are making the first step onto the property ladder might be eligible for the Western Australian First Home Owner Grant. Eligibility for these grants can change from time to time so it's best to visit the Western Australia Government website for current details.
Perth's auction rules
There may be some state-specific rules to consider before you start bidding on auction properties in Perth. For example, according to Perth based real estate company, Caporn Young, in Western Australia you can make a maximum of 10 bids and, unlike some other states, you don't have to register as a bidder prior to attending an auction. Additionally, there's no mandatory cooling off period for any real estate contracts made in Western Australia. Home loan pre-approval may also be helpful to keep in mind if you're considering buying at auction.
Flood maps
Parts of Perth, for example Fremantle and South Perth have been prone to flooding in the past. It may be beneficial to check local flood maps so you're aware of any risks, before you commit. Some conveyancers offer a 'flood search' as part of their service to home buyers or as an add-on with a separate fee. Bear in mind that flood risk could have an impact when it comes to getting home and contents insurance for your new home.
A package home loan for higher loan amounts?
If you're looking at some of Perth's more expensive suburbs, it could be worth considering a packaged home loan as an option. These products typically bundle a home loan with other products and may include additional features that a standard home loan won't. While they often come with higher fees than a no-frills alternative, the additional features like offset accounts and potentially discounted interest rates, could save borrowers with higher value loans over the life of the loan. Package home loans aren't necessarily right for every buyer though, so it could be a good idea to weigh up your options before deciding to commit one way or another.
Top suburbs in Perth and surrounds for capital growth
If you're buying a property in Perth or its surrounds, the potential to sell it in the future at a profit may be a consideration. Here are the top 10 suburbs in the greater Perth area for capital growth (the value of the property increasing) over the 12 months to November 2018. But remember, just because a suburb has performed strongly in the past, it doesn't mean it will continue to do so in the future.
Floreat + 8.1%

Ascot + 7.1%

Mosman Park + 7.1%

South Fremantle + 7.1%

Salter Point + 6.9%

Leederville + 6.9%

Mount Hawthorn + 6.2%

Kensington + 6.1%

North Perth + 5.1%

Subiaco + 5.0%
Potential pros and cons of buying a home in Perth
With its great weather, beautiful beaches and relaxed character – there's a lot to like about Perth. But what are some of the other factors to consider if you're thinking about settling down in Perth?
Potential pros:
Perth is much more affordable particularly compared to places like Sydney and Melbourne. In fact, according to the latest Housing Industry Association Affordability Report, the WA capital is the most affordable capital city in Australia.

Perth has a booming food, arts and culture scene and is home to the Little Creatures Brewery along with a number of unique bars and pubs.

From smiling quokkas at Rottnest Island to limestone caves and vineyards at Margaret River – there are a number of day trips you can take just outside of Perth.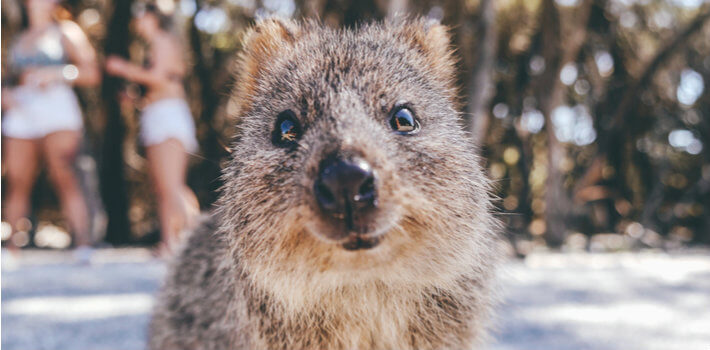 Potential cons:
Western Australia's unemployment rate is the highest in the nation. The unemployment rate rose from 6.3% to 6.4% from November to December 2018, according to the Australian Bureau of Statistics.

Perth's population growth is very low. According to RiskWise Property Research, Perth currently has a population growth of 0.83% which is the third lowest in Australia.

Perth is fairly removed from the rest of Australia's capital cities. In fact, geographically it's closer to Indonesia than it is to Sydney.
Is Perth a good location for property investors?
The Perth housing market has been declining since mid-2014, but this decrease looks to be slowing. According to QBE's Australian Housing Outlook 2018-2021 Report, Perth's median house price has fallen by a cumulative 12% since it's peak in June 2014. Both QBE and CoreLogic predict Perth house prices will continue to decline by about 2% in 2019 before recovering with a modest price increase in 2020, thanks to population growth. By June 2021, QBE forecasts the median house price to reach $550,000, which would be 5% higher than June 2018 levels.
Unit prices have similarly slumped, with median prices falling by 5.4% in the year to June 2018, according to the QBE housing report. The report predicts unit price growth to be more modest than houses, speculating that prices will continue to decrease in 2019 before stablising and then improving over the subsequent two years.
According to CoreLogic, Western Australia is seeing more job growth, comparatively lower unemployment, an improving resources sector and more overseas and interstate migration (despite overall low population growth). While it's still a long road to recovery, these factors may help to stimulate housing demand.
Perth – key facts at a glance
Average summer temperature: 16.3 – 31.6°C
Average winter temperature: 7.8 – 19.4°C
Interesting fact: Perth is the sunniest city in Australia with Perthians getting an average of eight hours of sun each day, even in winter.
Image Source: Lev Kropotov (Shutterstock)