If you're buying a property in Brisbane, we've taken a look at some of the local factors to consider and a few things to think about when selecting a home loan, whether you're a local, or pondering a move to Brisvegas.
Queensland's capital city has a population of around 2.4 million, a number which has steadily increased as migrants from interstate and overseas flock to the Sunshine State's south east. The growth doesn't look like it's stopping any time soon either.
Why buy a home in Brisbane?
Part of the attraction for those who choose to make Brisbane their home may be the relatively affordable property prices, particularly compared to Sydney and Melbourne, not to mention the year-round sunshine and proximity to popular beaches on the Gold Coast and Sunshine Coast.
It's no surprise then that the number of people moving to Brisbane from other parts of Australia has almost tripled since 2015 to over 17,000 per year, according to the Queensland Government's 2018 statistics.
And with a number of big-ticket infrastructure projects lined up over the coming years – including rail projects, a new metro for the city and an extra runway for its airport – Brisbane's growth looks set to continue.
For those already in Brisbane who are currently renting, high rental costs may mean buying a home is becoming a more appealing prospect. The latest Rental Affordability Index says most postcodes in inner to middle Brisbane are "moderately unaffordable to unaffordable", with more inner to middle suburbs shifting to become unaffordable.
So if buying in Brisbane sounds appealing, let's look at the potential cost of a property there and some of the factors to think about when choosing a home loan.
How much does property cost in Brisbane?
While property prices in some Australian cities have fallen recently, Brisbane's overall market has remained steady and values have continued to increase, albeit at a slower rate recently. The median house price across Brisbane increased by 0.6% in the first six months of 2018 according to stats from BIS Oxford Economics, with the outer suburbs accounting for much of the increase.
The median price in the inner suburbs fell by 2.9% in the same period, so there may be opportunities to find value closer to the CBD.
Comparing Brisbane to other capital cities, recent CoreLogic data shows how the River City's median prices stack up.
| | | |
| --- | --- | --- |
| | Median house price | Median unit price |
| Sydney | $868,000 | $685,000 |
| Melbourne | $727,500 | $541,000 |
| Canberra | $660,000 | $401,000 |
| Brisbane | $546,500 | $375,000 |
| Perth | $480,000 | $356,000 |
| Darwin | $470,000 | $367,500 |
| Adelaide | $460,000 | $310,000 |
| Hobart | $450,500 | $312,500 |
| Combined capitals | $666,226 | $535,690 |
Source: CoreLogic – calculated across houses and units sold by private treaty over the four-week period ending 19 November 2018.
As with most cities, prices can vary significantly from one Brisbane suburb to another. For example, based on realestate.com.au suburb data, the median price for a house in Bald Hills in Brisbane's north is $450,000, compared to $1.3 million in the riverside suburb of Hamilton closer to the city.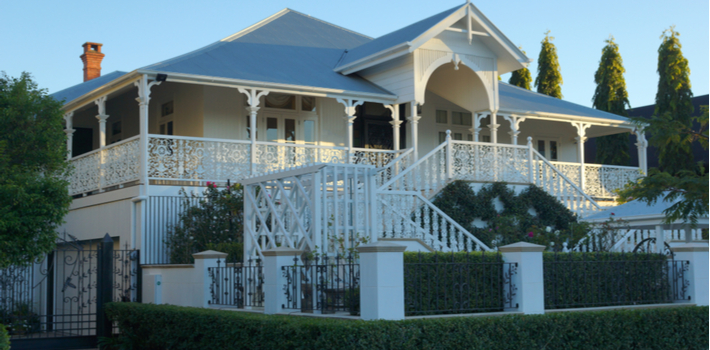 5-Star Rated Home Loans in Brisbane
The comparison table below features a snapshot of some of the outstanding value variable rate home loans on our database with links to lenders' websites, sorted by comparison rate (lowest-highest) and then alphabetically by provider name. Products shown are principal and interest home loans available for a loan amount of $500K for a borrower buying their next home in QLD with an LVR of 80% of the property value. Before committing to a particular home loan product, check upfront with your lender and read the applicable loan documentation to confirm whether the terms of the loan meet your needs and repayment capacity. *Comparison rate based on loan amount of $150,000. Read the Comparison Rate Warning. Use Canstar's home loan comparison selector to view a wider range of home loan products tailored to your preferences.
Some more things to consider when choosing a home loan in Brisbane
Maximum loan amount
Some loan providers or individual home loan products place an upper limit on the amount you can borrow ($1 million is an upper limit for some lenders). And with median prices in some Brisbane suburbs stretching above $1.5 million, this could mean that certain products might not be suitable to people buying in these areas.
Branch access in Brisbane
While not essential, you may want to consider lenders who have physical branches in Brisbane if you intend to buy there. This can be convenient for some buyers during the home loan application process and throughout their loan term. However, it's worth remembering that some banks without physical branches in Brisbane offer comprehensive online and phone services, while some may also have mobile lenders available who would potentially come to you.
Transfer (stamp) duty in Brisbane
Brisbane is subject to transfer duty rules (also known as stamp duty) for Queensland, and it may be worth familiarising yourself with these, particularly when it comes to concessions that might be available to certain kinds of buyers and properties.
First Home Owners Grant in Brisbane
Brisbane buyers who are making the first step onto the property ladder might be eligible for the Queensland First Home Owners' Grant. The eligibility for these grants can change from time to time. Visit the Queensland Government website for current details.
Brisbane's auction rules
There may be some state-specific rules to consider before you start bidding on auction properties in Brisbane. For example, Queensland auction rules mean it's illegal for a seller or their agent to give you a guide price beforehand, plus there's no cooling-off period on properties purchased at auction. Home loan pre-approval can also be helpful if you decide to buy at auction.
Flood maps
Parts of Brisbane, like Milton, Toowong and Fairfield, have been prone to flooding in the past, so it could be wise to check local flood maps so you're aware of any risks, before you commit. Some conveyancers offer a 'flood search' as part of their service to home buyers or as an add-on with a separate fee.
A package home loan for higher loan amounts?
For those who are looking at some of Brisbane's more expensive suburbs, it could be worth considering a package home loan as an option. These products typically bundle a home loan with other products and can include additional features that a standard loan won't. While they often come with higher fees than a no-frills alternative, the additional features like offset accounts and potentially lower interest rates, could save borrowers with higher value loans over the life of the loan. Package home loans aren't necessarily right for every buyer though, so it could be a good idea to weigh up your options before deciding to commit one way or another.
Top suburbs in Brisbane for capital growth
If you're buying a property in Brisbane, the potential to sell it in the future at a profit may be a consideration. Here are the top 10 suburbs in the greater Brisbane area for capital growth (the value of the property increasing) over 12 months to August 2018. But remember, just because a suburb has performed strongly in the past, it doesn't mean it will continue to do so in the future.
1. Lamb Island + 37.5%
2. Kangaroo Point + 26.1%
3. Dunwich + 24.4%
4. Sandgate + 22.4%
5. Hamilton + 20.9%
6. Chandler + 19.8%
7. Paddington + 17.3%
8. Coochiemudlo Island + 17.3%
9. Corinda + 16.6%
10. Nundah + 16.2%
Source: realestate.com.au and CoreLogic.
Potential pros and cons of buying a home in Brisbane
Many associate Brisbane with its muggy sub-tropical climate, murky yet glorious river and day trips to some of Australia's top beaches. But what are some of the other factors to ponder if you're thinking about buying in Queensland's capital?
Relatively affordable compared to some other state capitals, like Sydney and Melbourne
Strong economy (worth $162 billion according to Brisbane City Council data) and jobs market
Over 280 days of sunshine every year on average
An abundance of parks and other family-friendly spaces (Brisbane City Council says it maintains over 2,000 parks)
Properties in the most popular areas, particularly riverside suburbs, are in high demand and therefore can be pricey
Parts of the city like the West End have large number of 'heritage' properties which can mean restrictions on doing renovations
Because the city has flooded in the past, home insurance premiums can be expensive
The city is sometimes hit by storms in summer which can damage property
Is Brisbane a good location for property investors?
Some commentators predict that Brisbane will be one of the best-performing property markets in Australia in the coming years. Property value increases are expected to continue – for houses, at least – and according to a recent report from BIS Oxford Economics, Brisbane's median house price is expected to see the highest overall growth of any capital city over the next three years – around 11%. This would see the median house price climb to over $605,000 by June 2021.
However, the same report predicts that an oversupply of units is likely to put downward pressure on Brisbane unit prices. And with CoreLogic predicting that the centre of Brisbane will see the highest percentage increase (+29%) in new units across the country by 2020, that downward pressure may not ease any time soon.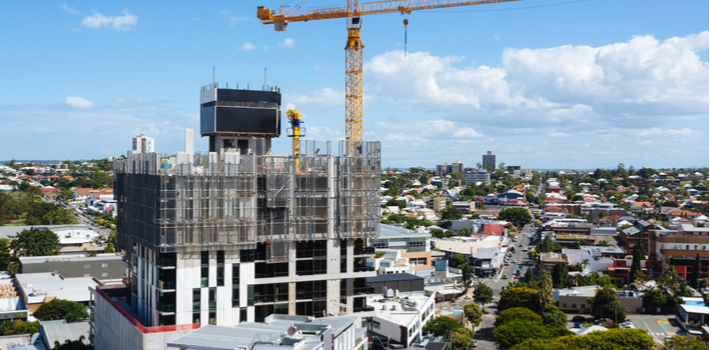 Brisbane – key facts at a glance
Nicknames: Brissie, Bris Vegas, the River City
Population: 2.4 million (ABS estimate as of July 2017)
Average summer temperature: 29°
Average winter temperature: 21°
Local delicacy: Moreton Bay bugs
Interesting fact: Brisbane was the busiest submarine port in the world during World War II.