Three million Australians have a form of depression or anxiety, but only 35% access treatment which, according to Mental Health Australia, is due to stigma.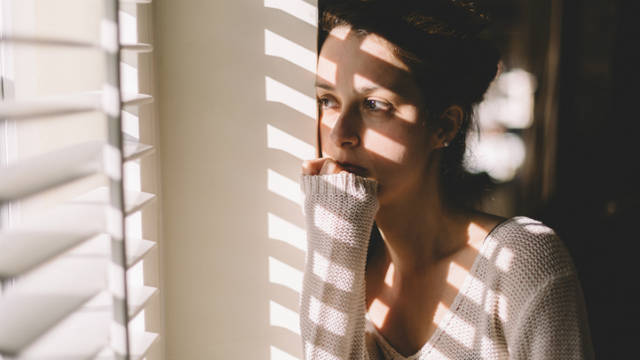 That's why World Mental Health Day (10 October) is important – to raise awareness and eradicate the stigma around seeking help when you need it.
On top of this, the Financial Stress Survey by CoreData and Financial Mindfulness found one in three Australians feels financially stressed.
To shed some light on this growing issue, we spoke with beyondblue clinical advisor Dr Stephen Carbone about the message he wants to pass on to Australians in financial stress and his advice for maintaining wellbeing.
Q&A with Dr Stephen Carbone – beyondblue Clinical Advisor

Q. What are the key messages you want to get out on World Mental Health Day?
Our mental and physical health are equally important. While many people look after their physical health, they don't always pay attention to their mental health. Fortunately, many of the things that contribute to good physical health – such as regular physical activity, healthy eating and good sleep – also contribute to good mental health.
Other things that help to promote good mental health include:
doing things that you find interesting, enjoyable and relaxing;

maintaining a good work-life balance;

spending time socialising and connecting with others or helping others;

learning and practicing stress management and relaxation techniques like mindfulness meditation;

keeping things in perspective by challenging unhelpful self-talk.
It is also important to monitor your mood for signs of mental health conditions such as anxiety or depression. If you are concerned that you or someone you know might be experiencing anxiety or depression do an online checklist, ring a telephone support line (such as beyondblue 1300 22 4636) or visit your GP for an assessment. Effective treatments are available and early intervention is best.
Q. Which financial issues are common triggers of stress?
Stress is part of everyday life but sometimes it can build to damaging levels that can contribute to mental health conditions. We each experience stress in our own personal way and what might be a stressful situation for one person might not be an issue for another. However, there are certain life challenges that are stressful for most people such as relationship difficulties, personal health issues and financial problems.
Financial problems might include retrenchment, unemployment or under-employment, not having enough money to make ends meet or to pay for large expenses, taking on credit card, mortgage or other debts that we may struggle to repay, negotiating how to divide up property after separation or divorce, or worrying about building and living on our retirement savings, particularly when cost of living pressures escalate. Unsurprisingly, people on low incomes often have higher rates of stress and mental health conditions than people on higher incomes; in part because they are more likely to experience more frequent financial stress.
Q. Do you have any tips for Australians who are having problems with financial stress?
It is important to get advice to manage financial stress as it can contribute to developing or exacerbating mental health conditions. Some people might be embarrassed to seek assistance but it is important to realise that financial stress can happen to anyone. It is better to get advice on how to get on top of financial stress quickly rather than letting it build to the point where it impacts on your mental health.
Consider seeking advice from trusted friends or family members or using the services of a qualified financial counsellor who can help you to review your finances, re-organise and manage your budget, and provide advice on paying off debts or negotiating repayment arrangements. If you have an existing mental health condition, it is important to discuss your financial stress with your doctor, counsellor or support worker so that they can assist you directly or refer you to someone who can.
Q. What assistance is available to Australians who are struggling with financial issues?
A good place to start is to consult a qualified financial counsellor. For help in locating a financial counsellor visit the ACCC, ASIC Money Smart or National Debt Helpline websites. It is also worth knowing that most utility companies have hardship officers who can help you work out a plan to pay the bill in instalments. They can also help you apply for emergency utility bill vouchers that you can use to meet minimum payments. In certain cases, people may elect to use the services of a public or State Trustee to help manage their financial affairs. Public/State Trustees are established by state/territory governments to provide professional, affordable and accessible trustee services.
To address how financial stress might be making you feel or think, contact the beyondblue Support Service via phone 1300 22 4636 or via www.beyondblue.org.au/get-support for online chat (3PM-12AM AEDT) or email responses (within 24 hours).
Where can I get help?
If you would like assistance for yourself or someone you know, there are a number of organisations providing support.
Organisation
Description
Services
SANE Australia
SANE Australia is a national charity helping all Australians affected by mental illness.

SANE Helpline
Helpline Chat
Helpline Online
SANE Forums

Black Dog Institute
The Black Dog Institute is a not-for-profit organisation and world leader in the diagnosis, treatment and prevention of mood disorders such as depression and bipolar disorder.

Specialist clinics for depression, psychology, bipolar disorders & adolescents
Group programs
REACH program

beyondblue
beyondblue provides information and support to help everyone in Australia achieve their best possible mental health.

beyondblue helpline
beyondblue online
Email service
Specialist support for young people, women, men, older people, multicultural people, Aboriginal people, LGBTI people & early parents

headspace
headspace is the national youth mental health foundation providing early intervention mental health services to 12-25-year-olds, along with promoting young peoples' wellbeing.
ReachOut
ReachOut is Australia's leading online mental health organisation for young people, providing practical support to help them get through everything from everyday issues to tough times.

Online forums
Information on mental health & wellbeing

Lifeline
Lifeline is a national charity providing all Australians experiencing a personal crisis with access to 24-hour crisis support and suicide prevention services.

Online chat
24 hour helpline
Lifeline charity centres
Lifeline support centres
Self-help tool kits
If you are covered by private health insurance, you may be able to access free consultations with medical professionals. Contact your health fund for more information.
Australians encouraged to check private health insurance
Australian Private Hospitals Association CEO Michael Roff said accessing care for mental health issues through public systems could be difficult and encouraged Australians to check their private health cover.
"Many health insurance policies contain restrictions or limitations to access mental health services and people often don't realise this until they need to use their cover," Mr Roff said.
"Private hospitals care for patients with post-traumatic stress disorder, eating disorders, addictions, anxiety and depression – they provide the whole spectrum of and Australians should be supported to access this care through their private health insurance.
"One in five Australians will experience mental illness this year, so ensuring access to care when you need it is essential.
"But it's not just essential for Mum and Dad to be covered – mental health issues often surface during teenage years, so it's important that the whole family has adequate health care cover."
About World Mental Health Day
World Mental Health Day aims to educate and and raise awareness about mental health issues through interactive events including morning teas, community festivals, art exhibitions, music, theatre and seminars.
From its beginnings in 1992, the week has grown to encompass hundreds of events and a multitude of individuals, community groups and service providers throughout the world. Much of the effort of running World Mental Health Day comes from dedicated volunteers committed to promoting mental wellbeing, furthering knowledge about mental health and eliminating the stigma surrounding mental illness.