Any major surgery will likely be demanding both physically and in terms of impact on your finances. A knee replacement is no exception. However, it may also provide significant relief for chronic pain and improve your quality of life.
When it comes to financial considerations, factors such as your choice of doctor, your health insurance policy and provider, and even the state you live in can affect how much you'll end up paying out-of-pocket for a knee replacement. Read on for an overview of knee replacement surgery and how much it might cost.
---
Compare Health Insurance with Canstar
The table below displays some of our referral partners' hospital and extras policies for a 39-year-old single female seeking cover in NSW without pregnancy cover. The table is sorted by Star Rating (highest to lowest) followed by provider name (alphabetical). Use Canstar's health insurance comparison selector to view a wider range of policies. Canstar may earn a fee for referrals
---
What is a knee replacement?
Knee replacement surgery, also known as total knee arthroplasty, or total knee replacement, is a medical procedure in which parts of the knee joint are operated on and cut back to remove any diseased or damaged tissue. According to the government's health advice service, Healthdirect, the removed joint parts are then replaced with metal and plastic prostheses which mimic the natural function of a knee.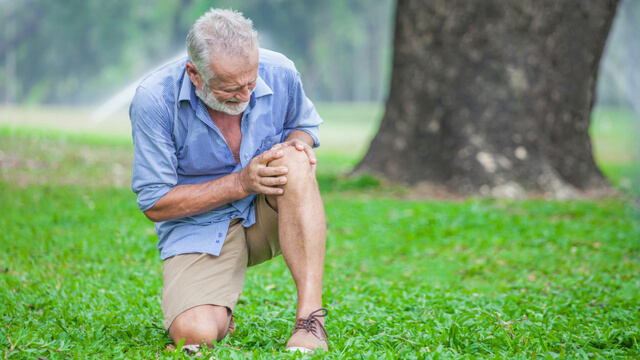 How much will a knee replacement cost as a public patient?
The Medicare Benefits Schedule (MBS) lists several knee replacement procedures for which it will provide a benefit of 75% of the fee listed if you are a public patient. The listed fees for these procedures range from $1,338.90 for a total replacement of the knee, through to $2,352.35 for a total replacement of the knee which necessitates bone grafting. Subsequently, the benefit Medicare will pay ranges from $1,004.20 to $1,764.30, and the approximate out-of-pocket costs will be somewhere between $334.70 and $588.05.
While Medicare will generally cover 75% of the cost of your knee replacement procedure, it's worth considering that opting to have the procedure done through the public system may involve a significant wait. Data from the Australian Institute of Health and Welfare showed that in the 2017-18 period, more than half of public patients waiting for a total knee replacement waited for six months or more.
On the other hand, having a knee replacement done through the private system could potentially involve a shorter wait but on the flip side you may incur greater out-of-pocket costs.
How much will a knee replacement cost as a private patient?
If you choose to go through the private system, there are several factors which may affect the amount you end up paying for your knee replacement. These can include your choice of surgeon and which health insurer you're covered by, as well as the state you have the procedure done in.
Do different surgeons charge different amounts for knee replacements?
A 2017 report from Medibank and the Royal Australasian College of Surgeons found that patients needing a knee replacement could potentially incur thousands of dollars more or less in medical costs than other patients, depending on their choice of surgeon. The average total cost of a knee replacement – including Medicare and Medibank rebates as well as out-of-pocket costs – ranged from $17,797 to $30,285. Likewise, while over a third of knee replacement surgeons surveyed didn't charge their patients any out-of-pocket costs and the median out-of-pocket cost for the procedure was fairly low at $162, some patients paid as much as $5,137 out of pocket.
Will my choice of health insurer affect my out-of-pocket costs?
Different health funds may offer different maximum benefits for knee replacement surgery. For example, Bupa states that its customers can expect to pay an average out-of-pocket cost of $1,080 for a knee replacement procedure with an average total cost of $26,975, HCF estimates an indicative out-of-pocket cost of $964 for a knee replacement procedure with a total service cost of $28,299, and Medibank states an approximate out-of-pocket cost of $580 for a $22,440 knee replacement surgery.
However, these are all approximate costs. The costs and subsequent out-of-pocket expenses you are charged will vary based on your insurer and policy, so you may want to contact your insurer and inquire about the level of cover your policy offers for knee replacement surgery. It may also be worth asking your insurer if it has arrangements with any surgeons that could result in you being charged less.
Which state/territory is the cheapest for knee replacement surgery?
The Medibank Surgical Variance Report 2017 calculated the average out-of-pocket costs charged by surgeons in different states/territories for knee replacements were as follows:
ACT – $2,588

NSW – $2,499

NT – $2,065

Qld – $1,725

Vic – $1,609

WA – $804

Tas- $496

SA – $397
With a $2,161 difference between the cheapest and most expensive states/territories, it may be worth considering the potential merit of travelling interstate if you require a knee replacement. However, do keep in mind costs such as travel, accommodation, insurance, as well as whether or not your health insurer provides cover for interstate surgery.
What tiers of health insurance cover knee replacements?
Joint reconstructions and replacements are a minimum requirement for, and must be covered on an unrestricted basis on Bronze, Silver, and Gold hospital insurance policies. Joint replacements may also be covered on certain Basic policies, as they are not a minimum requirement of the Basic tier but insurers may choose to offer cover for them on a restricted or unrestricted basis.
While cover for joint replacements is mandatory on most health insurance policies, excesses, cover limits, and maximum payable benefits may vary significantly by policy and product tier. You can compare health insurance policies with Canstar and see if you can find a product that provides you with the cover you want.