If you have experienced substantial tooth loss, or you're missing all your teeth, then your dentist or other healthcare practitioner may recommend dentures. According to the Australian Institute of Health and Welfare, almost one-fifth of Australian adults aged 65 and over have no natural teeth. Of those aged 65 and over with natural teeth, nearly half wear dentures.
So, what are dentures, how much do they cost and where can you get them? We spoke to the experts to find out the ins and outs of buying dentures.
What are dentures?
Dentures are custom-made removable false teeth used to replace either several or all of your teeth. They can be taken in and out of your mouth and can either be full or partial, depending on the number of missing teeth.
Australian Dental Prosthetists Association (ADPA) president Jenine Bradburn says partial dentures usually feature clasps which grip onto the natural teeth to hold them in place. Full dentures can replace all teeth on the upper or lower jaw, or both.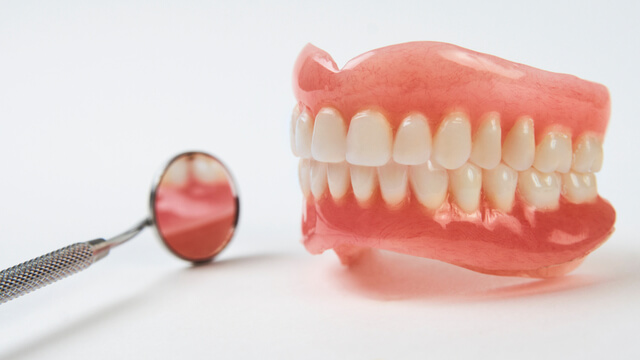 How much do dentures cost?
Full Dentures
Average cost for upper and lower dentures
$2,448
Average cost for upper denture
$1,350
Average cost for lower denture
$1,350
Average cost for mid-range acrylic dentures (upper and lower)
$3,500
Source: 2019 Australian Dental Association Fee Survey
Full upper and lower standard acrylic dentures cost $2,448 on average, according to the 2019 Australian Dental Association Fee Survey. For either an upper or lower denture, the cost is $1,350 on average.
It's also important to consider extra factors that may influence the overall cost of your dentures. These may include the type of treatment or the amount of preparation required, the number of appointments you need, the type of specialist used and whether any of your natural teeth need to be removed.
The type of material you choose can also affect the price. Acrylic dentures range from a standard acrylic through to a hard-wearing, more expensive variety. Dr Bradburn says middle of the range, upper and lower acrylic dentures can cost on average around $3,500.
Whichever you choose, Dr Bradburn says that with dentures, you often get what you pay for. "It's important to consider all options when choosing a denture, keeping in mind that poorer-quality materials will tend to wear much faster than higher-quality ones," she says.
Dr Bradburn also recommended that you get an itemised quote before proceeding to buy your dentures, so that you have an understanding of whether there will be any further costs, such as extra appointments to get your dentures realigned due to gum movement.
---
Compare Health Insurance with Canstar
The table below displays some of our referral partners' extras policies for a 30-year-old single female seeking cover in NSW without pregnancy cover. The table is sorted by Star Rating (highest to lowest) followed by provider name (alphabetical). Use Canstar's health insurance comparison selector to view a wider range of products. Canstar may earn a fee for referrals.
---
Where can you get dentures made?
Most dentists can make dentures, but you can also seek the services of specialist dental prosthetists or independent dental practitioners who design, make and fit dentures, Dr Bradburn says.
How are dentures made?
Dentures are custom-fitted, with the shape of your denture formed by taking moulded impressions of your mouth, Dr Bradburn says. She says if you need to have teeth removed to make way for full dentures, you may require several appointments to get the dentures adjusted, as your gums may shrink during the healing process.
Full denture bases are made of plastic. Partial dentures are made from a combination of acrylic and metal, which helps them grip in position inside your mouth. The false teeth themselves are often made from plastic or nylon, however, porcelain is also an option, according to the ADPA. The cost of partial dentures varies considerably, depending on the state of your current teeth, the number of missing teeth and the material you choose.
You may also have the option of immediate dentures (made from plastic) before your permanent ones are ready. While they can be an extra cost, immediate dentures ensure that following your tooth removal, you don't have to appear in public with missing teeth. The ADPA says these temporary dentures can be used while your gums heal (which normally takes about eight weeks), and while you wait for your full permanent dentures to be made.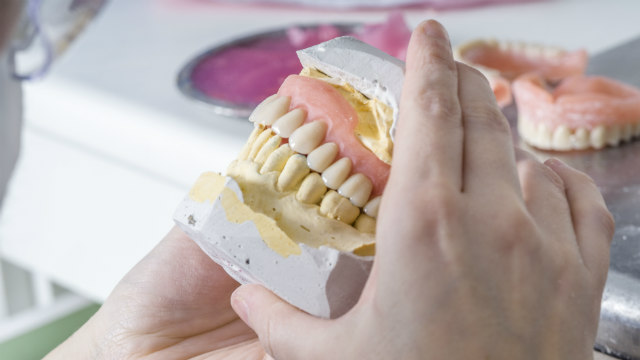 Are dentures covered by Medicare?
Medicare does not cover the costs of dentures. However, it may cover the cost of removing your natural teeth before dentures are fitted, if it is deemed medically necessary.
Are dentures covered by private health insurance?
Whether you're covered for dentures depends on the type of private health insurance you have. Most health insurance extras policies offer the options of general and/or major dental cover. General dental usually includes a level of cover for more minor procedures such as check-ups, cleans, fillings and X-rays. Major dental insurance, on the other hand, often provides a level of cover for more significant procedures such as dentures, endodontic services (root canal therapy), crowns, veneers and bridges.
Dr Bradburn says your overall out-of-pocket expenses for dentures can be quite high, with policy rebates covering up to half of the cost.
According to Canstar research, many health insurance policies have a limit of one upper and one lower denture every three years. Dr Bradburn added that repairs, re-aligning and general maintenance of dentures typically have different limits within a policy, so check with your provider.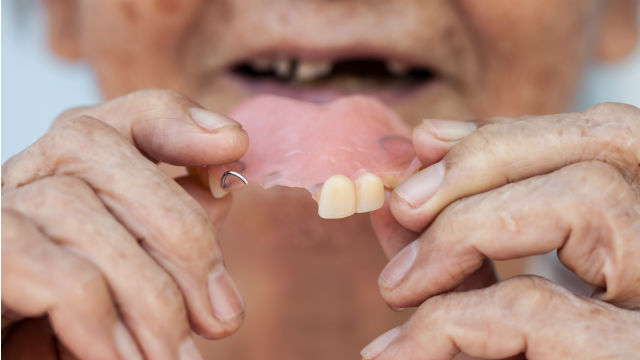 Waiting periods for dentures can vary, but an insurer will generally require you to be with the fund for a minimum of 12 months before you can claim, Dr Bradburn says. However, some insurers offer dental health cover with no waiting periods.
Once your dental practitioner supplies you with a quote, it could be worth contacting your insurer to find out about your limit, your waiting period and your overall out-of-pocket expenses before proceeding.
If you're aged 65 or over and a pensioner, you may be eligible for free dental care via a state or territory government program. For example, the NSW Government has an Oral Health Fee for Service Scheme which gives pensioners access to dental care through their local hospital. However, in some instances, a voucher will be given for a private clinic if their local hospital doesn't have the facilities or capacity to make the dentures.
Before deciding to get dentures, Dr Bradburn recommends doing your research. Whether it's comparing prices and reviews for dental specialists in your area, contacting your private health insurer to find out what you may or may not be covered for, or finding out if you're eligible for government assistance, it's important to be well-informed before you commit.
---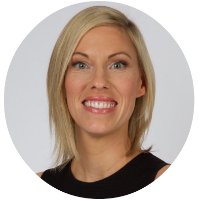 About Ali Hiddlestone
Ali is a freelance writer covering everything from finance, health, lifestyle, travel, media and real estate. Her articles have featured in several publications including Coast Beat magazine and Huffington Post. Prior to working freelance, Ali worked extensively in TV and print media, marketing, PR and Advertising in Australia and overseas.
Main image source: Ropisme (Shutterstock)