Skin cancer is one of the most common cancers in Australia, with its most serious form, melanoma, killing one Australian every five hours, according to the Melanoma Institute Australia.
From a young age, we've been taught to 'slip, slop, slap', and knowledge certainly can be power when it comes to protecting ourselves and preventing skin cancer.
What is skin cancer?
According to the Cancer Council, skin cancer occurs when cells in the top layer of the skin (the epidermis) are damaged, such as by overexposure to ultraviolet (UV) radiation. Skin cancer spreads by moving from the epidermis into the dermis (the lower layer of the skin), which can then allow cancer cells to reach blood and lymph vessels and travel around the body.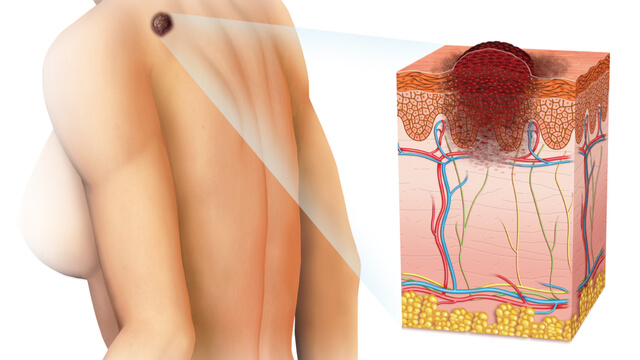 What are the different types of skin cancer?
According to the Cancer Council, there are three main types of skin cancer. Basal cell carcinoma and squamous cell carcinoma (also known as non-melanoma skin cancers), and melanoma. Melanoma is the most dangerous form of skin cancer.
Basal cell carcinoma (often shortened to BCC) begins in the basal cells, which make up the lower layer of the epidermis. When these cells age, they form squamous cells – this is where squamous cell carcinoma (or SCC) can occur. Melanoma starts in melanocytes, the cells which produce the dark pigment melatonin, which gives suntanned skin its brown or 'tanned' colour.
What causes skin cancer?
Melanoma is the deadliest form of skin cancer, and the Cancer Council reports that exposure to UV radiation, from the sun or tanning beds, causes 95% of all melanomas. Approximately 99% of non-melanoma skin cancers are also caused by UV exposure. According to the Cancer Council South Australia, unprotected exposure to UV radiation causes damage to the DNA of skin cells which is permanent, cumulative and irreversible. This damage causes the structure and behaviour of the cells to change.
How many Australians have skin cancer?
The Cancer Council estimates that two-thirds of Australians will be diagnosed with skin cancer by the time they are 70-years-old. It found 13,694 Australians were diagnosed with melanoma in 2015, making it the third most common type of cancer in the country.
Cancer Australia predicts that by the end of 2019, more than 15,000 Australians will have been diagnosed with melanoma over the course of the year, and 1,725 people will have died from the disease. According to the Centers for Disease Control and Prevention, men (especially those with lighter skin) are more likely than anyone else to get skin cancer.
Why is skin cancer so prevalent in Australia?
The Melanoma Institute reports that Australia has the highest rate of melanoma in the world, with a study by the United Nations Environment Programme's Environmental Effects Assessment Panel finding that changes to the ozone layer above Australia over the past 40 years have contributed to this increased risk.
The majority of skin cancers are caused by exposure to UV radiation from the sun, meaning the sunny climate and outdoor lifestyle in Australia are major risk factors. According to the Cancer Council, on the average summer weekend, one in eight adults and one in five adolescents will get sunburnt, which is an indication that you have been out in the sun long enough for the UV radiation to damage your skin.
People often get sunburnt on cooler days too, as they can mistakenly believe the risk is lower and may forget to take adequate precautions. The Cancer Council warns that sunburn and skin damage is still possible on cloudy or windy days.
What are the treatment options?
The Cancer Council advises that the first step in skin cancer treatment is usually removal of the cancer. In the case of more advanced cancers, surrounding tissues may also need to be removed. A local anaesthetic is usually applied before the cancer is surgically removed. Liquid nitrogen may also be used to freeze the cancer off (cryotherapy), or it may be scraped (curettage) or burnt off (cautery). Sometimes a combination of these therapies is used to remove the cancer.
Your GP or dermatologist will be able to outline the risks and benefits of each treatment option, and advise which is the most suitable for your condition.
New treatments are constantly being developed to improve the prognosis for those diagnosed with skin cancers, including targeted therapy, which uses drugs to target the cancer cells and the tissue that contributed to the cancer's growth, and immunotherapies, or biologic therapy, which boosts the immune system's ability to fight cancer.
What are the big risk factors for skin cancer?
Tanning is a sign that your skin has been damaged by exposure to UV radiation, which not only increases your risk of skin cancer, but can also cause wrinkles, sagging and permanent skin discoloration. Cosmetic tanning in solariums, or sunbeds, emit UVA (longer wavelength) and UVB (shorter wavelength) radiation, both of which are known to cause cancer, according to the Skin Cancer Foundation. However, commercial solariums are now banned in all Australian states and territories, except the Northern Territory, a move that has been supported by the Cancer Council.
Better Health Victoria reports that on top of UV radiation, hereditary factors and family history can also play a part in your risk of getting skin cancer. If one or both of your parents have had skin cancer in the past and/or you carry traits such as red or blonde hair, light coloured eyes, fair or sun sensitive skin and a tendency to freckle, then you may be at an increased risk of developing skin cancer.
What can you do to prevent skin cancer?
The Cancer Council recommends a combination of sun protection measures to reduce the risk of skin cancer:
'Slip' on clothing that covers the skin

'Slop' on a broad-spectrum sunscreen, 20 minutes before going outside, or swimming, and every two hours thereafter. Make sure it's water resistant and at least SPF30+, and apply enough to adequately cover your body.

Canstar Blue

asked consumers to rate their overall satisfaction with popular sunscreen brands, taking into consideration factors such as price, ease of use and effectiveness.

'Slap' on a hat

'Seek' shade where possible, especially during the middle of the day

'Slide' on a pair of sunglasses with UV protection.
Some private health insurers offer their members a discount on the cost of Cancer Council-branded protective clothing, accessories and clothing under their extras cover.
How do you get checked for skin cancer?
The Cancer Council recommends checking your own skin regularly as an important first step in diagnosing skin cancer. Look for any crusty sores which don't seem to heal, small lumps that are red, pale or pearly coloured, and new spots, freckles or moles that appear or change in colour, thickness or shape over a period of time. Researchers at Brisbane's QIMR Berghofer Medical Research Institute have designed a Melanoma Risk Predictor, which is an online tool that helps users identify moles and predict their risk of skin cancer.
If you notice any changes or are concerned about any particular spots or areas on your body, see your GP for an examination. If necessary, you may need a biopsy, which examines a tissue sample, or be referred to a dermatologist or specialist surgeon.
The sooner #skincancer is identified and treated, the better your chance of avoiding surgery or, in the case of a serious melanoma or other skin cancer, potential disfigurement or even death.https://t.co/6a2YmyNXCr

— Cancer Council Aust. (@CancerCouncilOz) December 10, 2019
You can also have your skin checked at a skin cancer clinic. Some of these may offer bulk billing to reduce the cost, while others may charge a fee, so it's generally best to call ahead and confirm this before your appointment, and also check with your private health insurer (if you have one), to see if you can claim for skin checks or services on your policy.
You can find a doctor who is accredited by the Skin Cancer College Australasia, using the search function on their website. The Skin Cancer College Australasia is a non-for-profit peak body representing over 1,000 skin cancer practitioners in Australia and New Zealand.
For more helpful information on getting a skin check, SunSmart has produced this fact sheet.
---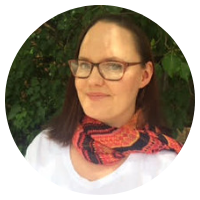 Emily Boyd is a freelance journalist and editor from Melbourne. She has a Masters degree in International and Community Development, and is a self-confessed research nut who loves to take tricky topics and make them more accessible and digestible to empower her readers. She's also a mum of three and an enthusiastic amateur baker.
Main image source: Pixel-Shot (Shutterstock)