People living in Melbourne who have private health cover with Medibank and AHM can now find a local GP, get a quote, pay and claim their benefit with the HICAPS Go mobile app, dubbed the "Uber equivalent" for Aussie healthcare.

Today National Australia Bank (NAB) announced the launch of the HICAPS Go app in collaboration with Melbourne-based digital payments fintech start-up Medipass.
The app leverages the current NAB-owned HICAPS payment and claiming terminal system seen at various healthcare practitioners, which allows healthcare providers to process private health insurance or Medicare claims on the spot at the time of payment.
There are currently more than 400 practitioners using the new HICAPS Go platform across the greater Melbourne region, with more practitioners and health funds to be added as it rolls out over the next 12 months.
NAB Chief Operating Officer Antony Cahill said the new app will give consumers a better healthcare experience by providing greater transparency of payments and added flexibility
"We have re-imagined the user experience for a digital age and built an Uber equivalent for Australia's healthcare ecosystem," he said.
"There is no other product in the Australian market at the moment like this, which provides such a smooth end-to-end experience from booking, to cost transparency and payment capability."
Transform Physio Practice Manager Cameron Hare, one of the platform's early adopters, said the digital extension of HICAPS will be great for customers.
"The transparency with the gap payment is really fantastic; with this new solution the gap payment is right in front of the customer and they can check before they pay," he said.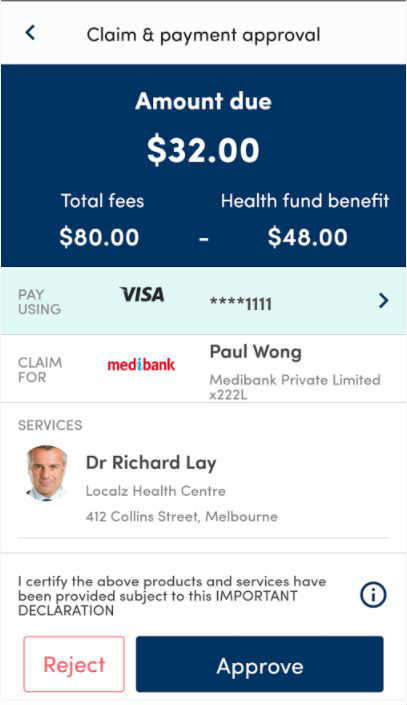 How the HICAPS Go app works
According to NAB, patients need to download the HICAPS Go app and enter their private health membership details and credit card payment information to get the process started.
This creates a connection to the patient's health fund via the HICAPS system and allows patients to see any out-of-pocket expenses that may come from their appointment.
After a consultation, patients are able to instantly claim health insurance benefits and pay the gap portion only using the app, unlike the current HICAPS system where the whole consultation fee is deducted from your account before later receiving a benefit refund (usually processed within a few days after the appointment).