Co-author: Ellie McLachlan
Tracking your progress with a fitness or health app on your phone is a great first step towards a better you
. What are some of the best health and fitness apps?
Finding the right fitness apps for you to track and improve your health and wellbeing is one key to meeting your goals. There are so many options out there now, with everything from stress management apps to running trackers to medical appointment apps. 
With all these options, we've rounded up a few of the best fitness and health apps that could help you reach your goals faster.
7 of the best health and fitness apps for 2017
After a bit of road testing by a few health-conscious Canstar team members, we've put together some of our favourite health and fitness apps (that are actually useful)!
1. Pacer
During this month's 'Steptember Challenge' at Canstar, many of us are using Pacer to track and record our daily steps. The tool has been handy for seeing our daily goals for steps, record sport or gym exercises and compare individual performance against other team members in a group.  
The app is free to download on any mobile device and doesn't require the additional purchase of a smartwatch, Fitbit or other hardware for use. 
Other cool features: 
You can sync steps and calories with the MyFitnessPal app (see more below).

 

If you have an Apple device, the Pacer data syncs to the Health App.

 

You can track your blood pressure, physical activity, BMI and weight.

 

You can create plans and set daily goals for yourself, and compare that to a group of friends.

 

You know it's legit, because the app tracks your metrics against standards provided by the World Health Organisation, American Heart Association and President's Fitness Council.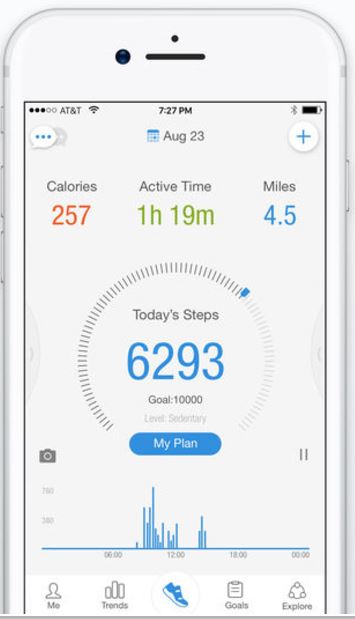 2. MyFitnessPal
This app is free for download on any mobile device and offers pretty much everything you need to track your weight loss journey, including daily food intake, calories, exercises and steps. 
Probably the best feature of this app though is the ability to easily and quickly enter your food consumption and count the calories for that food, as well as log your burned calories for the day. This allows you to see how close you are to reaching your appropriate calorie intake and what you can do to make healthier choices. 
Other great features include: 
A massive food database where you can select meals and see the calorie count.

 

The barcode scanner allows you to scan purchased food items and log them in the app.

 

You can track all the major nutrients including: calories, fat, protein, carbs, sugar, fibre, cholesterol and more.

 

You can connect this app with several others including: Pacer, Apple Health, Fitbit, MapMyFitness, Runkeeper and many more.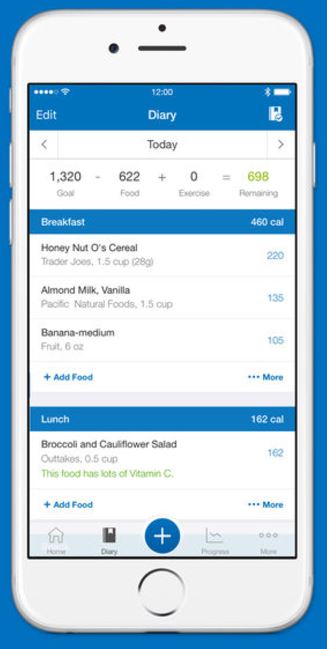 If you are in the market for extras health cover, check out a snapshot of the providers available on our database. Please note that this table has been sorted by lowest monthly premium and is generated based on a women born in 1989 excluding pregnancy cover.
Compare Health Insurance With Canstar
3. HealthEngine
Sick of calling up your doctor while you're at work to try and get an appointment? HealthEngine makes that a thing of the past with over 11,000 health practitioners available to book your next health appointment.
The free app allows you to book with doctors, dentists, physiotherapists, chiropractors and more in your local area. You can even connect HealthEngine app to your electronic My Health Record so you have quick access to all your health information in one place. 
Here are some other noteworthy features: 
Bookings made on the app are confirmed instantly.

 

You can read real patient reviews about their experience and pricing.

 

You can add your practice to favourites to save time on future bookings.

 

View a 'selfie' of practitioners when choosing which doc you'd like to see.

 

Get sent reminders on the day of your appointment, and some practices even allow you to 'check in' for appointments from the app.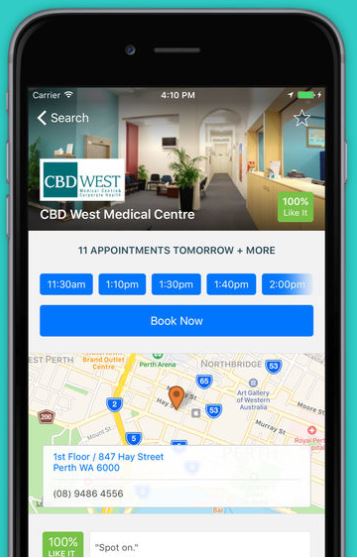 If you are in the market for a health fund, check out a snapshot of the providers available on our database, with links direct to their websites. Please note that this table has been sorted by star rating and is generated based on a male born in 1987 seeking hospital and extras cover in NSW.
4. Runkeeper
If you like things a bit more fast-paced, this is probably the ideal tracker app for you. You can track your daily run with the GPS capability and set distance goals. 
The app is free for download and can sync up with your smartwatch or MyFitnessPal to make staying on track a bit easier. Get fit and join challenges with a group of friends in the app to keep each other motivated. 
Other features include: 
Make real progress by following a training plan.

 

Save and discover new running routes with GPS in the app.

 

Set up audio cues to have a motivating voice relaying your pace, distance and time.

 

It's not just for running – you can also add indoor cardio or gym workouts to keep a full exercise log.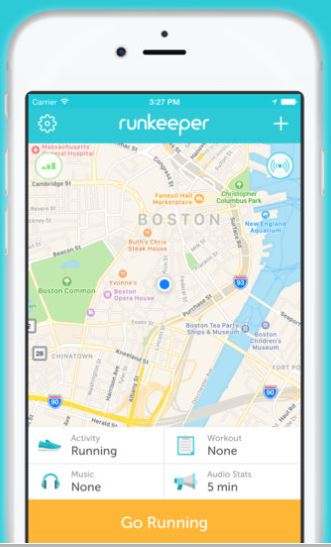 5. Happify
Physical wellbeing isn't the only factor of health we should give some time to – how you feel matters too. Whether you're feeling a bit stressed or anxious, Happify gives you a few handy tools and programs that can help with your emotional wellbeing. 
The app is free to download and use, with the option to upgrade to Happify Plus and pay for more services if you want. According to Happify, the tools in the app are actually developed by scientists and experts so you know you're getting useful information. 
Cool features include: 
Frequent use of Happyify makes 86% of users happier, according to Happify.

 

Try engaging activities and games to take your mind off things.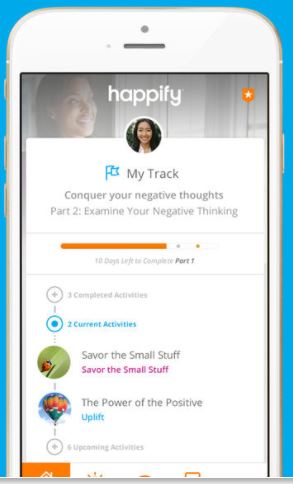 Compare Health Insurance With Canstar
6. 7 Minute Workout – Free Daily Fitness Routines
This app by Wahoo Fitness is only available for download from the Apple Store for iOS devices. The free workout plan gives you a full-body workout challenge to help you reach your fitness and weight goals faster. 
The 12 high intensity bodyweight exercises are sure to get a sweat up, with each exercise going to 30 seconds and 10 seconds rest between exercises. If one round isn't enough, double it! 
Other great features: 
The exercises are voice prompted, so you don't have to constantly check your device or timer.

 

You can watch video descriptions of each exercise if the text description isn't enough.

 

You don't have to pay for an expensive personal trainer – the app basically is one!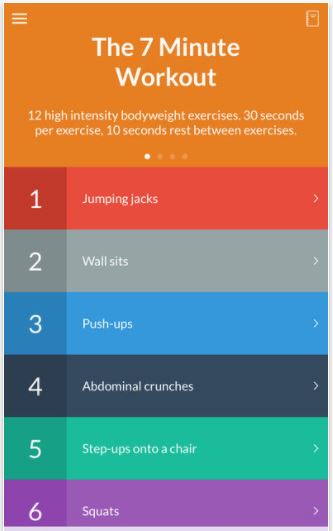 7. Plant Nanny
Keeping up a healthy water consumption might be the last thing on your mind from day to day, but it's really important! And this is an app that makes tracking your daily water intake easy as pie. 
Plant Nanny is all about combining health with fun. If you want to keep the animated plant alive, you need to keep up with your daily cups of water to help it grow. 
Cool features include: 
The app has all the common cups for drink recording.
The general display of the app keeps you coming back – changing scene from day to night, various plants to care for and more.
You can see your water drinking history and have your recommended daily water intake calculated for you.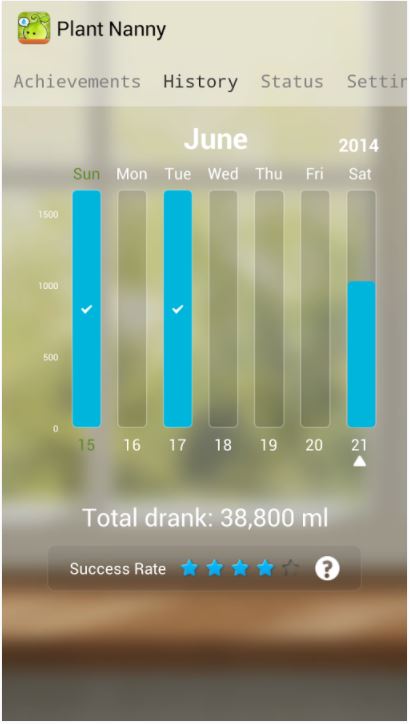 How to find the right fitness or health apps for you
How often have you actually followed through and gotten results from using the app of your choice? We're guessing that most people's answer to that question won't be promising, considering the fact that a recent VicHealth study found that many health and wellbeing apps aren't all that effective for some people. 
But if you're looking to use one of these apps to aid in reaching your fitness goals, you'll need to be able to pinpoint which ones will work best for you, lest you fall into fitness limbo for another season. 
We've come up with some tips to help you find the fitness apps or health apps to help you get on track:
Avoid apps that claim to diagnose or treat a condition
Any kind of app that pretends to be a doctor or physician by diagnosing conditions or a level of fitness should definitely be avoided. At the very least you should take their advice with a pinch of salt. If you're looking for a concrete idea of your body's wellbeing, visit a GP, not just Google.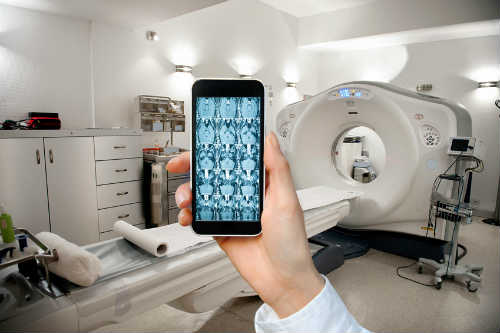 Pick an app that makes realistic promises
If you come across an app that's attempting to make you think it'll have you losing kilograms in days, or something similarly fanciful, that should be a red flag. Reaching your fitness goals is all about being realistic and pragmatic, not about jumping at the first app that promises you something that sounds too good to be true. 
Apps that can usually be trusted to make realistic claims include health apps with recipe guides for healthy eating; training videos for sports like running, yoga, and boxing; and fitness tracker apps. Our sister company Canstar Blue has a great guide on what to look for in a fitness tracker on their website. 
Research the developers
Find the name of the developer in the App store, and do some research of your own. Find out how reputable/well-known the developers are, whether they've developed any other apps, and how well those apps have been received. 
See if the app is endorsed by any health professionals, or at least if any health professionals were consulted during the development of the app. A good clue is if the app was developed by a hospital or medical university in conjunction with a health insurance fund or another health organisation. These types of organisations have a vested interest in getting the facts about healthy living right. 
Compare Health Insurance With Canstar
Give the app a trial period
It would be foolish to find one app and then decide that that's the app you're going to use, to the exclusion of all others for the foreseeable future. 
In the same way that you would take a gym up on a free trial before committing to a year's membership, use the app for a week or two, and see how you're enjoying it and if it's working for you. If not, find another app and repeat the process. 
Speaking of gyms, did you know that Canstar Blue researches and rates customer satisfaction in gyms around Australia? Find a gym near you that could help you stick to the goal you've set with your fitness apps. 
You might also want to experiment – if you have a smartwatch or fitness tracker – with using both apps on your smartphone and different apps on your smartwatch or fitness tracker.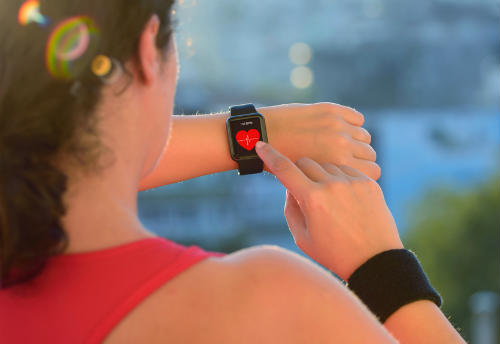 Choose apps that use strategies based on research
VicHealth recommends you look for apps that use evidence-based strategies such as self-monitoring, goal setting, cues or push notifications, social support, and rewards for doing your workouts each week. Try to look for apps that use these strategies to encourage you, as they'll most likely be more effective in helping you create healthy behaviours (or change unhealthy behaviours) than apps that don't use them. 
At the end of the day, finding the best fitness apps or a good health app is about seeing past the gimmicks and false claims and finding an app that does what it says on the tin, which is help you reach your fitness goals. Health apps are merely a tool to be used by you on the road to your fitness goals; they can't do the work for you. 
Does your health fund have a fitness app?
Health funds often design their own fitness or health apps to help their members lead healthier lives. Find out what your health fund offers, and whether you can use Extras Cover to claim back the cost of meeting your certain health and fitness goals.